Bodybright: Remedial & Pregnancy Massage, Baby Massage Classes, Menstrual Wellness workshops
Bodybright: Remedial & Pregnancy Massage, Baby Massage Classes, Menstrual Wellness workshops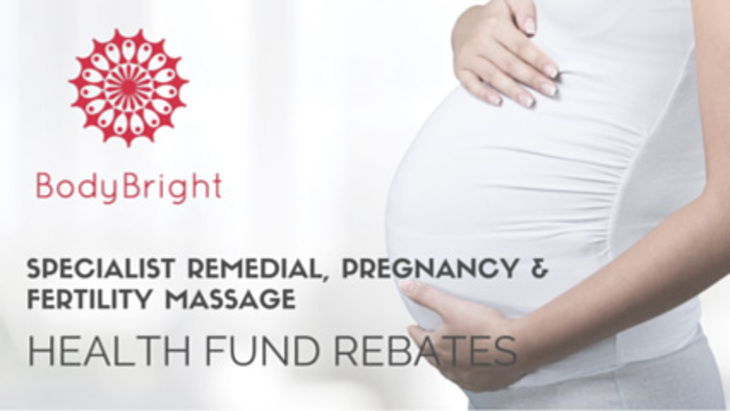 My name is Melissa and I am a passionate and experienced Massage Therapist and mother of two, based in Bondi in Sydney's Eastern Suburbs. My passions are Women's Health, Birthwork and Wellness.
A practicing Massage Therapist for 9 years, I have completed studies Remedial & Sports Massage, Maya Abdominal Therapy™, Maya Spiritual Healing, Fertility Massage & Reproductive Health, Pregnancy Massage, Birthwork, Kahuna Massage, Yoga Teacher Training and is an Infant Massage Instructor.
Pregnancy Massage: In a warm and nurturing environment I use strong, yet still relaxing remedial techniques to improve your overall alignment and muscle condition and connect with your baby. Melissa works with you to relieve sore and/or swollen legs, sciatica, headaches, neck and shoulder tension, along with any other concern that can arise in pregnancy or simply help provide a space where you can let go and relax. Choose either side-lying or belly cushion/table attachment for face-down.
I have completed multiple specialist training in pregnancy & birthwork, can demonstrate exercises which can support the physical changes of pregnancy and be useful for birth preparation and labour.
Remedial Massage Therapy: Special techniques are used to facilitate healing, relieve pain and improve muscle condition. Treatments also lift general wellbeing.
Fertility Massage & Mayan Abdominal Massage: both deep; yet gentle, non invasive therapies that work by bringing the organs within the abdominal area back into alignment, releasing pressure and strengthening the surrounding muscles and ligaments. Wonderful for menstrual wellness, hormonal balance, fertility concerns, pelvic pain, PCOS, heavy periods etc.
Baby Massage Classes: these can help you form a strong bond of love and trust with your baby, help your baby sleep better and for longer, ease wind and colic pain, relieve constipation, stimulate neurological development, and assist with baby's health and general wellbeing at home, and give you the opportunity to be part of a friendly and non-judgemental group with other parents. Arrange private lesson or group lesson with your own group. See website for details on upcoming classes in Bondi.
Learn more about me, view rates, book online and make enquiries about upcoming Baby Massage classes at www.bodybright.com. Or you can call me on 0431 727 361, or email [email protected].
Reviews
Saw Melissa for the first time today for pregnancy massage. Melissa was friendly and professional and the environment was quiet and soothing. The massage was the best I've had and really helped with my current hip and joint pain. Definitely recommend.
I visited Melissa twice at the end of my pregnancy and only wish I had started massage sooner. Each experience was so relaxing and restorative and really helped me to connect with my body and my baby in preparation for labour. Melissa creates a very nurturing environment and makes you feel completely at ease. I would highly recommend her and am looking forward to having some postnatal massage soon.
I have just received an amazing remedial massage from Melissa and she has literally worked wonders - as always. She massaged me when I was pregnant, and was totally amazing and nurturing etc, and now I continue to be massaged by her in a remedial capacity. Melissa has that rare talent of being able to find the "sore spots" and fix them whilst still making you feel wonderfully relaxed. Best massage therapist I have been to - definitely worth a visit!
Yvette (editor @ ellaslist)
Just enjoyed a very good pregnancy massage from Melissa this morning. Melissa practices from a dedicated room in her home and I really liked the fact Melissa chooses to massage from a floor bed, which gives much more room than a raised bed to spread out and get comfortable with supporting pillows for your pregnant belly. Melissa easily discovered all my knots and tension points without me having to point them out - always a sign of a great therapist I think. Very relaxed atmosphere, you choose to be chatty throughout or relax completely. Rebooked another session.
I started having massages with Melissa as soon as I found out I was pregnant with our first baby. She is truly fantastic! I have had three so far and always look forwards to the start of the month when I have another. Not only is she the best Masseuse I have found but, being new to pregnancy and all that goes with it, she is able to provide me with reassurance and tips on that topic too. Highly recommend. Jo
I started to see Melissa at 35 weeks of my pregnancy and her heeling hands worked wonders for me and my baby. It was a great way for me to connect with bubba and I would always look forward to my weekly massages with Melissa. I thoroughly recommend!! She is amazing and you will feel light and nurtured and totally blissed out.
Just wanted to say thank you for a truely blissful experience. All the tension and stiffness just melted away under Melissa's magical hands.
I felt so amazing after my pregnancy massage with Melissa. She listened to my concerns and symptoms and really worked with me to relieve them. I was so delighted with it I booked another appointment straight away and then came home and recommended her to alll my other pregnant (and none pregnant) friends!
One of the best massages I ever had. And I have had many.