Bluebell Music: Music Classes for Babies, Toddlers & Preschoolers (3m-5yrs)
Bluebell Music: Music Classes for Babies, Toddlers & Preschoolers (3m-5yrs)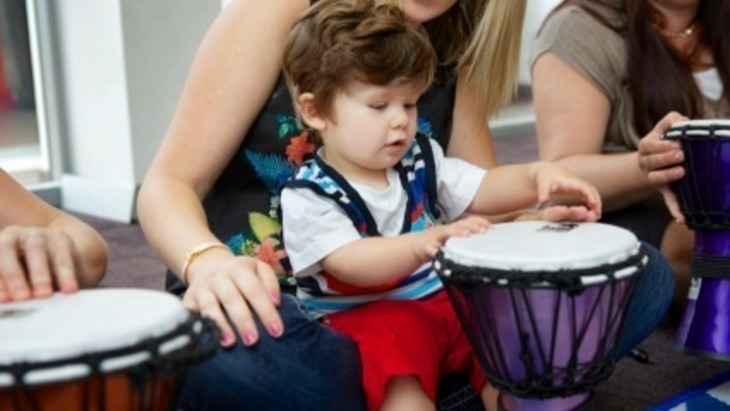 Balmain, Bondi Junction, Rose Bay & Five Dock
Bluebell Music offers fun, engaging and educational music classes for children aged between 3 months and 5 years in Bondi Junction and Rose Bay in the Eastern Suburbs, Five Dock in the Inner West and Miranda in the St George/Sutherland Shire area.

Classes are held in 4 locations:

Balmain at Studio 2 - Inner West Institute of Music , Buchanan Street, Balmain

Bondi Junction at The Church in the Marketplace (cnr Oxford st and Newland St), 2 minutes' walk from Bondi Junction Interchange and Westfield Shopping Centre.

Five Dock at 2/84 Great North Rd, Five Dock (close to Coles on Garfield St)

Rose Bay at The Music Suite, 515A Old South Head Rd, Rose Bay (near Dover Rd).

During each class their experienced and energetic teachers focus on developing a love of music achieved through a selection of familiar songs and music activities that both students and carers will enjoy. The Bluebell Music program is based on the Music Education philosophies of Orff, Kodaly and Dalcroze and Children, along with their parents or carer, will discover the key concepts of music through listening, singing, moving and improvisation in a relaxed and informal class setting.

No-one needs to miss nap time! Classes are held at age-appropriate times for infants and toddlers – for class times click here.

For new mums, why not come along and discover Tiny Bells – for babies aged 3m-crawling. It is a beautiful class in which mums have the opportunity to learn how to engage with their bubs using music.

Casual Attendance: We understand that not everyone can commit to the full term, so we are more than happy to accommodate casual attendance if there is a place. Always best to email or sms ahead to check availability.

Trial Classes: Great Value For our Trial classes we offer the 'Give it a Shake' Trial pack . The pack gives you to 2 classes and allows you and your little one the chance to experience and settle into the class environment. Cost is $30.

Online Classes: Online weekly classes will continue every Wednesday. See the website for details.
Bluebell Music Shop: Stock up on instruments and birthday party gifts and continue the joy of Bluebell Music at home. Check out the online shop to view their full range of affordable, quality instruments.
For more info or to book your trial, please call Julie on 0412 416 502 or send an email

Tell them ellaslist sent you!
Reviews
My daughter has attended Bluebell Music since she was six months old and now at 2 years we can really see her love of music and singing blossom. She is always fascinated by music wherever we go. As a bonus, I have learned so many new songs to sing to her at home. Since the material is refreshed each term, neither of us ever get bored.
We love Bluebell music. Its a great weekly activity with an introduction to music. My daughter loves playing instruments and dancing and singing along to our favourite nursery rhymes. With 3 small children its the chance i get each week to spend quality & educational time with my 10 month old. I can't recommend it enough!
Bluebells music has been the best class for my boy. He was very shy and with the help of this class, music and the wonderful teacher Miss Julie he has come out of his shell. Miss Julie really knows what she is doing and is fantastic with the kids. She makes it fun and interesting for the kids and they just learn so much. My son begs me to take him to music every day, he just loves it. Thank you Bluebells
Every time we drive past the Bluebell venue my 2 year old daughter shouts "MUSIC! MUSIC!" and sings all of her favourite songs from class. She loves the teachers, songs, live guitar, diversity of instruments she plays, making new friends and we all enjoy the relaxed atmosphere (as well as the chance to sing and dance with the same enthusiasm and freedom as our tots). Bluebell Music understand little ones and their Mums, Dads, Grandparents, carers etc. and ensures that we all have fun. Not an easy balance to achieve but they do each and every lesson. The teachers are experts but very down to earth and understand how to engage, excite, support and develop. Come join us . . . you won't be disappointed.
What a wonderful introduction to music! Bluebells was a great social activity for me and my 6 month old when we were at the stage of going stir crazy. I soon discovered it was more than a weekly diversion and provided an engaging learning experience that we both really enjoyed. I particularly appreciated the understanding that was shown with the varied sleep patterns of bub by allowing make up classes. Thanks Julie and Miriam! C & c
We LOVE Bluebell music - the teachers, the songs, the place. We were lucky to have Julie playing at my daughters Bday party 2 years in a row. That's all she wanted! Highly recommend to all mothers with young kids.
Bluebell music class is absolutely brilliant! My daughter loves going and I enjoy the time with her too! Sign up today you'll love it!
What an amazing class for our youngsters!!! Thanks bluebell for providing such a great activity I can also enjoy with my girl!! She's learnt so much, and looks forward to the class each week. My daughter randomly picks up an instrument at home & sings a song from class! We have net lovely mums & bubs too!! It's also handy being Dad friendly too!!!
My little boy absolutely loves these music classes. They are informal and relaxed, full of activity and we have both learned new songs throughout the year. His face lights up when Julie brings the guitar out and lets the babies play with it at the end of each lesson. I would highly recommend Bluebell Music to any mum and baby - it is the only formal class we undertook in the first year and it has been a fantastic introduction to structured 'play' for us.
My now 1 year old daughter Demi, has been attending Bluebell music classes at The Mama Club for many months now, and she loves it!! Demi really gets captivated with all the sounds, actions and props. Julie creates a fun and exciting experience every week. the babies know what's coming up next as its structure teaches them too! And they get to know each other too! Looking forward to first term 2013!!!
Bluebell Music classes are great fun & the child I nanny loves them. The teacher, Julie makes them lively and interesting for the kids by using lots of different props & instruments. Its also great entertainment for the careers & the ladies who join the group are lovely to hang out with after class. We look forward to our class every week. Julie is also a delight to deal with & she is very nurturing to all.
My son started this class when he was 4 months. I found that these classes have helped him both developmentally and socially. Now 7 months old he absolutely enjoys the class both for the music and playing with his friends. Each child has the opportunity to play with musical instruments including the xylophone, drums, maracas, tambourine and at the end of the class the teacher lets them play with her guitar. And if your worried about baby germs the instruments are sanitised after each lesson!
I have been taking my 20 month old to these classes and he loves it. The teacher is very down to earth and I love that we don't need to pay for the whole term in advance. No more paying for lessons when he is sick or we have been up all night! The venue is gorgeous and clean and warm! The coffee is also really good and I have met lovely mums after each class and ended up hanging out with them for a few hours which is a nice bonus.