We Take A Winter Escape To Paradise: Hamilton Island
We Take A Winter Escape To Paradise: Hamilton Island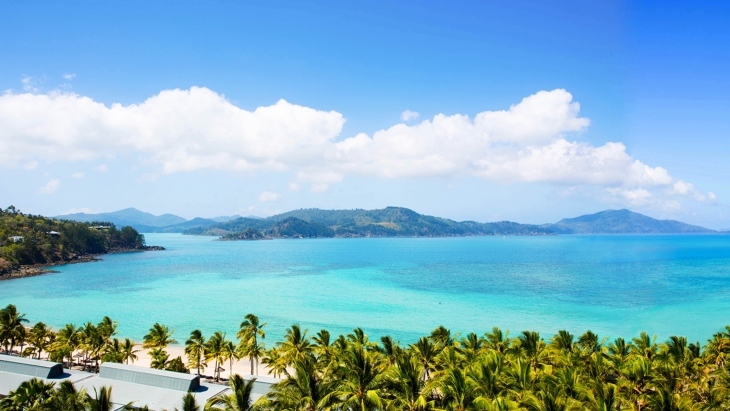 ellaslist COVID-19 update: Please note that all the information on the website is correct at the time of publication. Please check the relevant website before visiting a venue or destination for the latest COVID-19 information. ellaslist is not responsible for any cancellations or closures.
By: Jodi Byrne, ellaslist explorer
Palm trees, warm air, sunshine and sparkling blue water - that's what my daughter and I were greeted with as we stepped off our flight for a relaxing mini-break in Hamilton Island.
We escaped the Winter chill of Sydney for a little mother/daughter adventure. Such a treat - and what a place to escape to.
The Reef View Hotel was our chosen place to stay while on Hamilton Island. It is perfectly situated just across the road from Catseye Beach. AMAZING! I was so impressed by their service from the moment we collected our bags at the airport. Yep, at the airport. We grabbed our bags and went straight to the check-in desk of the Reef View Hotel at the airport before heading out to our airport transfer.
On arrival at the hotel, we board one of the impressive glass lifts that are fitted to the outside of the hotel building (Charlie and the Great Glass Elevator, eat your heart out!) and take in the magnificent view as we rocket up towards the 11th floor. This becomes our base for the next four days of this this very special mini-break.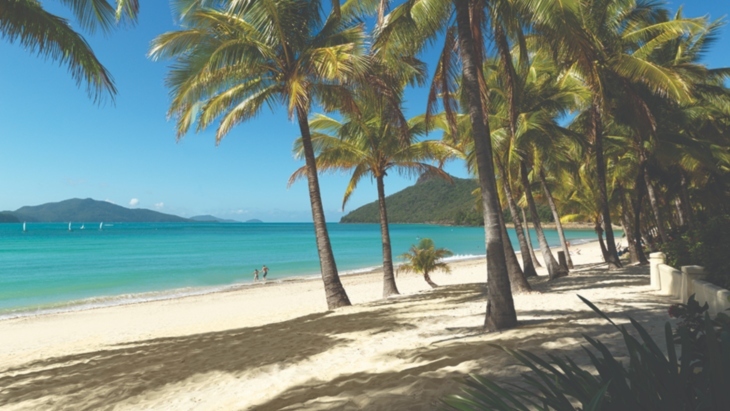 Room With a Reef View
The room? Well, what can I say. Perfect. Two double beds, well- stocked mini-bar, big bathroom with shower and bath, dining table and chairs as well as two lounge chairs and large balcony with beautiful views over Catseye Beach.
There was even a welcome message on the TV screen for us… yes, I know – I'm impressed by the simple things in life.
The beds were comfy, room cleaned with fresh towels daily, but that's to be expected isn't it? What wasn't expected, but a great surprise, were the Sulphur-Crested Cockatoo's that landed on our balcony to greet us, adding to the already tranquil and inspiring view that is Catseye beach.
Cocktails and Dreams
After settling into our room, we took a wander around the hotel to see what it had to offer. We didn't get very far, as we took a right on the ground floor form the lift and bumped straight into the Lobby Lounge. Ooh Aah – cocktails. They make a mean Bloody Mary (they give you the tabasco sauce so you're in complete total chilli control). This is where my 12 year old daughter discovered, wait for it…. The Mocktail! They have a small selection of light snacks. The chicken drumsticks, calamari and chips will keep you going until dinner. Yum!
We take a short stroll through picturesque Hamilton Island sees us from Catseye Beach all the way to the Marina which is a picture in itself – beautiful boats line the shore line, attractive restaurants and cafés overlook the calm waters.
There's a real mix of places to eat on Hamilton Island – grab a snack or light lunch at Bob's Bakery, Marina Cafe or Popeyes Takeaway for some fish and chips. Or for something a little more substantial, grab a family-friendly meal at one of the many casual restaurants such as Manta Ray, Marina Tavern, Coca Chu Romano's to name a few. For those wanting something a little more special (without the kids), try Bommie, Pebble Beach or Sails - make sure you book.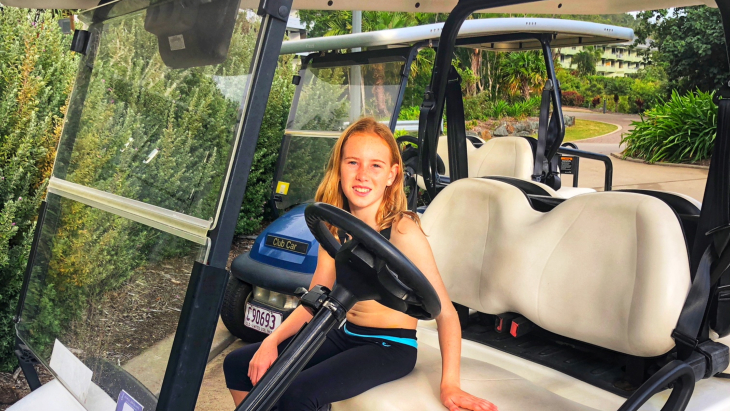 Island Explorers
Exploring the island is pretty easy and effortless. There a few ways to do it. Walking is a great way to see everything and it only takes about 15 minutes to walk from the beach on one side of the island to the Marina on the other side. Or if walking's not your thing, hop on one of the complimentary shuttle buses which run every 15 minutes. However, the most popular mode of transport on the island is the golf buggy. They are available for hire, and are definitely a fun novelty experience. Car seats are provided for little ones if needed.
We hired a buggy and explored the island - it's a fun and quick way to get to places like One Tree Hill for the beautiful sunset. Grab a glass of bubbles at the cafe or take a picnic and sit on the grassy hill. The kids will love rolling down the hill.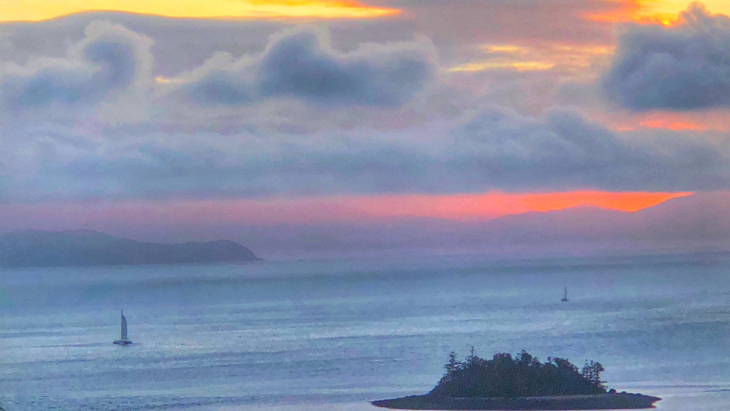 There's Adventure Too
One place the buggy won't go, is Passage Peak. For this awe-inspiring bushwalk, you'll need to explore by foot. We woke up bright and early one morning to explore the much talked about natural beauty, stunning views and sunrise of Hamilton Island. The walk is challenging but there are many places to stop on the way up to get your breath back such as Hideaway Bay and The Lookout. I've read that it is the most amazing view to be seen from the top of Passage Peak - a 360 degree view of the entire island. Unfortunately, we chose the cloudiest day and couldn't see much past a metre in front of us for the blanket of cloud in front of us. But…. we did it and it's a great feeling. My 12 year old daughter was not as impressed at the lack of our view after getting her up so early to climb to the top of the mountain in the fog!
Make a Splash
The resort offers a range of complimentary water sports. Grab your paddle board, kayak or catamaran and head out on the crystal blue, transparent and calm waters of Catseye Beach. My daughter and I decided to head out one morning when the currents where a little on the strong side. I chose a kayak (simply because I wanted to be able to sit and navigate my phone for photos) and my daughter chose the stand up paddle board (SUP). We were warned about the strong current and told to head to our right as we would naturally be taken to the left and back to shore. Easier said than done. We were actually rescued (no don't be alarmed, it was more of a precautionary rescue) by the hotel lifeguard. The currents were strong and we were headed out to the border buoy so we were towed back to safer waters to continue our pleasant morning on the water.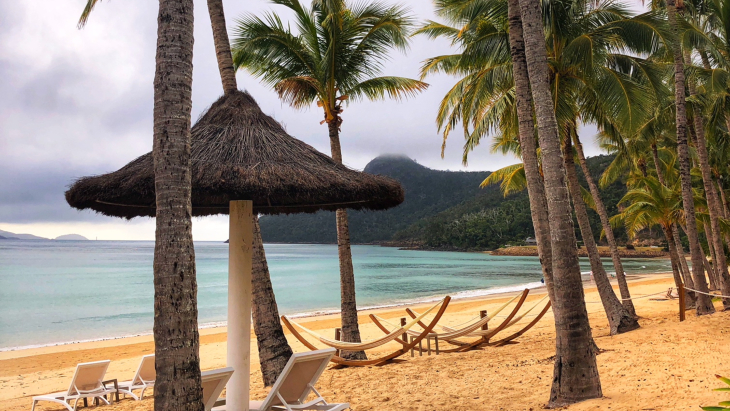 If water sports isn't your thing, then perhaps you'd like to relax by one of the many pools. You might even indulge in a cocktail or two at the swim-up bar in the main pool. There are four pools to choose from - Bougainvillea, Main pool, Reef View Hotel pool and Sails pool.
The beach is also a fantastic spot to soak up the warmth of the sun. Grab a lounge chair, a hammock or just relax on the golden sand of Catseye Beach. Every afternoon was low tide, so it was great for the little ones. They could go for what seemed like miles out before the water reached even their waist. Great for building sand castles, too.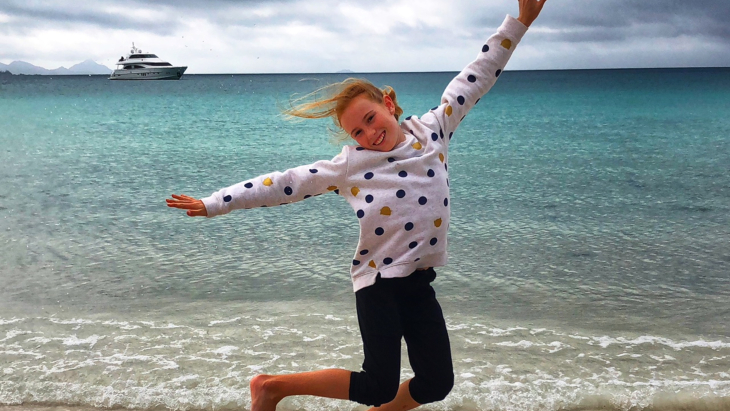 Silica Shores
A trip to Hamilton Island is not complete without a visit to the world famous Whitehaven Beach so after our early morning bush walk, rescue mission from our runaway kayak and SUP, we hopped on board a Cruise Whitsundays ferry style catamaran. It took around 45 minutes through slightly chopping waters. The crew were so friendly and accommodating - even giving a narrative as we passed various landmarks along the way. As we approached Whitehaven Beach, we couldn't help but notice the glowing white sand. This stunning 7km long stretch of sand is made up of 98% pure silica so the sand is bright white and unlike regular sand it doesn't retain heat so you can happily walk barefoot on a hot day.
Once on the beach, you can sit and soak up some rays, cool down in the beautiful transparent aqua blue water, say hello to some of the island's natives such as the monitors or if you're feeling energetic, walk to Solway Lookout for some of the best views out over the islands. It's not hard to see why Whitehaven Beach is the most photographed beach in Australia.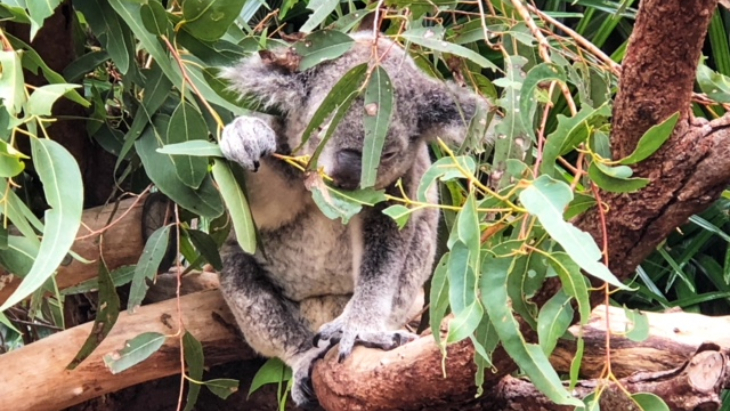 Something For Everyone
There is so much to do on Hamilton Island and the range of activities and facilities cater to everyone's needs, whether you're up for a hike or some action on the water in one of the many water crafts for hire or get up close and personal with the coral reef and the underwater animals with the snorkel or simply want to relax by the pool. There is also a Spa and a Hair and Beauty salon.
My daughter and I indulged in a one hour massage and half hour facial at Spa Wumurdaylin. The word 'wumurdaylin' means dragonfly and symbolises renewal, freedom and beauty. And that is just want we experienced in our treatment. So decadent.
Kids will have an absolute ball on Hamilton Island. With so many activities to choose from, they'll be hard-pressed for time to do it all. There's many things we didn't get a chance to experience on this trip such as mini golf, go karting, scenic flight, helicopter ride, quad bikes, ten pin bowling or a game of golf, to name a few.
We did, however, manage to get one more activity in on our last day on the island. The Wild Life Park on Hamilton Island is a huge hit with the kids. Once you gain entry into the park, you can visit as often as you like which is great value for money.
Besides enjoying breakfast with the Koalas you can also view a range of Aussie animals including Crocodiles,Snakes, Cassowary, Bettongs, Wallabies and Dingos.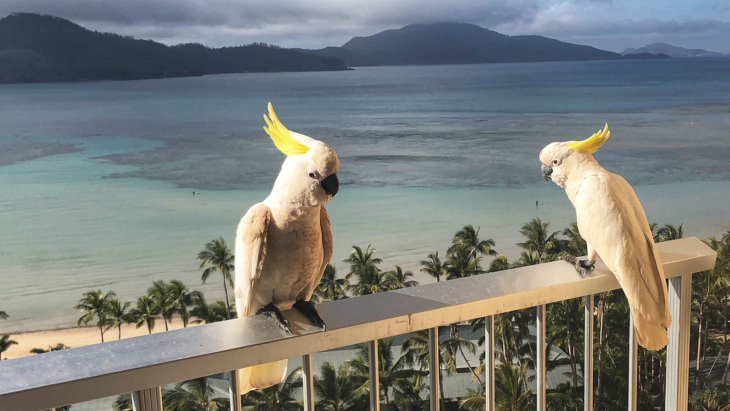 Kids Club
And if you want a break from the kids… or… if they need a break from you, check out Clownfish Club – a crèche catering for kids aged 6 weeks to 14 years. They have three separate areas - one for the bubs (under 2yrs), the littlies (2-5yrs) and school-aged kids (5yrs+). The staff are friendly, experienced and professional and most have some form of childcare qualification. They are set up like a daycare centre and have loads of fun things to do such as painting, craft, playdoh, puzzles and lots of toys to play with. There's a great outdoor area that they can run around in as well.
When our mini break came to an end, we vowed to work on Dad to convince him to make a trip to Hamilton Island our next family holiday. Hamilton Island is truly a value for money family-friendly holiday. There is something there for everyone - big and little people! We can't wait to go back.
Top Tips
Download the Hamilton Island App- it will help you book dinner, find out what activities are on each day and the map of the island is a great tool.
Take advantage of the "kids stay and eat for free" inclusion built-in to many of the accommodation packages. With plenty of places to dine, it is cost effective and simplifies dinnertime.
The Tour Desk is there to help. They will assist you to find the best excursion for your family's needs. Get in contact with them before you travel and lock in a fantastic experience.
Make use of the complimentary hop-on-hop-off buses on the Island to get around.
Don't forget that the Clownfish Club is available for your childcare and babysitting needs. Leave your little ones in experienced, trusted hands and enjoy some precious, child-free time on Hamilton Island or away on a tour.
Don't want to lug your whole house with you? You can hire some items like prams for as little $15 a day. Phone (07) 4946 8941 to make a booking and see what is available for hire.