Two Cruise Curious Chicks Sail Away with Royal Caribbean - Review
Two Cruise Curious Chicks Sail Away with Royal Caribbean - Review
Tell them ellaslist sent you: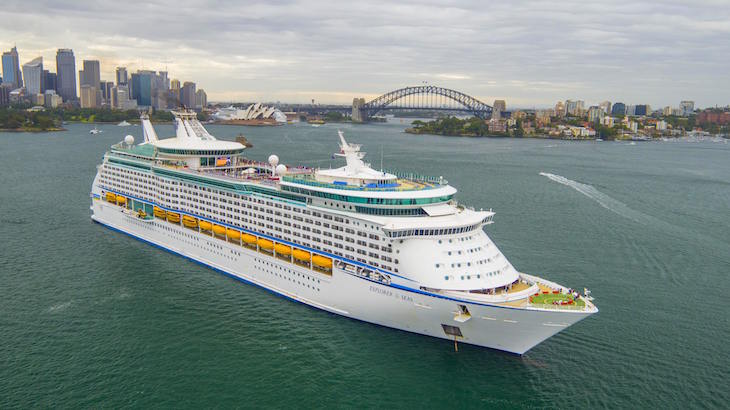 By: Yvette & Jo, ellaslist Explorers
I admit I have been a little cruise-curious for some time. Seeing the sheer scale of these magnificent ships dwarfing the buildings at Sydney's Circular Quay every other week has always been quite mesmerising, and I've been super curious to see what's inside for years.
I had a lot of preconceived ideas about boats - mostly from that Winslet and Dicaprio movie and a rather choppy crossing from Oban to a remote Scottish island circa 1989 that had 200 of us vomiting in almighty bagpipe unison. Those memories aside I still find myself still drawn to these majestic mega liners and have been keen to dispel my own myths - Will I get seasick? Is the food good? Will I get bored? Will I be hanging with pensioners? Will I accidentally fall overboard and plummet into the deep icy waters below?
So when the journalistic opportunity came to try an experience from the folks at Royal Caribbean - it was time to finally get all my questions down. The kids were at school, so instead, I took my mum-pal, Jo, us both long overdue for a girly catch-up over 7 glorious kid-free days.
Leaving from Sydney - we experienced Explorer of The Seas, a 7-day round trip Sydney-Melbourne-Hobart and back again.
So here we go - girls gone cruisin' - all questions answered.
Who's on the boat?
Cruising is for newly-weds and nearly-deads, right?
Wrong - There's 5,000 people on our boat, 1,000 crew and 4,000 passengers. The age range is surprisingly wide and it's not as old as I thought. We'd marked the average age range around 45-55 (we now just fall into this bracket - eek!), around 1 in 5 is under 45 and around 10% have toddlers and preschool children with them (it's in term so there are no school kids on our cruise). We don't see many people above 60 at all.
Whilst there's not a lot of girls on tour like us (there are some) - we do spot a lot of small groups here - getting time to hang out with each other and relax, and a lot of extended and inter-generational families cruising together.
What does it look like inside?
The ship is a monster - and it does not disappoint. 8 decks high and with a real street "The Royal Promenade" running the length of the ship with bars, restaurants, and shops. We sailed in December, so our ship is festively decked out for Christmas with a gigantic tree, and it feels more Christmassy on this ship than anywhere in Sydney and it's lovely.
Facilities
There's a massive range of things to do and places to be entertained - way more than I expected. Multiple dining from large informal buffets, cafes, and formal dining halls, to speciality restaurants - Japanese, Italian, Grill, 1950's style burger joint. There are lots of bars too, Pool Bars, Cocktail Bars, Piano bars and an Irish Pub, There's a full theatre for shows, an ice-rink, a cinema, a disco, a casino, a library, 3 pools - 2 for families and one for adults only, a good spa with great therapists, a hairdresser and beauty salon, multiple treatment rooms and a gym with classes. On the top deck, there's a Flow-Rider Machine, A full basketball court, a climbing wall, amusement arcade, a putting green, shuffleboard plus a full running track around the ship. The range of activities for kids is awesome and I'm a little sad my two, (9 and 5 years) are not here for the experience.
Will I fall overboard?
No! With a fear of heights and also a fear of deep water - I was genuinely concerned that I would trip and fall over. But no - the deck barriers are armpit high for adults, shoulder or head high for younger kids - you're not going to 'accidentally' fall overboard - unless you're pole vaulting.
What are the rooms like?
Our room is good - compact but larger than expected. We have a double balcony suite, with a small table and a couple of chairs on our deck. It's absolutely fine for 2 people and kitted out with TV, en-suite and clever closets - just enough to stow our massive overpacking. The bathroom is small (think caravan style) - but that's not unexpected. We would recommend getting the best room you can afford - as you do spend a little bit of time in there, especially in late afternoon, and getting ready before dinner - it's nice to have a comfortable reprieve when you're done wandering the ship for a few hours and to watch the ocean and world go by.
Do you feel the boat rocking?
Our seas were calm, and to be honest where there may have been a little sway from time to time - but it's hard to know whether that was the ship or cocktail #4.
But something to note - we really did sleep really well - like being rocked in the arms of your mama. (or cocktail #6)
Will I get sick?
With any large confined space, and with a huge number of people - there are risks - but extremely well handled by the crew on our ship. It is quite odd to hear over the tannoy at cocktail hour the Captain telling you to wash your hands - but that's a good thing. There is staff at the doors of every restaurant with bacterial hand gel and you don't get in without it. We didn't get sick.
How good is the food?
Standard dining can be a full-on experience with the venue seating hundreds in one go - so you need to be prepared for that if you arrive a peak time. Multiple buffet stations extinguish any queues and they carry everything you can imagine - so whatever you eat, you'll find it here - from gluten-free, Asian selections, vegetarian, roast meat carvery, salad bars, fresh omelette stations plus dessert tables stacked high. You'll have no problems feeding yourself or your kids.
We chose the formal dining hall for two nights - on our ship, it is quite a spectacular sight in all it's symmetrical three levelled, feature staircase, white table clothed, art-deco glory with a la carte menus and table service. Being just two, we were seated with other 'matched' people at a group table - although you can request a table on your own - we opted to share, we hit it off with our crew and the evening is good fun.
Speciality Restaurants - We paid a little extra to try some of the finer dining options. We tried the Grill Steakhouse and Japanese Restaurant. Where they were not the same as 'hatted' fine dining if you're a fine-foodie-fan - they were very good, and a marked difference in quality and service over the larger buffet dining. Prices were very reasonable. On a ship this large - it was nice to step out from en mass eating and enjoy a smaller, quieter and more intimate experience. In the Grill restaurant, the steak was excellent, the wine choice good and the service really attentive.
The Entertainment
Daily entertainment timetables are posted under your door each day - and there's so much to do from morning to night - from Ice-Skating Shows, Music, Comedians, Singers, Pool Movies, Pool Parties, Piano Bars, Art Shows, Karaoke, Funny Competitions, Movies, Theatre, Trivia, Casino Lessons - and that doesn't even touch the sides of what's you can do over 7 days. Best of all - it's all part of the price.
I sat down with the entertainment director for an interview and I soon have an appreciation of just how challenging this job is. With 4,000 people on board to entertain, covering all age groups, likes, dislikes and even tending to the humour of different nationalities - that's a lot of people to please.
Not everything will be to your taste - some things reminded us of Dirty Dancing - with 'Mambo' performances and Ballroom Dancing Sessions - not exactly our gig, but some folks were here just for that - and it was really cool to see the older dudes competitively foxtrot away at the ballroom sessions. We loved the ice skating show - incredible to have a full rink on a ship - and the performances excellent.
Trying everything is the only way to go and the more you join in - the more fun you will have. A special shout out to the fantastic singer in the pub who let us rule the roost one night and sang every song we wanted.
We asked the Director what's the most popular activity that's stood the test of time - and it's Trivia - and indeed every night the old-fashioned stuff like bingo and quizzes is packed out with families - the hosts are funny and enthusiastic - and it's quite lovely to watch kids get engaged in a game without a device in hand.
All the way through - I kept thinking my kids would have loved to see this or take part in this - they would have thoroughly enjoyed getting the activity sheet through the door and planning their day.
What do I pack to wear?
It's way less formal than I thought - people wear all sorts - the day is casual, but dinners can be themed (as a suggestion only in your daily activities planner) - like black and white or tropical theme. You can choose to join in or not. We kept it pretty casual most nights with jeans and a top.
What is formal night?
On every cruise expect one or two formal nights - and on these nights the ship goes OFF! and it's spectacular, funny and brilliantly entertaining!
Groups, families, and couples go to town - the onboard spa and hairdressers are booked out all day, and the costume jewellery pop-ups are doing a bomb as everyone panics they are not bling enough (including us). There's more make-up being applied than Sephora on a Saturday.
You'll find Mariah Carey's in glittering floor-length gowns, the highest of heels, black tie and dusty wedding suits - it's kind of a cross between the races, a wedding, and the Oscars - spattered with a few random dudes wandering around in cargo pants who clearly missed the memo.
But it's the families travelling together that really stood out - the little kids are gorgeous and excited in their fancy outfits, the teens and tweens are glammed to the nines - hoping desperately to meet another teen, grandma has got her best frock and lippy on, and dad has never looked so dapper.
Everyone gathers in the Royal Promenade for the Captain's address (PS the Captain is like a Mega-Star - queue up to get your pic taken) There are photographers everywhere to snap you at your very best and the bar staff can't shake cocktails fast enough.
For people watching and fashion critique - it's an absolute blast. Everyone is having a lot of fun - and it's the best night on the ship. So yes 100% join in, there's really no need to hire a Prada - just bring along your best frock and you'll fit right in.
Our Highlights
'Sail Away' - it's the party on the top deck when you pull out of the harbour. Leaving Sydney harbour is extraordinary - you are directly level with the harbour bridge and the Opera House looks tiny, good tunes are pumping (and we're 4 cocktails in by 6 pm) - the whole ship is up there waving at the crowds below - it's one of the most sensational views in the world and everyone is pumped!
Waking up to new destinations rocks!
With so much attention focused on the ship, you can forget you're actually going places.
Waking up and opening the curtains and finding that you're already docked in a new place is really exciting. We docked in Melbourne and Hobart. There's plenty of excursions to be had, we chose just to potter around the shops in Melbourne, and in Hobart, we day-tripped to MONA which was amazing.
Ocean BIG - us Little
It's a really surreal experience to sunbathe on the top deck, cocktail in hand, with great tunes, completely surrounded by expansive ocean on all sides - it's a party boat in the middle of the nowhere. You realise how teeny this massive ship actually is in the big ocean. It's very cool if a little freaky.
Chatting with the passengers
On a ship of 4,000, and although it never feels too crowded it's surprising how many people you keep bumping into. We purposely reached out to chat with everyone we could to hear their views on cruising. We met people from all walks of life and backgrounds, and a few of our own kind, a bunch of cruise curious lasses - up for a bit of a break and just having a laugh.
Would I do it again?
Before I went, I really thought I'd be one time experience, and it did take a couple of days to settle into it all. However, by the end, I really had developed an appreciation of why so many people cruise and why the trend is seriously on the rise. I get it. For families it's a super easy and cost-effective way to have a break - with no airports to navigate, no transfers to take, no cars to hire and the entertainment, planning and the destinations all coming to you. I'm now intrigued by the different ships - where our ship Explorer of the Seas was a great experience, it's one of the older ships in the Royal Caribbean fleet - the newer ships have crazy Vegas like facilities, so I'm now curious to compare. I admit that I am a little hooked, and I will be booking a trip with the kids - I know they'd have a ball.
Ready to take the Plunge?
Royal Caribbean Annual Family Sale is on now until 30th April 2018.
Reviews

Reviews get lonely too
Be awesome and write a review