Why We Love AttracTivity - Thrilling Fun for Kids and Grown-Ups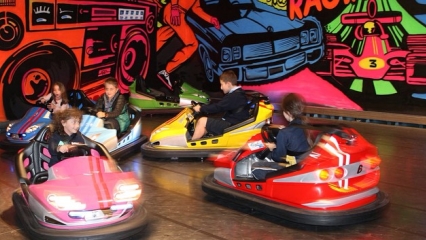 By: Lisa Wolff, ellaslist
There aren't many places around where parents and kids can have fun together! Let's face it- taking the kids to a playground is pretty tedious for the grown-ups, even if there is a trusty café nearby. So when I had a rare free day with my eldest daughter (who's about to turn 4), I wanted to do something that we could enjoy together.
So I took her to AttracTivity, a new indoor entertainment venue, in Alexandria on the border of Inner West and Eastern Suburbs of Sydney. I knew a little bit about AttracTivity but wasn't entirely sure how suitable it would be for little ones. Well, let me tell you, we had the BEST morning! We were having such a good time that we completely skipped Miss G's midday nap-time (we paid for that in multiple melt-downs later on in the day but it was worth it!).
Why We Loved It (and you will too!)
It's Spacious, Cool, Clean and Classy
AttracTivity is a large spacious venue and thankfully airconditioned so it's perfect for those sweltering summer days. Unlike most carnival venues, this one has class! The décor is tasteful and stylish and all the attractions are spotlessly clean (including the bathrooms, which boasts a fully equipped parents room – nice touch!)
Busy but Not Crowded
It was school holidays so the centre was buzzing with school kids and vacation care groups. And yet, surprisingly it never felt crowded. The waiting time for the attractions was only a few minutes and I noticed that the kids were all polite – I didn't notice any rowdiness or hyped behaviour that is common in many indoor playcentres.
Fun for Grown-Ups and Kids
It's not often that parents can have fun alongside their kids. There were many dads with grins as wide as their kids as they enjoyed the AttracTivity thrills. There were plenty of mums too in the thick of things, as well as a few enjoying a chill-out with a coffee on the leather lounges in the centre of the venue.
There's a Cafe
The Munchery is a casual cafe with comfortable seating and delicious food. The selection is fresh and varied and is far better than those cheap 'n nasty eateries at most of the play centres. There is also a $10 Kid's Menu with some tasty choices.
Our Favourite AttracTivities
Bowling
We warmed up with a game of tenpin bowling. I loved that the shoes were all new and in perfect condition, unlike the smelly, worn pairs that you get in some bowling places. There are 8 lanes with giant screens showing music videos. The scoring is all electronic and they have light-weight balls, lane barriers and ramps perfect for little ones.
Dodgems
The Dodgem Cars were AWESOME! Little Miss G and me rode together in a car. I would think a kid would need to be 5 or 6 to be able to drive by themselves. But younger ones can be passengers and still have an adrenaline ride. I haven't driven a bumper car for years and I was a little rusty with the steering. But it all came back pretty quickly and soon I was dodging and bumping like a pro. Miss G was giggling and gasping with glee throughout the ride and couldn't get enough.
Dark Ride – XD Theatre
This was our highlight of the visit. It's basically a 4D theatre experience. You sit in these futuristic cinema seats complete with a personal gun. The curtains close, you put on your 3D glasses and you travel on an interactive adventure. The chair moves in rhythm with the action on the screen so when the train that you're on hurtles down a roller-coaster, you feel as if you're plunging towards near doom! As an added bonus, you get to shoot at all the baddies that pop up and your score is displayed at the end. It's non-stop action from beginning to end (about 5 minutes). There are three different movie themes on offer and we tried them all. The cowboy one is the most tame but Miss G was fearless and begged to see them all. They had their scary moments with aliens and skeletons popping up all over the place but my little girl loved every minute.
Shooting Gallery
This is a shooting game where you get to aim at ghoulish skeletons and demons in coffins. It does look a bit creepy but Miss G didn't seemed fazed at all.
Arcade Games and Rides
There is such a variety of the coolest Arcade Games and Rides. You have to try the Typhoon which is a virtual reality ride where the seat moves to the action on screen. There are motor bike rides, car races, basketball and lots of other fun games to try.
What We Didn't Do…Yet
Laser Frenzy
This is a dream come true for stunt-kids! You have to weave under and over the laser beams without breaking a beam or you'll lose points. Only one kid can do this at a time so the queue does build up. We weren't patient enough to wait our turn.
Ropes Climbing Course
The Rope Climbing Course looks pretty cool. You get strapped into a harness and get to monkey around on ropes in the air. Little Miss G was semi-keen to try it (I was super-keen!) but whenever we came close, she changed her mind. So we'll keep this one for next time.
Frightmare Laser Tag
This is apparently super scary but a massive thrill! You put on our Lazer Tag vest and gun (each spookily named e.g. Dracula, Voldemort, Herman) and enter the dark maze. Spooky things pop up all over the place. Another activity to try next visit.
We'll Be Back…
So, we both left on an adrenaline high! I loved that kids of all ages as well as adults can have so much fun here. I have already told my hubbie that our next date night is going to be at AttracTivity. I can't wait!
What You Need to Know
Where: 160 Bourke Road Alexandria
Contact: www.attractivity.com.au or call (02) 8397 3000
Opening Hours: Open 7 days a week. Check website for Hours
Price: Entry is Free, with various different ride packages available. More Details about Pricing.
SCHOOL HOLIDAYS SPECIAL: Two Hours of Unlimited Entertainment for Only $25.