Where to Grab the Best Hot Cross Buns in Melbourne this Easter!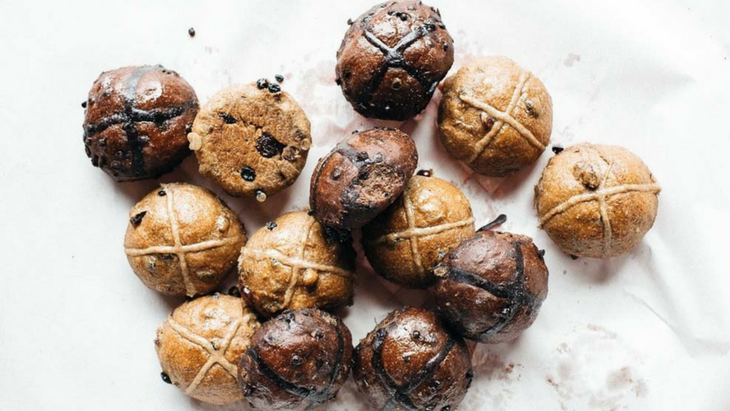 Hot cross buns may have been available since the day after Christmas, but when you want the best hot cross buns, well, now is the TIME!
Grab a basket and head out to one of these Melbourne institutions for a dozen of Easter's best.
Cafe Vue
The Hot Cross Bun situation is a very limited time at Cafe Vue, and you're going to need to order in advance.
Each pack comes with half a dozen freshly baked Burnham Bakery buns (so we recommend doubling up!). Their buns are hand-formed using the best ingredients by Vue's super-passionate team of bakers. The fruit gets soaked in mixed spice, fresh oranges are used for the zest, and the resulting dough is proved slowly to develop the best flavour.
Two indulgent flavours are on offer, where you can choose either chocolate or spelt and cranberry, a delicious twist on the familiar fruit-filled buns.
Orders placed by 12pm will be available for pick up the following day from your selected venue. Order online here.
Find it: Jardin Tan, Royal Botanic Gardens, Birdwood Avenue, South Yarra, and the Piggery Café,1 Sherbrooke Rd, Sherbrooke VIC 3789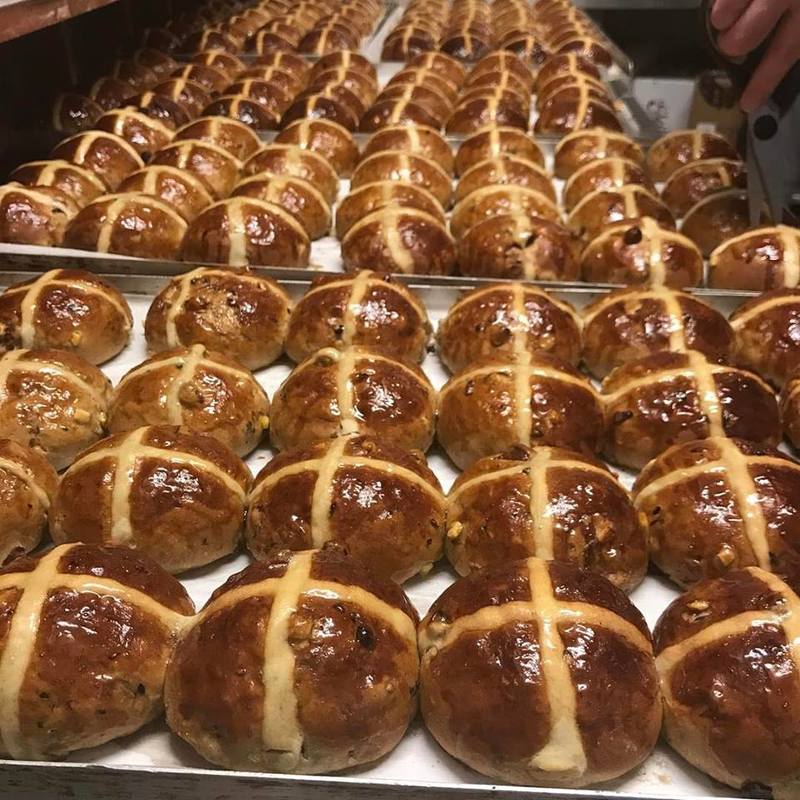 Tivoli Rd Bakery
The scrumptions hot cross buns at South Yarra's Tivoli Rd Bakery boasts gorgeous black gem currants from Murray View Organics, plump organic sultanas and raisins, making them a step above the ordinary.
Tivoli Rd is open Good Friday, Easter Saturday, and Easter Sunday, with all buns available right up until Easter Sunday.
Want to make them yourself? Their Tivoli Road Baker cookbook has everything you need.
Find it: 3 Tivoli Road South Yarra, Melbourne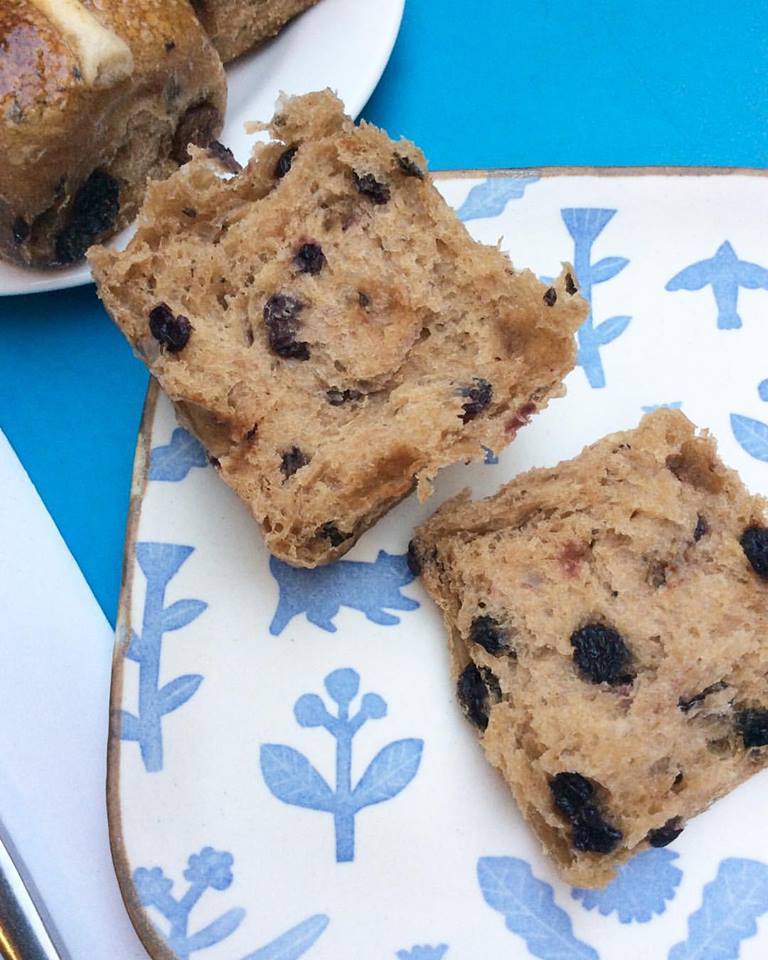 Loafer Bread
Want fabulous spicy, generously fruited, 100% sourdough, moist, malty and delicious hot cross buns that are also vegan? Loafer Bread has got you COVERED.
Artisan organic bakery Loafer Bread in North Fitzroy specialises in handmade sourdough breads and traditional all-butter croissants, delicious treats (including hot cross buns at Easter, lucky us!), and fair trade, organic coffee.
Loafer also pride themselves on sourcing the best quality ingredients from sustainable suppliers as much as possible, using organic or biodynamic wherever possible, and ensuring their milk, meat and eggs are ethically sourced and genuine free range.
You can find the buns at Ceres Market, Napier Quarter, Clay Fine Food and Health, Brunswick East Project, Milkwood, Cam's Cafe, Long Play, Underwood Wine Bar, Market Lane, Obelix and Co, Shopfront Espresso, and of course their own bakery.
Find it: 146 Scotchmer Street Fitzroy North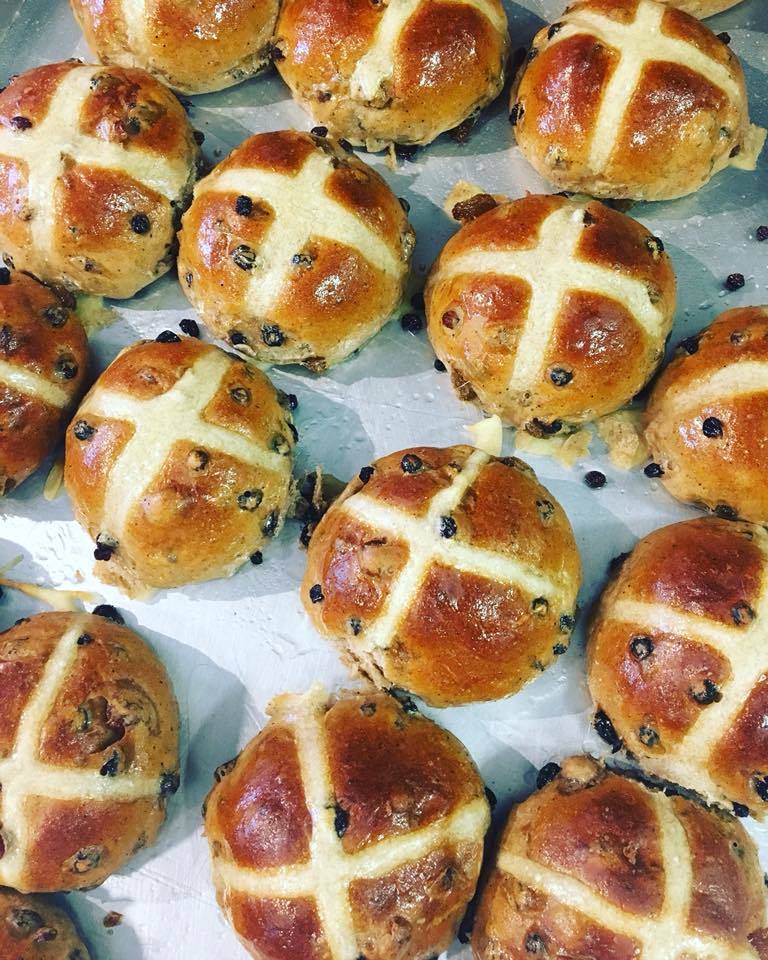 Candied Bakery
Candied Bakery in Spotswood is a super-popular places for fun Aussie foods with an American twist - their donuts are insane.
Fortunately for us they love a hot cross bun and take great pains to make them ultra-special, with both citrus zest and juice in the dough for maximum flavour, and are replete with a secret spice mix.
Find it: 81A Hudsons Rd, Spotswood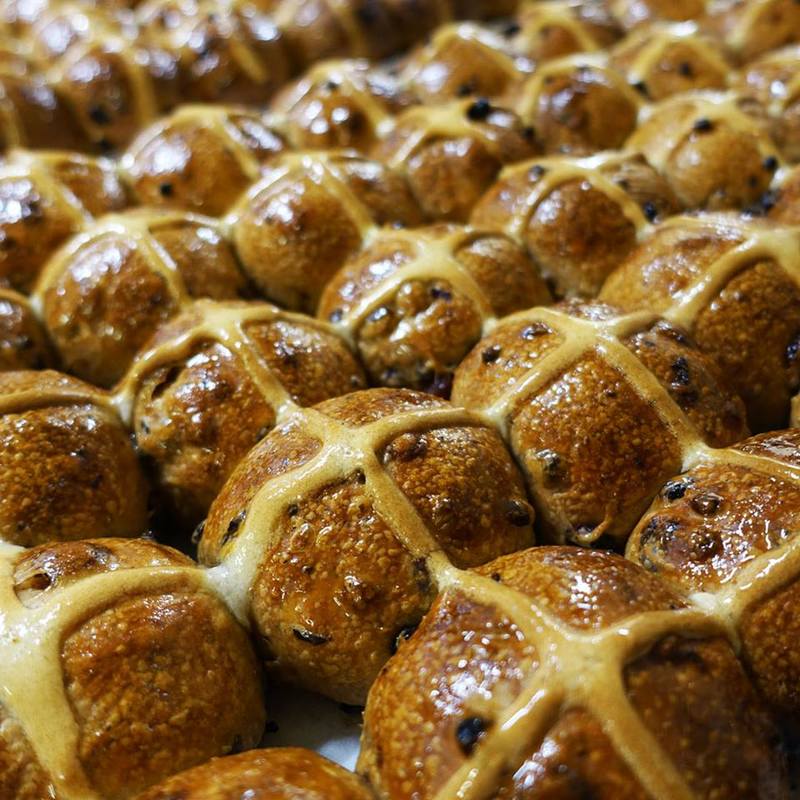 Woodfrog Bakery
Oh would you look at the crust on those! Just imagine biting into that glorious golden bundle driping with butter.
The dough is based on the Jewish challah which lends it a soft and sweet undertone for all that juicy fruit spiked with cinnamon, all topped with a sticky glaze that gives the buns that incredible top.
Loaves are hand shaped with a high moisture content, a process that results in bubbly caramelised crusts, and light and airy loaves that stay fresh long after they've been baked. Also epic halved and toasted, and can be frozen - so stock up!
Find it: 108 Barkly St, St Kilda
Main image credit: Vue Shop