What❜s on for Kids in Melbourne This Week May 1 - 7
May is huge for pop culture fiends, what with Free Comic Book day AND Star Wars day - what a treat!
This month we also are lucky enough to have the Australian Ballet's child-friendly performance of Coppelia appearing, alongside events where we can learn more about frogs, First Nations art and culture, and free fishing lessons.
Enjoy!
Star Wars Day // May 4th at Fed Square
Come to Fed Square Saturday, 4 May to enjoy a free, fun-filled day of activities and live entertainment in celebration of Star Wars Day, including:
X-wing Resistance Fighter Photo Opportunity: Prepare to take on the Empire and hop inside the Rebel Alliance starfighter for the ultimate photo opportunity.
Jedi Padawan Training: Whether you're young or young at heart, learn the Jedi skills needed to face The Dark Side.
Screenings of Galaxy of Adventures: Pull up a bean bag and enjoy the all-new animated content series on the big screen.
Merchandise: Get your hands on all-new, exclusive May 4th T-shirts from Zing and the May 4th kids' range from Cotton On Kids.
Performance from a Cantina band: Watch on as jazz musicians recreate a Cantina-style performance inspired by music from the iconic Star Wars score – brought to you by the Melbourne Symphony Orchestra. Keep an eye out for a discount ticket offer for the MSO's November shows of The Last Jedi!
Cosplay Competition: Come dressed up as your favourite Star Wars character for your chance to win a prize at the kids' and adults' costume competitions at 12.00pm.
What you need to know:
When: 10am - 4pm, May 4, 2019
Where: Federation Square
Cost: Free
For more information: See our event listing
Image credit: Federation Square Facebook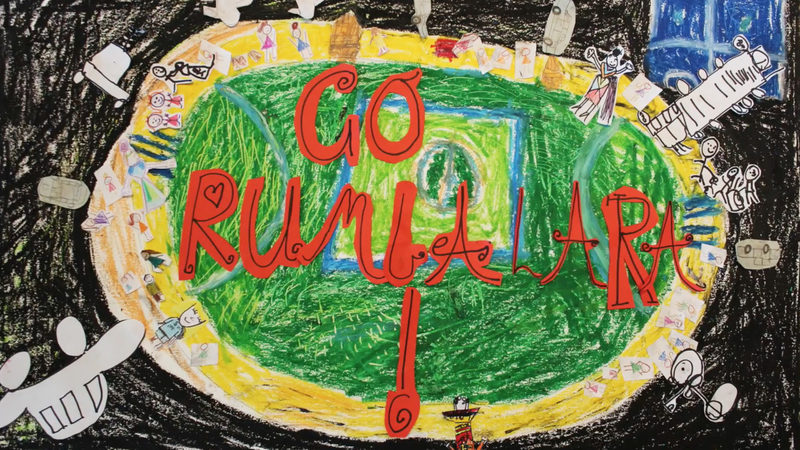 First on the Ladder: Shopfront (Part of the Yirramboi Fest)
First On The Ladder combines the arts from Polyglot Theatre together with sports practiced by kids from a local club to cultivate imagination and self-expression and to celebrate the vibrant community centred around Rumbalara.
Audiences of all ages can get involved in the exciting First On The Ladder project as shopfronts on Chapter House Lane are transformed into a beautifully curated exhibition of art, video and sound works. Pop by to watch and a screening of the Because Of Her We Can film clip and Yakama Rumba animation created by children of the club.
The Yirramboi Fest is Australia's premier First Nations arts and cultural event, filled with free and low-cost events across music, dance, theatre, film, exhibitions, markets, fashion parades, family-friendly events, talks and workshops all over the city.
The Yirramboi Fest runs May 2 - 12.
What you need to know:
When: May 4 - 12, 8am - 8pm
Where: Chapter House Lane, entry via Flinders Lane
Cost: Free
For more info: See our event listing.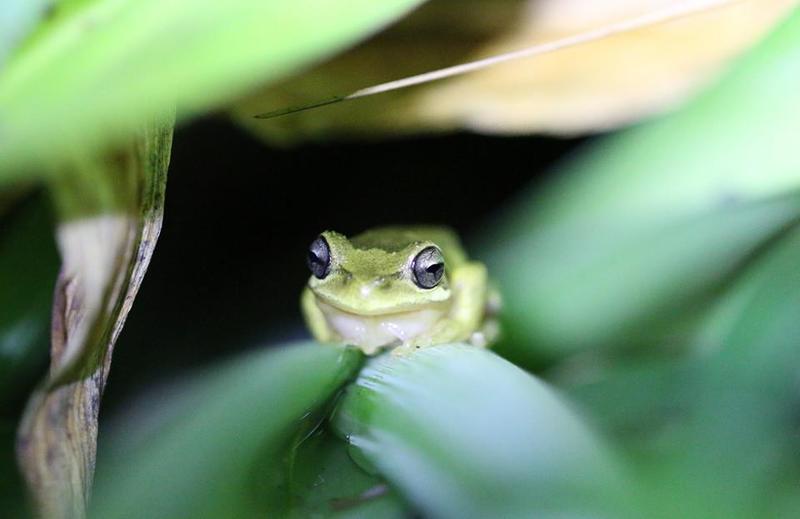 Frog Fest at the Living Pavilion
The Living Pavilion is hosting Frog Fest as part of its three-week Melbourne festival, so you can get down and dirty with your amphibian friends!
The Living Pavilion is a living laboratory - a recyclable, biodegradable, edible and biodiverse event space that celebrates Indigenous knowledge, ecological science and sustainable design through participatory arts practice. Its unique horticultural design features over 40,000 Kulin Nation plants.
For froggy fun, check out:
Frog Soundscape Tours, Frog Choir and Frog Dress-ups at the Main Stage, Frog choir rehearsal and performances (costumes will be available for frog dress-up), Frog Craft and Face Painting, Creative Clay Frogs immersive activity, and Frog Felting, Drawing and Colouring. All served up with a side of face painting!
What you need to know:
When: 10am - 4pm, May 4 - 11, 2019.
Where: The University of Melbourne, Gate 8 Grattan Street , Parkville
Cost: Free
For more information: See our event listing.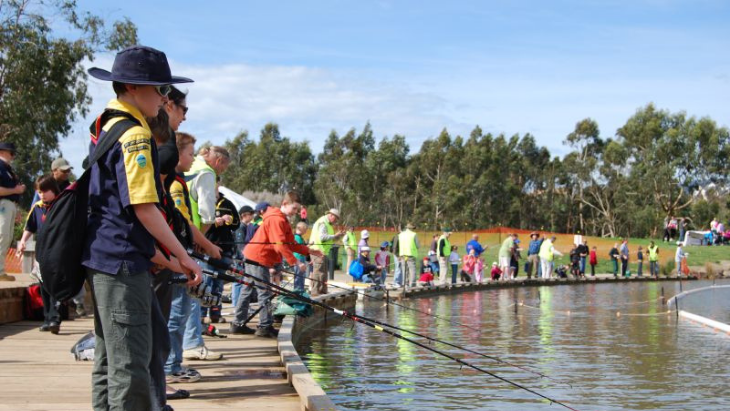 Vic Fish Kids Program
With the aim of getting more children fishing, more often, the Victorian Fisheries Authority is holding six fishing events for the under-18s.
These events are fun and free, and everything is provided when you sign up for the guided fishing clinic, so youngsters can cast a line and try fishing in a safe and supportive environment.
The VFA will be giving away 200 rod and reel outfits at each event to encourage beginners to stick with the hobby and try it again another time with family and friends.
It's all part of the State Government's Target One Million plan to grow participation and get one millions anglers by 2020.
Learn to cast, how to tie knots and what to do with a fish when you catch one.
Free fishing tuition will be provided by volunteers from angling clubs, VFA staff and Fishcare during the guided fishing clinics.
Most waters (where applicable) will be stocked prior with catchable size rainbow trout from our Snobs Creek hatchery, and some fish will be released on the day too. Everyone's welcome to help!
Clinics will occur throughout the day and there'll be lots to do for the whole family including a free photo booth to immortalise that fish of a lifetime
There will also be marked fishing areas for those who bring their own fishing gear. Limited bait will be available.
Parental supervision is essential and participants should bring sturdy footwear, clothing to suit the weather, a hat and sunscreen, and a sense of fun and adventure because they're going to be wonderful day.
What you need to know:
When: 10am - 4pm
Where: Williamstown Pier
Cost: Free
For more information: See our event listing.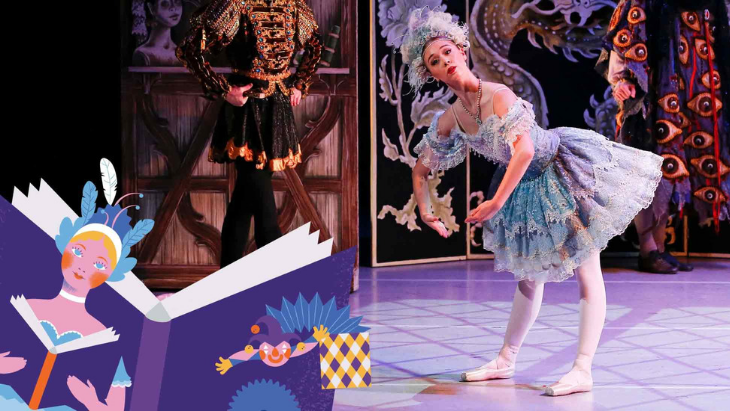 Storytime Ballet: Coppelia
Storytime Ballet is an enchanting dance experience that is brought to life as an interactive, narrated show created especially for young children. Kids are inspired by the delightful storytelling, graceful dancing and treasure trove of costumes and trinkets.
Join the narrator Dr Coppelius and young lovers Swanilda and Franz, as they sneak into the magician's mysterious workshop and discover the secrets of his mechanical dolls.
Running for under an hour, children are fully immersed in the story and help make the magic happen on stage!
What you need to know:
When: May 4 - 5, show times: 11am, 2pm, 4pm.
Where: Arts Centre Melbourne, 100 St Kilda Rd, Melbourne
Cost: Between $44 - $51, find tickets here.
For more information: See our event listing.