What❜s on for Kids in Melbourne This Week September 8 - 15
Plenty of fun to be had out in the spring weather across the city - mere days away from the long-awaited school holidays! See some wildlife, create artworks and visit the rainbow-hued tulips at the Tesselaar Tulip Festival, an annual favourite!
Tesselaar Tulip Festival
Enjoy an adventure in a wonderland of spring flowers at the 2018 Tesselaar Tulip Festival held in Melbourne's magical Dandenong Ranges from September 15 – October 14, 2018.
Visitors will be grinning like Cheshire cats whilst they wander through the brilliant display of five acres of tulips. There is fun for all ages, including live entertainment, children's activities, delicious local and international food and market stalls daily, all set to the stunning backdrop of a rainbow of 900,000 tulips in flower.
The Festival kicks off with the Turkish weekend (September 15 – 16), celebrating the origin of the tulip with exciting Turkish performers, music, folk dancing, belly dancers, cultural and artistic displays as well as a selection of delicious Turkish foods.
Then take a trip into Wonderland with Alice and the White Rabbit for story performances of the classic tale Alice in Wonderland, during Wonderland week (17 – 20 September).
Dutch weekend (21 – 23 September) is a great time to put on your clogs and enjoy some Dutch hospitality. Musicians, dancers, games and delicacies fill this exciting weekend.
Visitors can meet popular PJ Masks' Catboy, Gekko and Owlette during Superhero Children's week (24 – 27 September). Enjoy fun shows along with animal petting zoos, craft activities, giant garden games and the popular tractor rides.
Eat, drink and be merry at the Food, Wine and Jazz weekend (28 – 30 September). This chilled weekend amongst the tulips has great bands and delicious international foods teamed with award winning local beers and wines.
The second week of the school holidays will see your little people keeping busy during Get Active week (1 – 4 October). Twice daily shows of the legendary Peter Rabbit, face painting, storytelling and a trip down fairy hollow will keep everyone happy!
Come for the craic and enjoy all day entertainment during Irish weekend (5 – 7 October). There will be Irish pipers and dancers, Celtic arts, Irish coffee and beers and a few lovable Leprechauns!
Celebrate the tulips in all their glory during Tulipmania week (8 – 14 October). Enjoy a last opportunity to walk through the tulips before we bid them farewell for another year. There will be plenty of entertainment, delicious food and activities to ensure they go out with a bang!
Dogs on lead welcome. Free off street car and bus parking.
What you need to know:
When: September 15 – October 14, 2018.
Where: Tesselaar Tulip Farm, 357 Monbulk Road, Silvan
Cost: Adults $28, children under 16 free with accompanying adult.
For more information: Check our event listing.
Main image credit: Tesselaar Tulip Festival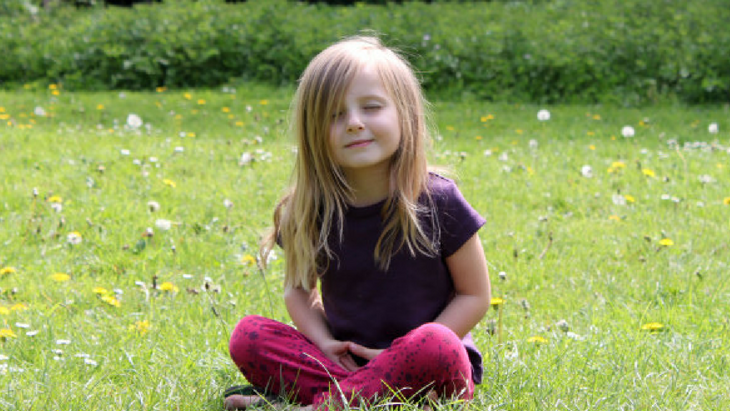 Kids Meditation Classes
These meditation and Buddhism classes introduce children of all ages to simple Kadampa Buddhist teachings and meditations designed to help them solve their problems and develop a happy heart.

Every class will emphasise loving kindness and cultivating a positive mind. Classes also include simple prayers, fun activities and discussions relevant to their everyday experiences.

Classes are self-contained so it is easy for parents to bring their kids whenever they wish. Suggested age: 5-10 years, children to be accompanied by an adult. Class fee includes morning tea. No bookings required.
What you need to know:
When: Until November 25, Selected Sundays 10am - 11:30
Where: Kadampa Meditation Centre, 140 Queen St Melbourne, and 25 McCarthy Rd, Monbulk.
Cost: $6, including morning tea.
For more information: See our event listing.
Main image credit: Kadampa Meditation Centre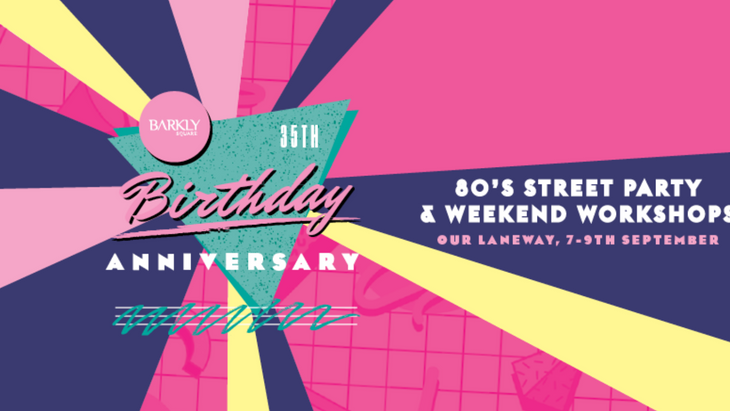 Barkly Square's Birthday 80's Street Party and Free Weekend Workshops
A CELEBRATION FOR ALL
Brunswick hot spot Barkly Square is turning 35, and what better way to celebrate than taking things back to where it all began – THE 80s!!!
Bring out the shoulder pads, your high waist denims and get your leg warmers on! (encouraged, but not mandatory) because the Laneway is being transformed into a scene from 1983. Don't worry, if you don't have anything in your wardrobe we've got some dress-ups handy, along with an 80s hair & make-up station before you take that Insta-worthy pic. Just grab a brightly coloured drink whilst you listen to some old school 80s tunes and the kids get busy crafting.
Then the fun continues all weekend long with 80s arcade games, craft workshops and some high-energy aerobics FUN. Don't forget you're fluoro sweatbands!
Along with these amazing activations the retailers are giving you some special deals you just can't refuse – like $1 cheeseburgers from McDonalds all weekend long! Now that's worth celebrating.
8th SEP: SATURDAY 10AM-3PM
9th SEP: SUNDAY 10AM-3PM
WORKSHOP BOOKINGS – REGISTER NOW!
Workshops welcome both children and adults, and whilst registration is required, unbooked available spots will be open to anyone there on the day.
IN-STORE RETAILER OFFERS
McDonalds: $1 Cheeseburger Sep 7-9th (limit 5 per person per day)
Zambrero: $8.80 for a classic range burrito/or bowl Sep 7th, 5-9pm (classic range only)
Rolld: $8 for 2x Bao Sep 7-9th. Then roll the dice with offer purchase for a scratch & win card for instant prizes if you roll an 8
Scole Lotto & News: Those born in 1983 get 50% off selected items on Sep 8th
Pure Poultry: $8.80 for at hot roast chicken, and/or 1 bag chicken carcass $0.80c, Sep 7-9th. Quote '35th Birthday offer'.
Priceline: 10% off storewide (excluding catalog & sale items), Sep 8th
OTHER
JB Hi-Fi: 80s stall in the Laneway Sep 7th from 5pm, and Sep 8th 10am-5pm
Rolld: In-store demonstration Sep 8th & 9th, 11am-12pm
What you need to know:
When: September 7 - 9
Where: Barkly Square Shopping Centre, McDougall St Laneway
Cost: Free
For more information: See our event listing.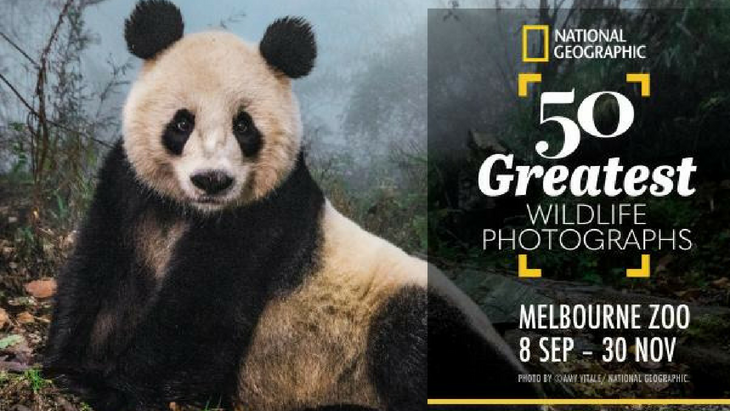 National Geographic 50 Greatest Wildlife Photographs at Melbourne Zoo
For 130 years, National Geographic has championed the art of wildlife photography and captivated generations of audiences. From the very first image to appear – a reindeer in 1903 – National Geographic Society's publications have broken new ground and push the bar higher again and again.
50 Greatest Wildlife Photographs is a pop-up photography exhibition, debuting in Melbourne Zoo's historic Carousel Park, and features a selection of breathtaking images from some of National Geographic's most renowned photographers, including Paul Nicklen and David Doubilet.
50 Greatest Wildlife Photographs will only be on display for three months and is included with general admission to Melbourne Zoo. Don't miss your chance to see these outstanding wildlife images and experience Melbourne Zoo as the exhibition comes to life.
In celebration of the exhibition, Melbourne Zoo are running a range of activities for members and visitors, which you can see here.
What you need to know:
When: 9am–5pm 8 September to 30 November 2018.
Where: Carousel Park Melbourne Zoo, Parkville
Cost: Free with admission
For more information: See our event listing.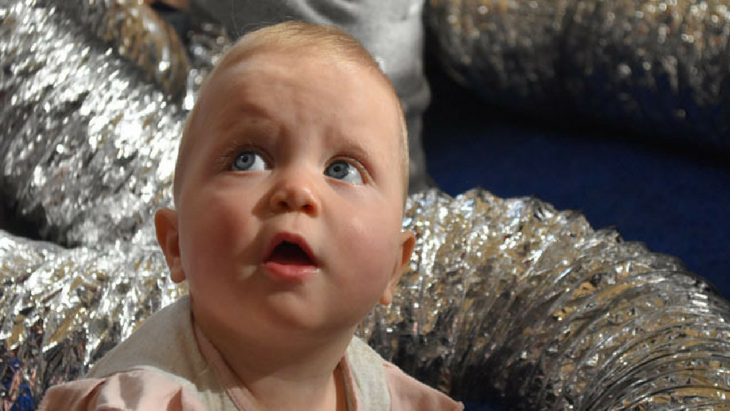 Oompah! (Create with the Artist)
Join the New Ideas Lab to explore texture, smell, taste, sound and light with your baby.
Artists: Efterpi Soropos, Tom Burless and Carmen Chang
ArtPlay's New Ideas Lab supports artists and children to work together to develop new arts experiences.
How does your baby explore the space around them? Through touch? Through taste? Maybe by listening or seeing?
The Oompah! project is creating an immersive and sensory space of calm and connection where your baby can engage by moving freely to various sensory elements that appeals to them. In this session you will be experimenting with the different elements of the project.
Have fun with bespoke prototypes of interactive toys and objects that emit light and sound, and explore a large interactive play mat embedded with sensory elements.
Each child must be accompanied by an adult.
What you need to know:
When: Wednesday September 12, 10.30am - 11.30am.
Where: ArtPlay, Birrarung Marr (Behind Fed Square)
Cost: $16 per child, bookings essential.
Age: 0 months to 14 months
For more information: See our event listing.