What❜s on for Kids in Melbourne This Week May 16 - 23
Puppies! Sandcastles! It's a childhood wonderland in Melbourne this week!
Buddha's Birthday and Multicultural Celebration
The free annual Buddha's Day and Multicultural Festival is a not-for-profit festival, which promotes inclusiveness, cultural awareness, cultural understanding; and enhances community spirit and social harmony.
The 2-day festival celebrates Buddha's birthday and the diversity of our multicultural and multi-faith society through traditional Buddhist Ceremonies, arts, music, cultural performances, social and spiritual wellbeing lectures, world peace prayers, blessing ceremonies, children's activities, vegetarian food and much more. The festival contributes to the arts, civic culture, interfaith dialogue and cultural dimensions of this great city.
What you need to know:
When: 18 - 19 May, 2019
Where: Federation Square, Melbourne
Cost: Free
For more info: See our event listing.
Image credit: Buddha's Day and Multicultural Festival Facebook
On Sunday 19 May, thousands of people and their pooches will walk together to show their support for the animals of Australia.
The RSPCA Million Paws Walk is a fun day out where we celebrate our furry friends and come together to raise much-needed funds to help care for the 250,000 animals who come through their doors each year.
Get barking up the right tree and buy tickets today! Let's everybody walk together and raise vital funds to fight animal cruelty.
What you need to know:
When: 9am - 3.30pm, May 19, 2019
Where: Pelican Lawn, Albert Park Lake, Albert Park
For more info: See our event listing.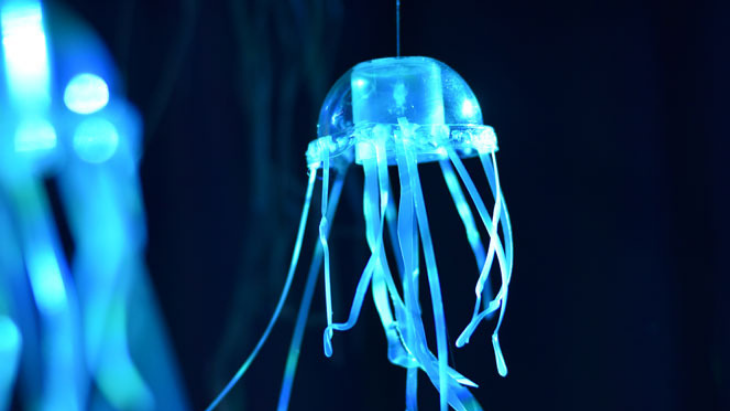 Exhibition: Beneath
Explore an underwater landscape created from recycled plastic with artists "Making Space"
Kids are invited to come and explore the deep ocean where 95 per cent of all living things on the planet survive!
All seems dark and quiet at the bottom of the sea but something is always going on. Head over to ArtPlay and explore an underwater landscape created from recycled plastic. There are surprising creatures all around and strange sounds on the ocean floor.
This immersive experience encourages us to consider our relationship to the environment, asking us to reflect on where our plastic ends up.
Making Space are an independent collective led by female theatre designers. They create interactive and immersive, design based experiences.
Each child must be accompanied by an adult.
What you need to know:
When: Until September 1
Where: ArtPlay, Birrarung Marr (Behind Fed Square)
Cost: Free, bookings not required.
For more information: See our event listing.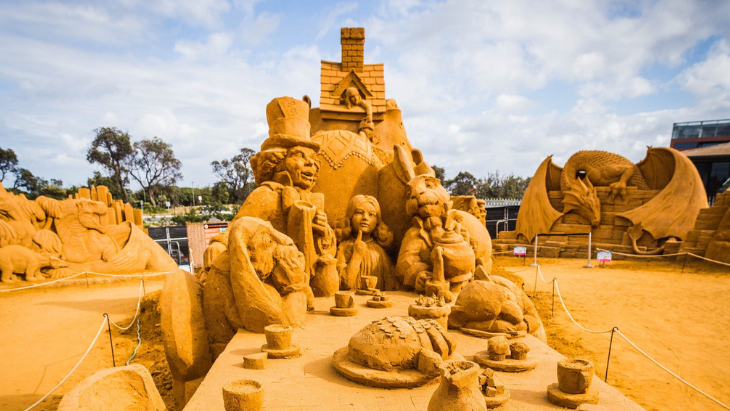 Peter Pan - Sand Sculpting Australia
Find the incredible Sand Sculpting Australia at their new home on the Mornington Peninsula, Boneo Maze with their new exhibition "Peter Pan" (which has now been extended through to the end of September).

See this incredible exhibition without the summer crowds with a calendar of special events you will have the opportunity to see the sand sculpting exhibition in a new light.
Spend the day in Neverland exploring this classic story told in sand. See 3,500 tonnes of sand transformed into incredible sculptures by the world's best artists.

Weekends and School holidays you can make your way to the kids zone where the youngest visitors can enjoy themed activities and workshops, or take off on one of the pedal boats and explore the sculptures from the water surrounds. There is a kiosk in our kids zone or you can take a seat at the lakeside café, this is also where the kids can enjoy the jumping castle.

With 27 acres of wetlands, gardens and mazes all included in your ticket price. After exploring the world of Peter Pan you can take a walk through the boardwalks, get lost in any of three mazes or play the giant games in the garden.
What you need to know:
When: Until 30 Sep 2019
Where: Boneo Maze, 695 Limestone Road, Fingal
Cost: General Entry: Under 3 free, Child 3-17yrs $10, Senior $12, Adult $15
For more information: See our event listing.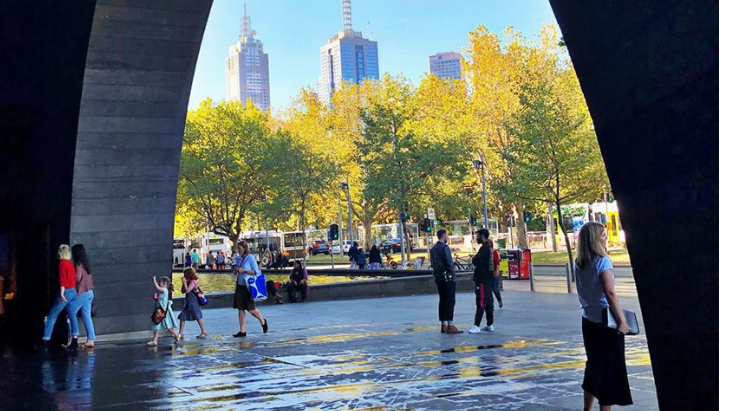 From Bark to Neon @ The NGV
From Bark to Neon: Indigenous Art from the NGV Collection celebrates Indigenous art in Australia.
It looks at major artists across time and place who have been at the forefront in creating new forms of expression and in maintaining and regenerating customary cultural practices and iconography. Great individual artists, such as, Paddy Compass Namadbara, Clifford Possum Tjapaltjarri, Rover Thomas, Trevor Nickolls, Lin Onus, Emily Kam Kngwarray, Sally Gabori, Brook Andrew and Destiny Deacon have shaped and transformed the face of Indigenous art in Australia and inspired many artists to follow their example.
This positive and powerful exhibition will introduce audiences to some of the most significant works by Indigenous artists in the NGV Collection and will explore some watershed moments in the history of Australian art.
What you need to know:
When: 10am - 5pm daily, until July 14, 2019
Where: NGV Australia, Federation Square
Cost: Free
For more information: ngv.vic.gov.au