What❜s on for Kids in Melbourne This Week June 15 - 22
Strap on your skates, it's another full-on week for family events in Melbourne! So much culture, music, and good, old-fashioned winter fun.
Skating At (St Kilda)
Skating At is a pop-up ice skating festival set up in iconic locations around Australia, and these school holidays, it's St Kilda's turn!
Centred around a world class ice skating rink, Skating At is a festival of food, drinks and entertainment all conveniently located together. This family friendly event is ideal for people of all ages and skill levels who want to have SNOW much fun over the winter!
These pop-up ice rinks are only in town for a limited time, so don't miss out!
What you need to know:
When: 21 June - 14 July
Mon-Wed : 10am - 9pm
Thurs-Fri : 10am - 9pm
Sat : 10am - 9pm
Sun : 10am - 9pm
Where: Acland Street (Acland St & Barkly St, St Kilda)
Cost: Adult: $21 | Child: $15 | Kids 3 - 5: Free (with conditions)
For more information: See our event listing.
Image Credit: Skating At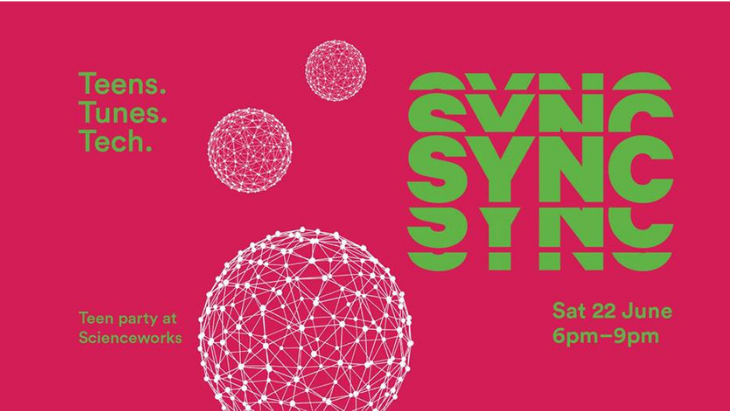 Sync @ Scienceworks
Adventure into unseen worlds at Sync; a teen party designed to blow. your.mMind!
Set on Winter Solstice, get your mates together and explore Scienceworks after dark. Celebrate the longest night of the year with live music, tech activations, VR, exhibitions and experiences in the Melbourne Planetarium!

Get down to electrifying live electronica music from Nussy in Beyond Perception exhibition, throw yourself around for a Dance Party in Sportsworks with Melbourne-based collective House of Friends,and enjoy a voyage for galactic, audio-visual explorations under the domed night sky of the Melbourne Planetarium as you relax for sonic, immersive tunes. Reveal invisible spectrums and energy and experience worlds beyond human perception with the Beyond Perception exhibition. Glow in the dark and see the unseen with science and tech activations, and explore the Minus18 activations! Minus18 is Australia's largest youth-led organisation for LGBTIQ youth and will host a Chill Out Space plus activations including badge-making, their signature glitter station, face paint, treasure hunt and much more.
What you need to know:
When: 6pm - 9pm, June 22, 2019
Where: Scienceworks, 2 Booker St Spotswood
Cost: Member/Earlybird: $10 | Concession $15
Ages: 13-19 ONLY
For more information: See our event listing.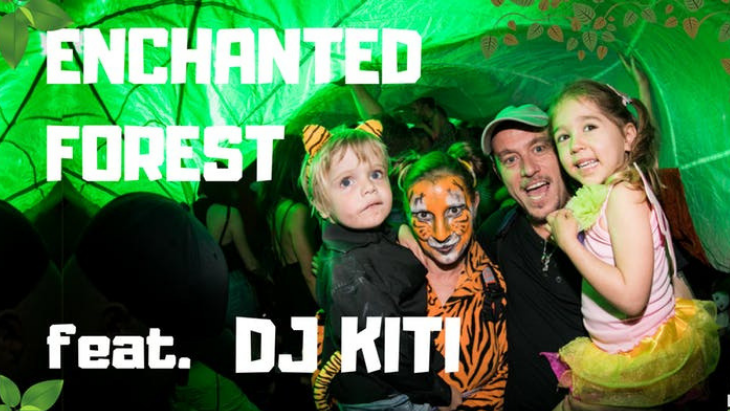 Enchanted Forest Family Rave
Fancy getting a little wylde?
Melbourne powerhouse DJ KITI is headlining this extra-special show at the mysterious and magical 24 Moons - perfect for an enchanted forest dance!
Get on down to house/breakbeat/rave/techno/classic tunes on the multi-sensory dancefloor (with a parachute dance finale!). With a bar for the adults, live performances, and kids craft area with giant mural, themed crafts, and a playdoh table for the littlest ones. There'll be stalls galore including face painting and themed cakes, a play area with tents and tunnels and baby chillout space with mats, and fancy dress TOTALLY ENCOURAGED!
What you need to know:
When: 2pm - 5pm, Sunday June 16
Where: 24 Moons, 2 Arthurton Rd, Northcote, 3070
Cost: Child: $18.19 | Adult: $26.63 | pre-walkers free with a paying adult.
For more information: See our event listing.
Winter Wonderland Family Fun Day
Springfree Trampoline's Winter Wonderland celebrates all things winter with an exciting array of entertainment for the family's mini VIPs including snow animals, lawn games and unique themed trampoline installations.
Soak up Melbourne's winter vibes whilst enjoying fairy floss, imaginative face painting, traditional hot chocolates and winter-inspired, interactive Springfree trampolines.
Bounce from the snow-globe trampoline, to the Instagram trampoline, before finishing off at the chalk trampoline.
All families are welcome to enjoy the endless hours of fun. A gold coin donation on arrival is appreciated, with Springfree Trampoline matching the amount raised on the day. All proceeds will be donated to Malvern charity Very Special Kids, who care for children with life-threatening conditions.
All visitors to the Springfree Trampoline pop-up will go in the draw to win a Springfree Jumbo Round Smart Trampoline including Australia-wide delivery valued up to $3,084!
What you need to know:
When: Saturday 22nd June from 9:00am to 3:00pm.
Where: Malvern Town Hall, 1251 High St, Malvern
Cost: Free (gold coin donation)
For more information: See our event listing.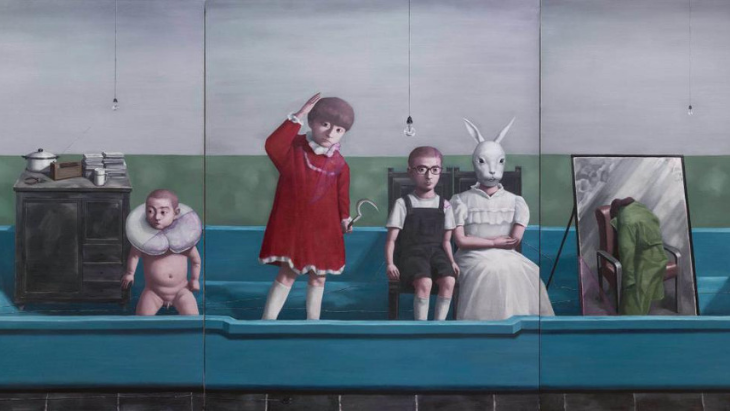 A Fairy Tale in Red Times
A Fairy Tale in Red Times: Works from the White Rabbit Collection presents works by 26 Chinese artists, an exciting collaboration between the NGV and arts patron and philanthropist Judith Neilson on the occasion of the 10th anniversary of the establishment of the White Rabbit Gallery.
Neilson's White Rabbit Collection is currently the largest private collection of contemporary Chinese art internationally, containing more than 2500 works by more than 700 artists. More than an art collection, it is a social document that reveals dramatic generational change in Chinese society, culture and contemporary art in the twenty-first century. Since 2009 exhibitions of works from the collection at White Rabbit Gallery have become an accessible point of first contact with contemporary art from China for Australian residents and international visitors alike.
The NGV celebrates Judith Neilson's visionary endeavour with this selection of works from artists based in mainland China and Taiwan. A Fairy Tale in Red Times reveals the creative energy, technical virtuosity and conceptual richness of artists from two generations: the first post-Mao generation that enthralled Neilson in the early days of building the collection, and the exciting innovations and global reach of a younger generation for whom the Cultural Revolution is ancient history.
What you need to know:
When: Until October 6
Where: NGV, 180 St Kilda Rd, Melbourne
Cost: Free
For more information: See our event listing.