What❜s on for Kids in Melbourne This Week July 9 - 15
Have you dug out your winter woolies yet? You're going to need them this week as we have tons of fun in Melbourne over the school holidays! Especially (and we mean especially!) at The District Docklands Ice Slide running all this week.
Have fun out there!
The District Docklands Ice Slide
Slide into winter - literally! right here in Melbourne with The District Ice Slide at Docklands.
It's a super-thrill sliding down the icy incline, and at only a $1 donation price point, it's an excellent entertainment option for these winter school holidays.
Kids under age 30 or 80cm in height unfortunately have to skip this one, and kids under 4 must be accompanied by an adult on the slide itself, so get ready!
The line for the slide closes at 4pm sharp so do make sure you get there in plenty of time.
What you need to know
When: 11am - 5pm daily June 29 - July 14
Where: The Square next to UNIQLO, The District Docklands, 440 Docklands Drive, Docklands
Cost: Entry to the slide is free, gold coin donation to Kids Under Cover required for every slide
For more information: See our event listing.
Image credit: District Docklands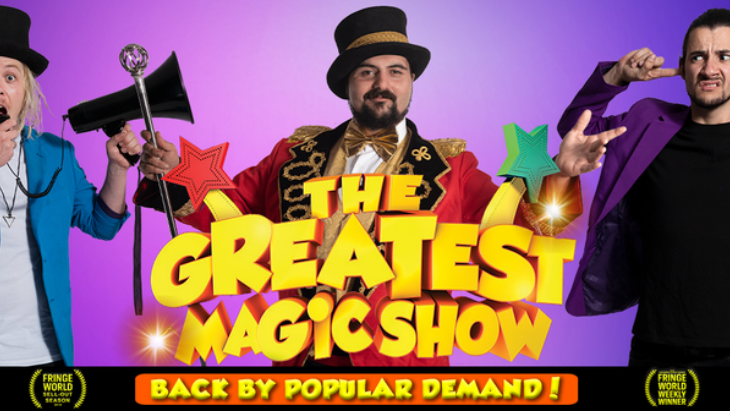 The Greatest Magic Show Returns
The multi-award winning, sell-out sensation of 2018 – The Greatest Magic Show - is once again returning to Melbourne, bigger and better than ever before!

Sure to be one of the best family shows you'll see all festival, come see the stars - Sam and Justin - hit the spotlight debuting brand new and hilarious magic, breath-taking circus stunts, and a mystifying new character, The Ringmaster!
PLUS, every child who attends will receive a FREE magic wand on entry and may even be one of the lucky few to come up on stage and become a star of the show…
(Part of Melbourne Magic Festival 2019)
What you need to know
When: Tuesday 9 July 2019 – Saturday 13 July 2019 12:30pm – 1:30pm
Where: The Melba Spiegeltent, 35 Johnston Street, Collingwood
Cost:
Adult: $24.30 ($23.00 + $1.30 fees)
Concession: $24.30 ($23.00 + $1.30 fees)
Family of 4: $85.04 ($80.00 + $5.04 fees)
Group 10+: $19.23 ($18.00 + $1.23 fees)
Group 20+: $16.20 ($15.00 + $1.20 fees)
$16.00 Tuesday: $16.20 ($15.00 + $1.20 fees)
For more information: See our event listing.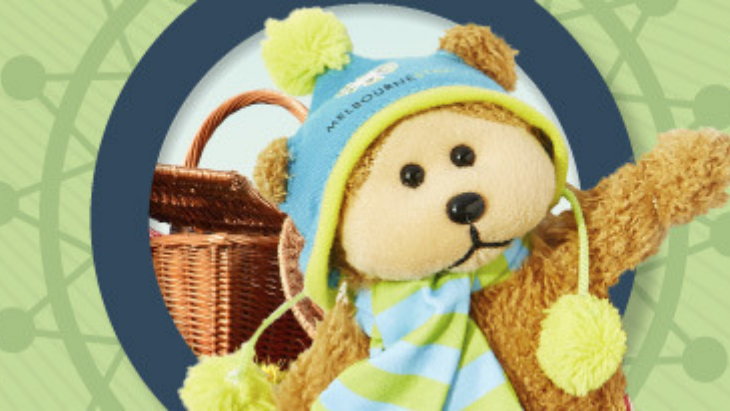 Teddy Bear Picnic Day at the Melbourne Observation Wheel
July 10 is the day the teddy bears have their picnic! As a special treat at the Melbourne Observation Wheel, Melbie Bear will be giving free cupcakes to kids (get in quick so you don't miss out!)
Melbie Bear is soooo excited! Teddy Bears' Picnic Day is coming and we have a special surprise for all the girls and boys who come along and join the furry fun!
It'll be warm, fuzzy feelings all round when the kids get a delicious free cupcake from Melbie (well, it is a picnic!) and maybe a big fluffy cuddle and a selfie before joining the activities put on by the awesome guys at Kelly Sports.
What you need to know
When: Wednesday, 10 July from 10:30am until 2:30pm
Where: Melbourne Star Piazza
Cost: Adult flight $36, kids fly free with every ticket purchased.
For more information: See our event listing.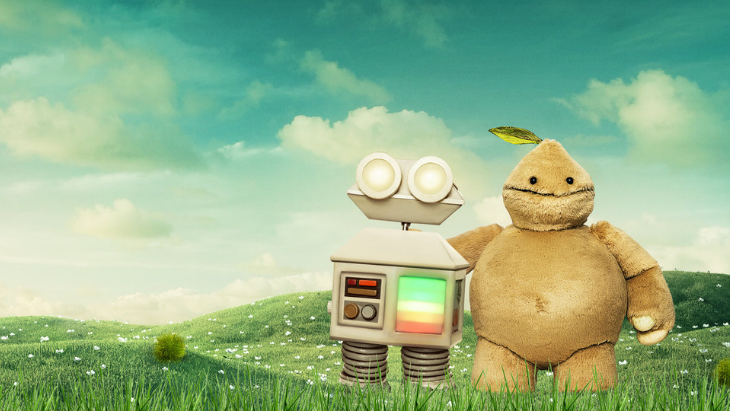 Beep
From the makers of Grug and Grug and the Rainbow, comes a slightly sideways tale about unexpected friendship, finding where you fit and learning to mix it up a little.
In Mort's Village everything has its place, every day is the same and everyone likes it that way. Until one morning, Beep crashes into town. What is this annoying interruption to Mort's breakfast molly melon, who is this noisy robot girl, and how will she find her home?
With Windmill Theatre Company's trademark design, gentle storytelling, music and puppetry, Beep tells the story of what happens when you meet someone new.
Beep is a heart-warming tale of friendship these winter school holidays, perfect for ages 2-7.
At the end of the performance, audiences are welcome to head up on stage to meet the puppets and actors!
Stay and play before or after seeing Beep with the free foyer activation. Create your very own robot costume using craft materials and your imagination, inspired by Windmill Theatre Company's own special robot Beep. Participants are invited to create a robot costume that they can take home and use for dress-ups. What will your robot look and sound like?
What you need to know:
When: 9 - 13 July 2019, various show times
Where: Fairfax Studio, Arts Centre Melbourne
Cost: $30
For more information: See our event listing.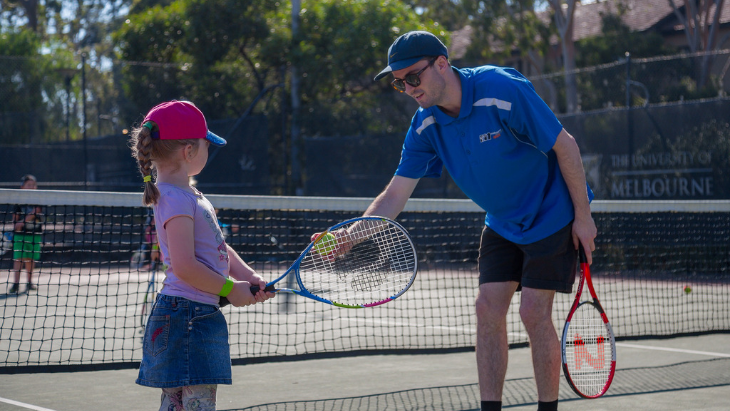 Melbourne University Sport Holiday Program
Melbourne University Sport welcomes all children aged 5-12 for their Sports Camps over the school holidays.
Featuring multi-sport and sport-specific days, group games and more, children will learn the values of teamwork, whilst improving their game sense, movement and coordination skills across each weekday of the holidays. It's a fun, friendly and safe environment for them to learn new skills and get plenty of winter exercise. Sports on offer include athletics, soccer, AFL and more.

The Sports Camps are held just north of Melbourne's CBD at The University of Melbourne's Parkville Campus in the Sports Precinct on Tin Alley, In addition, the camps have the advantage of using the University's facilities where some of Victoria's premier sports teams train and play.
The camps offer a drop off from 8am, where children have plenty of time to get to know their coaches before jumping into their first fun session.
There will be breaks for morning tea and lunch before wrapping up at 3.30pm - and if that's too early in the day for a pickup, there will also be After Camp Care on offer.
What you need to know
When: 8am - 5.30pm Mon - Fri, 1 - 12 July, 2019
Where: Nona Lee Sports Centre, Tin Alley, Building 10, Parkville VIC 3052
Cost: $65 - 95 per day
For more information: See our event listing.