We Slide And Glide By The Beach At Bondi Winter Magic
By: Grace Titioka, ellaslist
Ice skating is just one of those super fun activities that never fails to provide priceless childhood memories. And in this country where a stinging sun resides, even in the winter, rarely do us Australians get the chance to enjoy an outdoor ice rink, let alone one that's right next to one of our iconic beaches.
Bondi Winter Magic is back for another season of sliding and gliding and every year, I'm reminded how lucky we are to have this winter festival against a beautiful, unique backdrop of avid surfers and crashing waves.
As a local family, the Bondi Winter Magic holds some special sentimental moments. It was here where our our twin boys first experienced that strange sensation of gliding their little preschooler's feet on frozen water.
I vividly remember strapping them on their first "ice skate rentals" - teeny tiny adjustable double blades. Cautiously and awkwardly they shuffled along, hanging on tight to the assisting Penguins. Falling over was - surprisingly - no big deal nor did it cause any major tears. The fun and exhilaration of endlessly circling the rink would always override a little trip up and wet bum. (Parents, don't forget to bring spare, dry clothes!)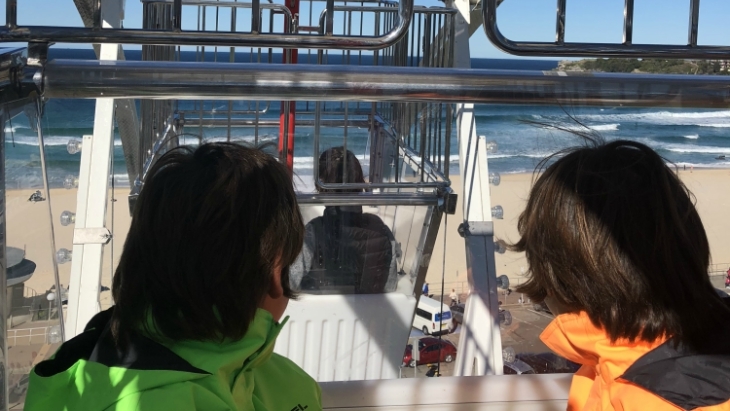 This year was no different, except we've gone a size up in skates and well, they've become little speed demons. Ice rink sessions are hourly and go for 45 minutes. Buying our tickets a little early, instead of waiting, we went for a quick ride on the Bondi Vista - the 22 metre ferris wheel with 360 degree views of Sydney's spectacular eastern beaches.
It was nice to see that my boys didn't inherit their father's fear of heights, ooohing and aaahing as our carriage climbed higher into the perfectly, cloudless winter skies.
Checking out all the tiny people from above, there was much disbelief from me when the the boys would excitedly claim they spotted someone from school - everyone from their principal to their best friend. However, the joke was on me when we actually did bump into one of their classmates. Never underestimate your 8 year old's hawk's eye vision. Especially when high above the heavens.
Bondi Winter Magic is open daily from 10am to 9pm, until Sunday, 22 July.
Along with the ice rink and the ferris wheel, the atmosphere stays festive with art exhibitions and music from street buskers. For the adventurous and curious, there's also guided historical walks around Bondi.
Who said winter had to be drab and dreary?
Have you signed up to our newsletter? Join ellaslist to get the best family and kid-friendly events, venues, classes and things to do NEAR YOU!