Water Parks Coming Soon To Sydney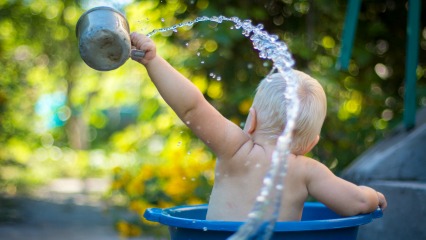 By: Phoebe Ackland, ellaslist
At ellaslist, we just LOVE all things water play parks. However, there are definitely not as many, particularly in Sydney's West, that we would like. Nothing combines fun and cooling off better than having a splash at your local playground. Here's some to keep an eye out for:
1. Centennial Parklands
As if Centennial Parklands could get any better?! There's a
Wild Play Garden and Water play
coming soon, a brilliant $3.7 million construction that is expected to be ready to go late 2016/early 2017. There will be water jets to cool down kids, and water that rolls over rocks to create a mini spring. There will also be heaps of other features for kids aged 2-12 years to get their hands dirty, including a bamboo forest, banksia scrub tunnels and a wild play area.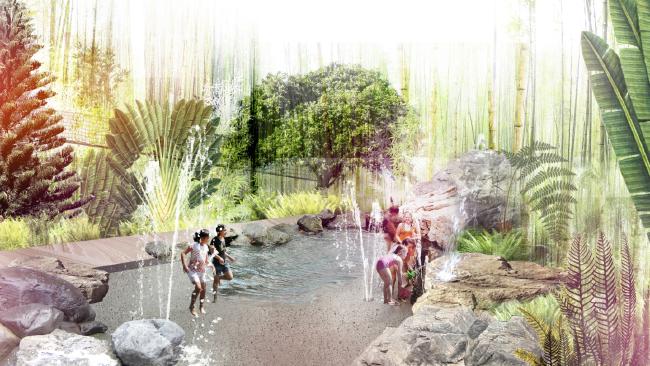 Source: Centennial Parklands
2. Camden
After a recent council meeting, Mayor Lara Symkowiak's motion to
bring a water park
to
Camden
was met with great support. Budget plans and potential sites are now being considered. There are so many young families moving into the area, and not enough hot-weather attractions. This one might even be solar powered, warming the water up in late Autumn/early Spring to get the most use possible out of the water park. Although nothing is set in stone yet, it is thought that an existing park in dire need of an upgrade is a likely spot for what's coming.
3. Phoenix Reserve, Erskine Park

A water park is coming for kids of the West in desperate need of more facilities close-by to cool down at! It's a $140,000 addition expected to be up and running by the end of November, as forms part of the "Cooling the City" strategy. It is one of the first (hopefully of many) new water parks coming, mums from the area rallying for more local watering holes, the closest one currently being Wet 'n' Wild. It couldn't come soon enough! It was originally set to open up in late November (last month), however we are still waiting- not long to go now!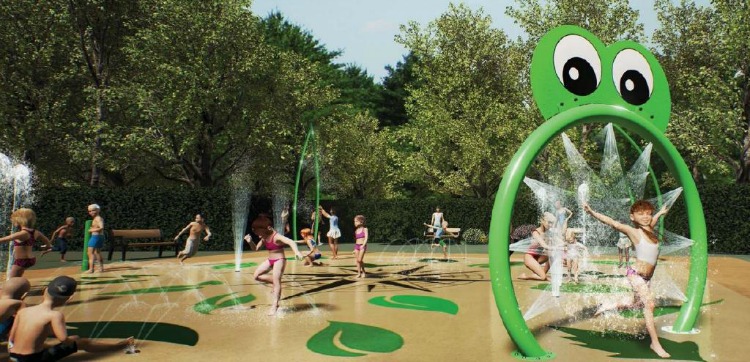 Water Play Areas You Might Not Know About
1. Manly Surf n Slide

Formerly Manly Waterworks. Prepare for a trip down memory lane now that the once-epitome of Summer in Northern Sydney re-opened, at the beginning of this month. You can expect "non-stop, fast and furious fun" complete with water slides, at outdoor playground like no other, and epic birthday party packages. You can expect four new slides in this $100,00 upgraded park, as well as an interactive pool for toddlers, and a wake-boarding pool! More information here.
2. Aquatopia

The brand new water park in the Prairiewood Leisure Centre, a $7.5 million investment from Fairfield Council. There are grassed areas with complementary inflatable rides, cabanas available for hire, 10m high giant slides, an interactive baby pool and a Stingray Surfing and skim boarding half pipe ride coming in 2017. It's super cheap too- local residents can get in for just $14 each or get a family pass for only $45- cheaper than a day at the movies! Watch out for selected twilight evenings where you can enjoy the park in the evenings.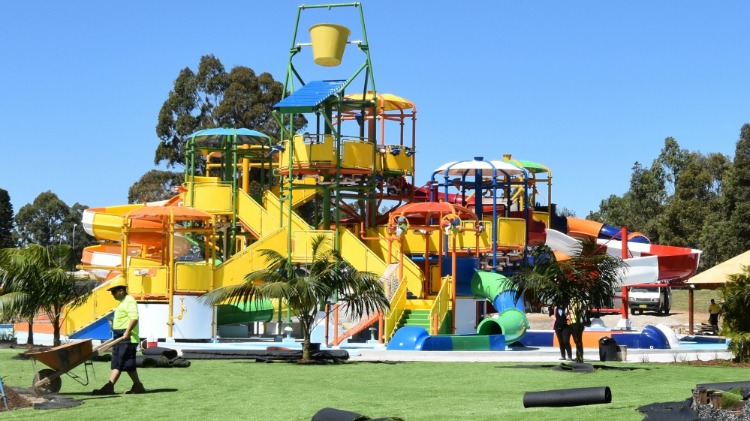 3. Mary O'Brien Reserve, Zetland

This park was upgraded recently. There's large grassy areas and 2 awesome playgrounds found here, one for toddlers and another for older children with lots of interweaving structures to climb. Near the older kids playground is an area with blue spongey flooring and jets shooting water up into the air- fantastic for a splash around on a hot day.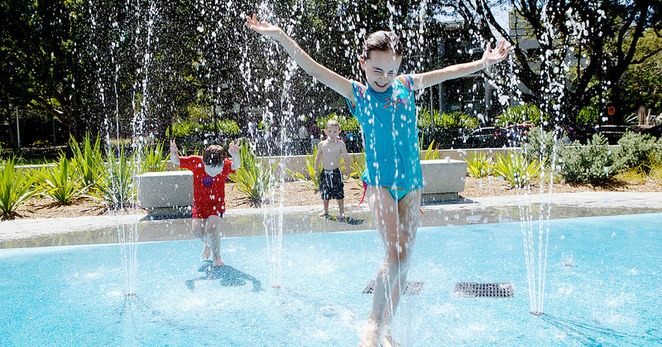 Source: City of Sydney
4. Plough & Harrow, Western Sydney Parklands

This great playground has a hamster wheel, flying fox, a 5-way swing, climbing structures, a spinning ring, little cubby house with a slide..and of course, a water play area. It's quite small, but gets the job done. It has a few pumps, and turnpikes that get released into a little mini dam of sorts that kids can direct the flow of by moving the rocks around.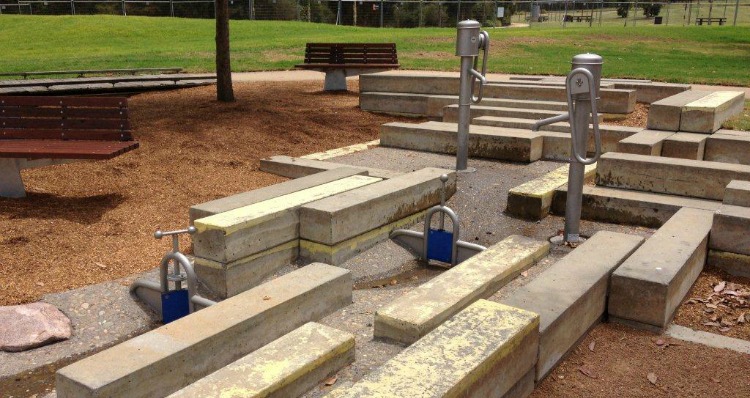 Source: Foursquare/Pinterest
5. Lizard Log, Abbotsbury

Did you know, this playground was voted the number 1 playground of 2016 in NSW and the ACT?! It has a children's nature playground with a natural bush feel to it, and all kinds of play equipment like a double flying fox, giant swings, climbing wall and slide, sand diggers and balancing beams- all made from recycled timbers and trees that died onsite. Its water play area is small, but still worthy of a visit.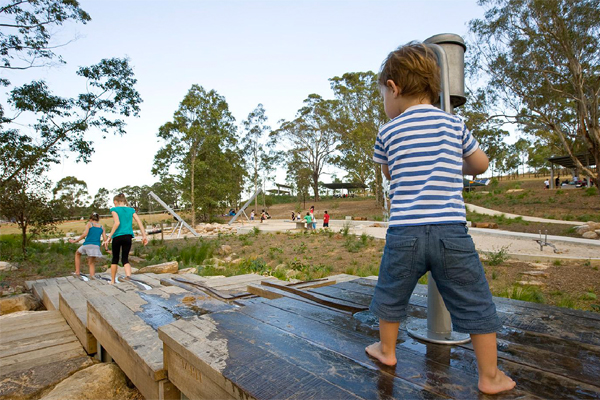 Source: INDESIGNLIVE
6. Taronga Zoo, Mosman

Water play features were installed at the Backyard to Bush children's precinct. Taronga described it as "Water splashes over a sandstone frog-sculpture into a pond lined with stainless steel yabbies, ducks and lily-pads, in which pumps will be installed next year so that children can control the water flow through the shallow water play area." Kids can get barefoot and hop over stones embossed with dragonflies and make a big splash as water runs from pumps into troughs.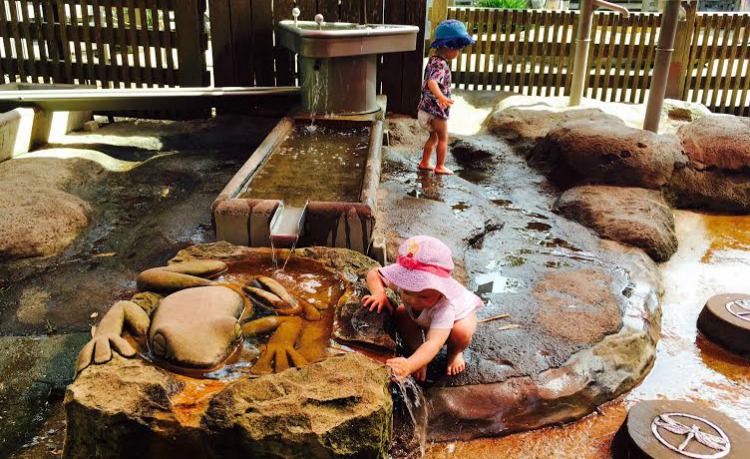 Check Out More Awesome Articles On ellaslist