Vivid 2017: Highlights & Top Tips For Kids And Families
Preschoolers
Family
Kids
Mums & Bubs
Teens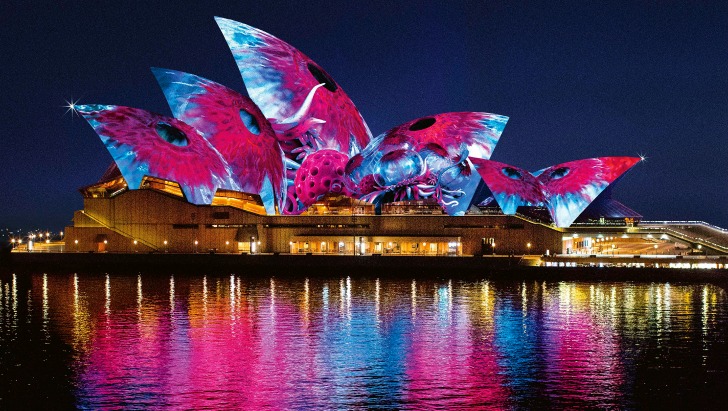 Vivid is back, BIGGER, BRIGHTER AND BOLDER for 2017!
Vivid is the world's largest festival of light, music and ideas, with schedule highlights including a brand new precinct and exciting kid-friendly attractions. Over 23 nights, families are invited to be mesmerised by intoxicating lights and a buzzing atmosphere, from Friday 26 May to Saturday 17 June 2017.
In 2017, there will be over 90 installations and projections created by more than 180 artists from Australia and beyond, more than 400 music events across 40 venues, 260 Vivid Ideas sessions across 67 venues, and is expected to contribute more than $110 in visitor spend to the NSW economy.
Here's what to look out for, and some awesome hacks from the Vivid organisers:
Debut for Barangaroo

For the first-time ever, Vivid is coming to Barangaroo! It is set to be a feast for all the senses with spectacular lights, sights and delicious delights. This new business district will play host to an illuminated trail of installations made of light and sounds called A Day In The Light, weaving through laneways, past stunning waterfront vistas and through a foodie's paradise. Be treated to optical illusions at Trapdoor, which tells the stories of Barangaroo's past, and be mesmerised by Migration where Barangaroo's harbourside promenade comes to life under an animated canopy of sea creatures. Another highlight is You-niverse, an out-of-this-world experience with a wireless silent disco that will take you on on a voyage of discovery through a kaleidoscope of vibrant visuals and spectacular soundscapes. Nightly, 6-11pm
Royal Botanic Garden, Sydney

Vivid will return to the lush green oasis that is the Royal Botanic Garden, Sydney. This year's Light Walk trail will be expanded, running through the heart of the garden, where Birds of Lumos will bring the rare Rowi species of the New Zealand kiwi to glowing life. The Dipping Birds, giant 2.5 metre illuminated sculptures, will change colour as they dip back and forth into a pond, and the quirky You lookin' at me? will turn heads as big glaring eyes follow passers-by. Nightly, 6-11pm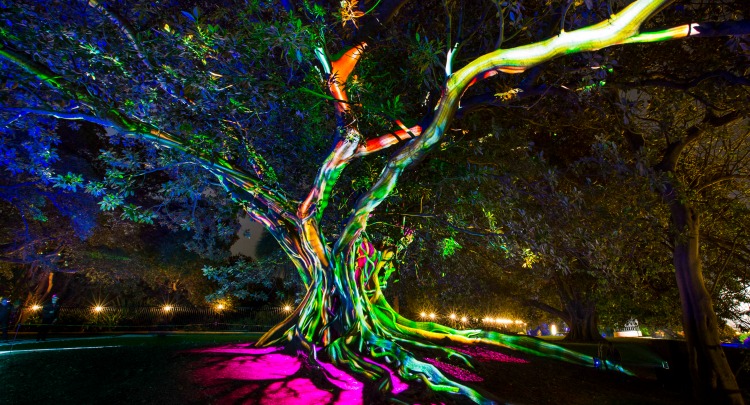 Sydney Opera House

The world-heritage listed sails of the iconic Sydney Opera House will be brought to life by the mythical creatures from the mind of Ash Bolland. The Audio Creatures will move and morph into each other across the sails, interacting with their environment and providing a view to remember from many vantage points around Sydney Harbour. Nightly, 6-11pm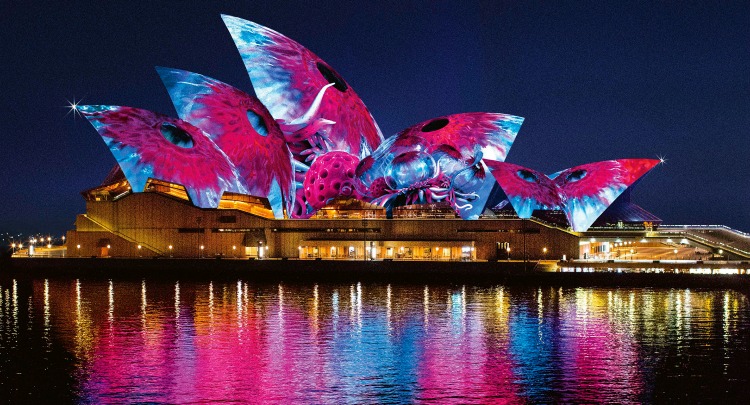 Museum of Contemporary Art

The façade of the MCA will transform with Organic Vibrations, a series of constantly moving, transforming and morphing images. Nightly, 6-11pm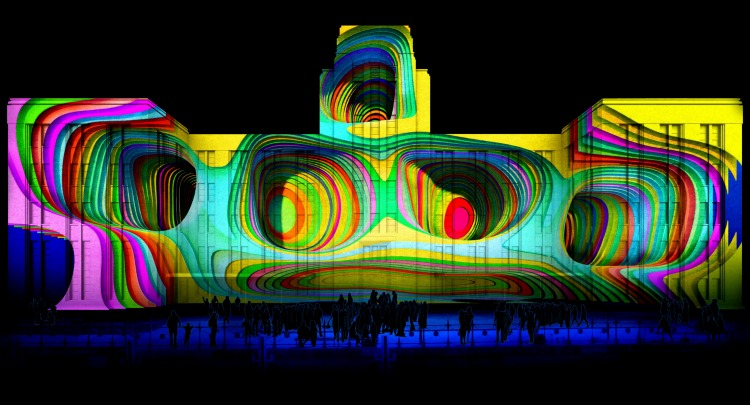 Circular Quay

Dreamscapes, an interactive light display where you can put your own colourful mark on the city! Participants take charge of the colours and patterns, enhancing the cityscape before them, through hands-on use of a beautiful 3D interactive model of Sydney's skyline. Running from the Cahill Expressway to the Sydney Harbour Bridge. Nightly, 6-11pm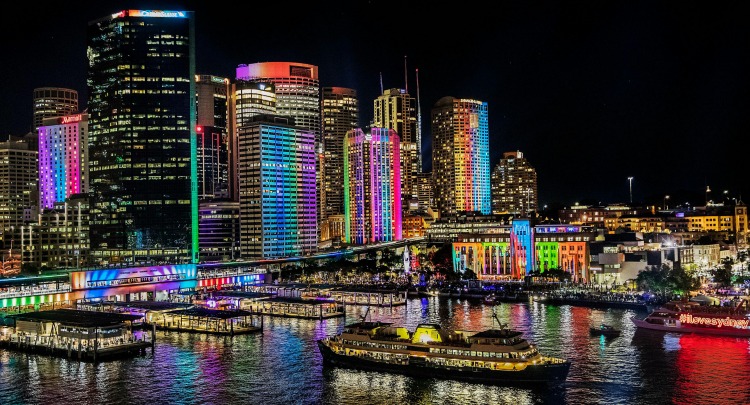 Sydney Harbour Bridge

Harbour Lights is returning in 2017- the waterway will light up with illuminated ferries and boats! Nightly, 6-11pm.
Chatswood

Buildings, shops, laneways and malls will become the futuristic Future City, Smart City when something old meets something new. Installations and sculptures are inspired by 'Steampunk', a design aesthetic from the 19th century. You'll see a giant drumming octopus, underwater worlds and sustainable cities perched in the sky. Features include a motion-tracking interactive people-powered steam train called Gear Shift, an enchanting, sparkling forest of refractive light during the lay called Light Bounce, and Crossword, where you will wander through a glittering canopy as hidden messages are projected onto revellers. Nightly, 5.30-10.30pm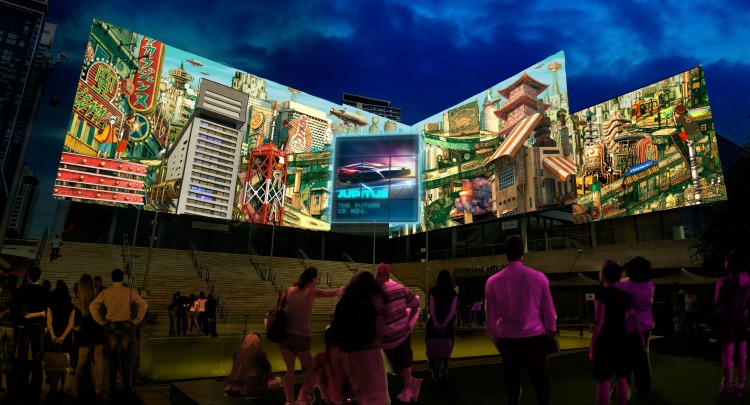 Taronga Zoo

Always a family favourite! Be The Light for the Wild returns in 2017 – giant animal light sculptures, who will be joined by the new interactive Port Jackson shark and a swarm of buzzing bees. Families will love Gorillagram- take a picture with two large, interactive silverback gorilla lanterns and post it to social media to spread the message of conservation, and make sure you wander beneath the *new* floating stingray made from recycled milk bottles collected by local schools and businesses. The trail is pram-friendly, and the lights turn on and off early for families who need to make bedtime. Nightly, 5.30-9.30pm.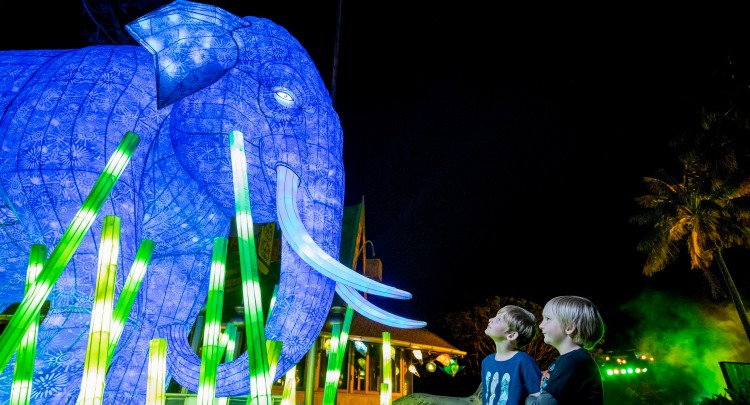 Martin Place

Food and beverage stalls paired with grand, interactive live light installations prove a great combination! Highlights include: A new version of the award-winning 3D mapped projection called Urban Tree 2.0, and Deep Forest- an urban jungle for feasting complete with and open flame fire pit serving BBQ treats from NSW's best fire chefs, including Porteño. Nightly, 6-11pm
Darling Harbour

Magicians of the Mist- a pop-up water theatre! Twenty-eight tonnes of water will be thrown into the air per minute! The power of creativity and innovation will be celebrated with fireworks, lasers, flame jets, and music. Nightly, 6-11pm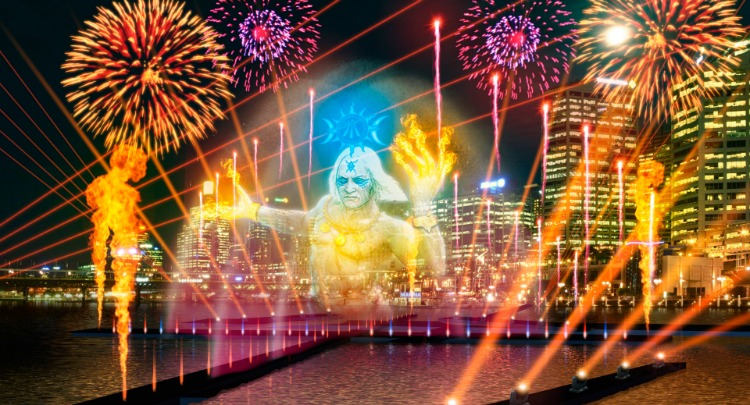 More On The Vivid Line-Up

Vivid Music is bringing your 250 gigs across the various precincts- everything from R'n'B to folk music! Artists set to perform include Dianne Reeves, DJ Harvey, The Radiators, Nai Palm, Chet Faker & Cake Wines.
VividLIVE, part of Vivid Music at the Sydney Opera House will showcase performances by Fleet Foxes, AIR, Laura Marling, and Nick Murphy.
Vivid at Carriageworks has a line-up including Goldfrapp, a music and art event called Curve Ball, and a food and wine showcase called Night Market.
Top Tips To Keep In Mind
Time it right: Early in the festival, early in the week and early in the evening are the most relaxed times to enjoy Vivid Sydney (lights on 6pm).
Get an even earlier start: It's lights on from 5.30pm at Taronga Zoo and Chatswood– ideal to get young children home for bedtime or take in the lights before dining out.
Go again: explore different precincts on different nights
Travel smart: Vivid Sydney precincts are close to public transport links and extra train and bus services operate throughout the festival. The best train stations to access Vivid Sydney precincts are Central, Town Hall, Wynyard, Martin Place and Chatswood. Exhibition Centre and Convention are the best Light Rail stops for the Darling Harbour precinct.
Leave the car at home: Extensive city road closures and special event clearways will be in place in the CBD and The Rocks, make driving and parking difficult so leave the car at home and take public transport.
Stay up to date: Keep a Vivid Sydney planner in your pocket using the smartphone app or website on your mobile device for the latest information and locations. Download the Vivid Sydney app or visit the Vivid Sydney website at vividsydney.com
Keep kids safe: Pick up a wristband from Vivid Sydney information booths at Darling Harbour, Customs House & West Circular Quay, add your contact number and pop it on your childrens' wrists to make it easy to be reunited should you get separated.
Help is at hand: Look for Vivid Sydney's friendly army of volunteers in their bright pink jackets who are there to answer your questions or point you in the right direction.
Reviews

Reviews get lonely too
Be awesome and write a review