Travelling To Gallipoli (Turkey) With Kids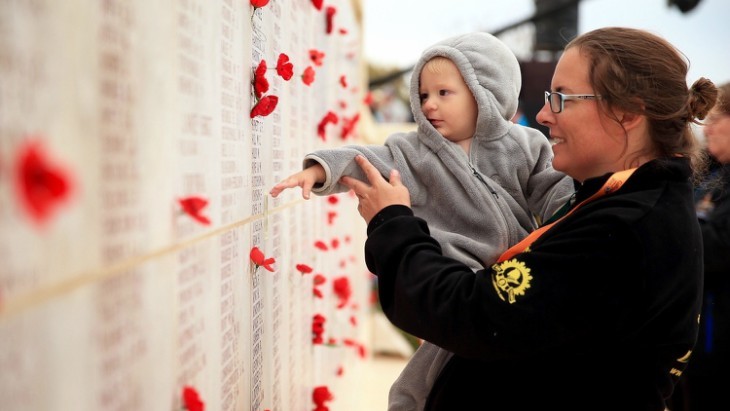 By Hayley Dean, ellaslist
ANZAC Day 2018 is almost here. It's hard to imagine that this time three years ago we were about to embark on a once-in-a-lifetime trip to Gallipoli with our 16 month old for the Centenary celebrations. What a ride that was. We had entered the draw a child-less couple and amazingly, received confirmation that we had won tickets in the ballot mere weeks after his birth. My immediate response was to decline but on reflection, and a lot of begging from my partner, we realised this was literally a once in a life time opportunity we just could not give up. We would stand on the same beach at ANZAC Cove Gallipoli, on ANZAC Day 2015, exactly 100 years since my Great Uncle had. How could we say no?!
We actually started our journey a week or so earlier to visit family and friends in the UK, France and Switzerland but I'll leave those details for another time and start from our arrival in Istanbul, Turkey. We arranged for a private transfer to transport us from Istanbul Ataturk Airport to our hotel accommodation in Sultanahmet (Old City). This was a sensible idea in hindsight as my partner and I had not travelled to Istanbul before and it just made things so much easier upon arrival. Sultanahmet is a lovely place to stay. Cobble stone streets and souks burst with history from every corner.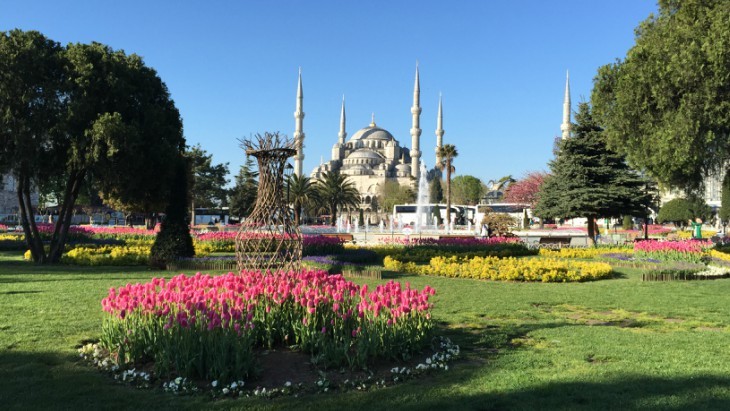 The following morning (24 April) we travelled to Gallipoli by bus at around 8am as part of an organised bus tour. Gallipoli is a 5 or so hour drive from Istanbul. If you are planning on doing this trip with kids, I strongly recommend that you pack some (fully charged) portable electronic devices, with plenty of apps, TV shows and movies to keep the kids entertained. It's quite a peaceful drive to Gallipoli. My son slept for about 3 hours, so we really only had to fill in about 2 hours with toys and electronic devices. I remember tweeting Emma Wiggle to tell her that we had downloaded her latest album and that the whole bus was singing along to the tunes….and she tweeted me back! Ha! What a thrill for ALL the parents that day. The bus stops at a couple of service stations on the way to Gallipoli so you can pick up treats and snacks. It was on this leg of the journey that we discovered our son would be the youngest person at Gallipoli for the ceremony.
Once the bus arrived at Gallipoli we had to pass through several security checkpoints – this took a long time (several hours) but I suspect that in a non-Centenary year it would be a lot quicker to pass through. There was quite a bit of walking between the security checkpoints and the ANZAC commemorative site, so I would strongly recommend that you pack sturdy walking shoes. If you have younger kids (under 4), I would recommend that you carry them in a backpack child carrier. We carried our son in the MacPac Vamoose and it was great – packs like these have heaps of storage for nappies, snacks, wipes and spare clothes and also come with sun and rain protection (a necessity if you are travelling to Gallipoli).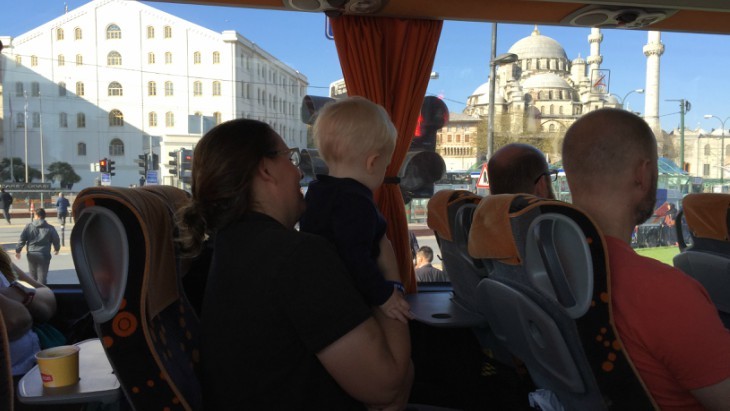 By the time we arrived at the ANZAC Commemorative site it was early evening. We quickly had some afternoon tea and changed into our overnight clothes as we did not want to be doing this in the dark. The weather at Gallipoli really varies. During our time there it was quite warm during the day (30c) and quite cool in the evening (5-10c). For our overnight clothes, we had a few layers, plus a jacket, gloves and beanie. We did the same for our son and then some. I have no doubt that he was the warmest person there. We then settled in for the night. There were some food trucks on site serving food, tea and coffee throughout the night. I remember before our trip that I was dreading how long the night would be, and don't get me wrong, it is long – but it's really special. We barely slept, if at all. I was still breast feeding at the time and I won't lie, it was extremely tough to do sitting on a bleacher, surrounded by thousands of people, no privacy or quiet space anywhere and people constantly pushing past you. Apart from labour, I would say that night was THE hardest moment of my life without a single doubt! I look back at it now and wonder how on earth I made it through and of course, I'm so bloody proud that I did!
For seven hours I nursed my son as he slept and Gallipoli documentaries were shown on the large screens and the Australian and New Zealand army bands rehearse their music. As the dawn approaches and you look around, you really start to "feel" Gallipoli and I think this is a really special time to share with your children.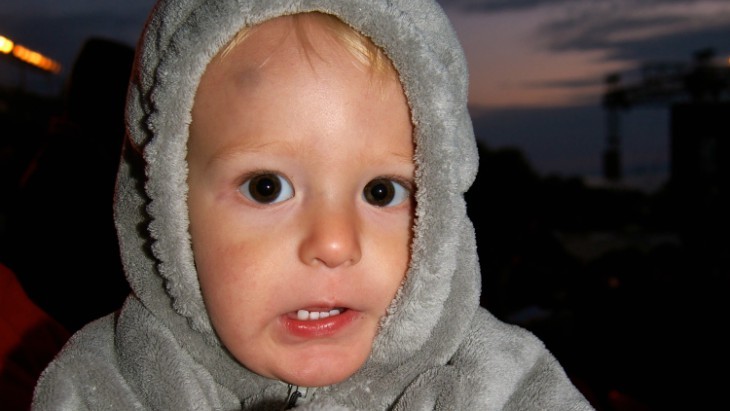 The dawn service itself does not go for very long but it is very, very moving. I remember looking at my son, lying in my arms, and thinking about those poor mothers who lost their sons at this very spot 100 years ago. I remember looking around the crowd and seeing quite a few school-aged children – they seemed to be taking it all in.
After the Dawn Service, we were supposed to walk from the ANZAC Commemorative site to Lone Pine for the ceremony. We were fortunate enough to be offered transport between the two sites on account of having a young child, so we did not do the walk but the car travelled on the same historic track. I would recommend that you change into your day clothes before you commence this walk as the temperature climbs quite quickly in the morning.
The service at Lone Pine was again very moving, but it felt slightly more relaxed than the service at the ANZAC Commemorative Site. There was a lot more room to move around and our little one enjoyed the extra space. There was food, tea and coffee facilities at Lone Pine – the coffee line though was the longest coffee queue I have ever seen! We placed a wreath at Lone Pine and spent our time there looking at the plaques and other wreathes that had been laid.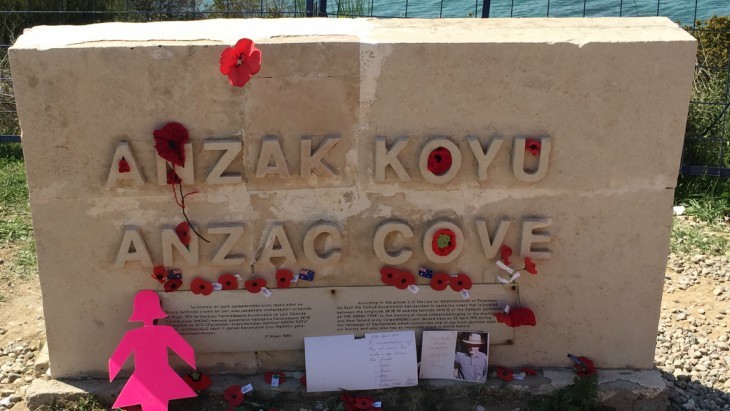 At the conclusion of the Lone Pine ceremony, the tour buses arrived to pick everyone up. It took many hours for everyone to be bussed out. People are tired, hungry and did I mention tired. I remember a volunteer so sweetly gave me her chair to rest on as our son slept again on my shoulder. A lady and her brother started smoking next to us. The volunteer asked her to move away and she snapped back with a nasty comment….I responded with a few choice words of my own. We were both tired and emotional and unless she is a mother today, there is no way she could ever possibly understand how cruel her comments were. I often wonder if she ever did.
Overall, you spend around 20 hours at the historic ANZAC site for what is essentially a 45mins Dawn service. It's just not a journey you decide to take lightly.
Most of our tour group was returning to Istanbul, but we decided to do an additional tour of the Gallipoli Peninsula the following day. The bus dropped us in a nearby town (Eceabat) where we stayed overnight in a fairly basic (but clean) hotel. When booking accommodation in smaller Turkish towns, be sure to book through an experienced operator. We booked what we thought was a self-contained room but were taken to a family's house out of town! After much frightened fast talking, alternative rooms were found. We later learnt that it was a common misunderstanding so I can only stress that you seek help.
After a night of sleep and a shower, the tour following day was amazing and it gave us a lot more context to the Gallipoli peninsula. I would strongly recommend to anyone visiting Gallipoli that they spend at least one extra day in the peninsula to a tour. We visited Beach Cemetery, Cape Helles, The Nek, Chunuk Blair and the then-new Gelibolu (Gallipoli) Milli Park visitors centre, where there are excellent displays relating to the natural history of the peninsula. If you wanted to stay an extra day, you could take the ferry across the Straits to Canakkale and take a tour of the ancient city of Troy, which is about 30kms south of Canakkale. I would say each and every one of these things is a must-do if you travel to Gallipoli with kids. It really is an unforgettable experience.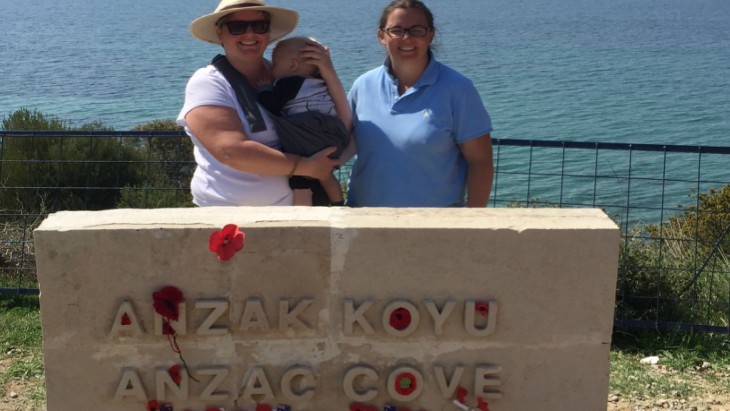 Some say we were mad doing that trip and to some extent, I have to agree. But as I look back now, I think it was one of the bravest decisions we have made. The service at Lone Pine is to be no more. The Turkish and Australian governments have mutually agreed to end the ceremony in order to preserve the area. We saw a lot of backpackers sleeping on grave stones, rubbish being thrown, ciggie butts squashed into the historic site. I agree with the government's decision. Perhaps one day they will do it again. Perhaps our son will return with his own family for the 150 years celebrations. Regardless, we have instilled his place in Australian history and it was worth every inch of pain.
If you have any questions about going to Gallipoli for ANZAC Day, feel free to ask in the comments below.
Reviews

Reviews get lonely too
Be awesome and write a review