Top Water Play Parks In Melbourne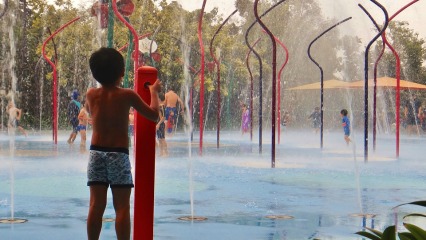 By: Phoebe Ackland, ellaslist
The local water splash park is where savvy families cool down with little ones in the warmer months. We just love water play parks- no crowds, no sand, no need for swimming lessons, but all the splashing fun that toddlers and children could desire. Here are our top picks- and the best part? They're free!
1. Riverwalk Water Play Park, Werribee

One press of a button will have water spurting about everywhere for 30 minutes straight! There are water pumps that tots can operate, water spurting out of the ground, water walls, fountains, jets and just about any kind of water feature you can imagine. The playground, and your child, will literally be soaked from head to toe! When the weather rises up to 25 degrees and beyond- head here to cool down between 9am and 8pm between October and March. There is a dry playground too, in case water play isn't for your family.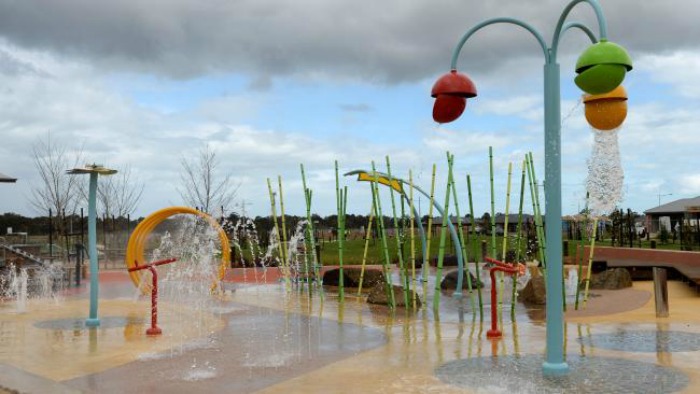 Source: Herald Sun
2. Nature Playground, Royal Park

This was rated the best playground in Australia by the Australian Institute of Landscape Architects, a contributing feature of the park's success being the water play facilities. Tots can play with the water pumps, control the flow of water down to the sandpit, and get splashed by a few spray features. Top Tip: don't just visit this playground for the water play- it's nature play and all-abilities features will have you returning again and again.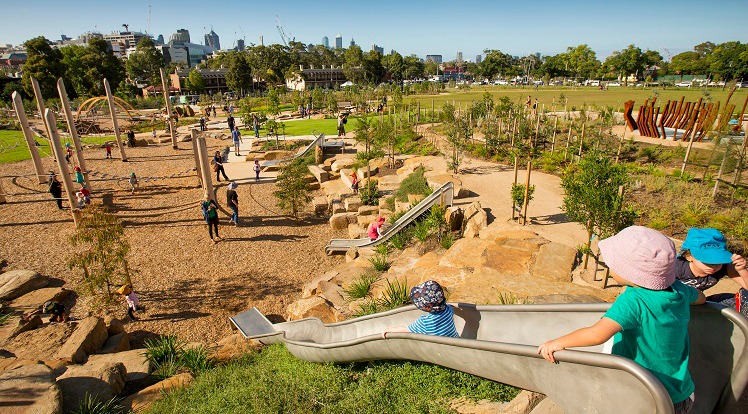 Source: AILA
3. Seville Water Play Park

Now a water play park, Seville was once a swimming pool, since filled in, so you know it will pack a splash. There are even still some of the pool's original features remaining on the site which gives it a very unique feel. Heaps of fountains will spurt up high into the air into patterns, wetting children as they chase the fountains, not knowing which one will erupt next. At the end, there is a rocky area of boulders fed by gentle 'creeks' of water that children can clamber over whilst wet. There are 2 secret buttons that will trigger the series of jets, which can be turned on all year round.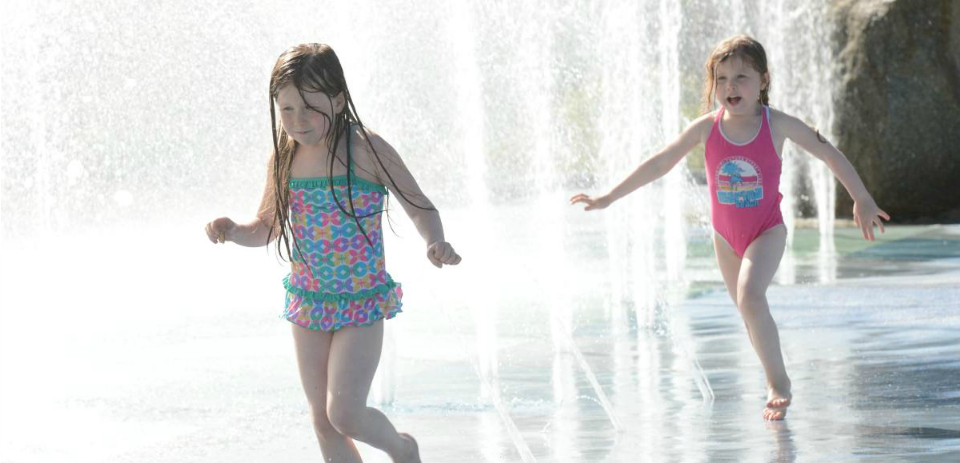 Source: Yarra Ranges Council
4. Crocodile Park Playground, Point Cook

If your little one loves reptiles, they won't want to leave this awesome splash park! It truly is something you'd find at a kid-friendly resort. It's a blue and white play space featuring a giant crocodile who spurts a constant stream of water down a 50m long channel that winds through the playground, serving as a shallow wading pool fitted with jets. The dry playground is fantastic too with spongey safe flooring, white sand all around, climbing towers with lookouts, bird's nest swings, metal tunnel slides and more. Interestingly, the playground concept was drawn from Roald Dahl's "The Enormous Crocodile"!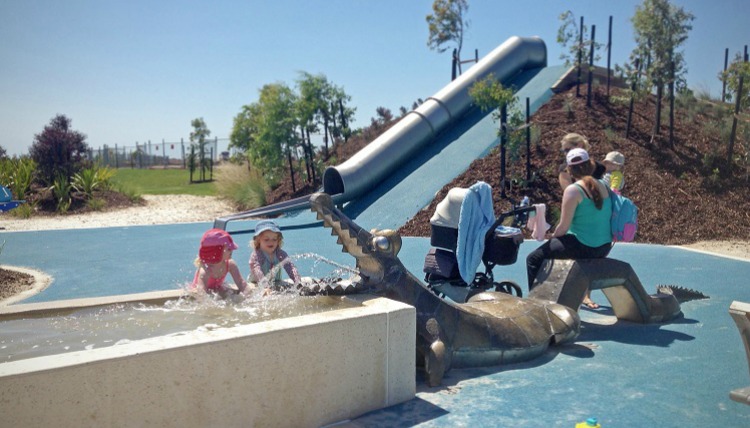 Source: AILA
5. Ron Barassi Senior Park, North-West Docklands

Don't be fooled by the name- this park isn't for seniors! The dry playground features super slides, sand and diggers, swings, a sand bag wall (creative!) and the pièce de résistance: water play! There are water pumps and sprays which flow down a channel, children able to manipulate the flow and create a dam for a bit of a deeper splash.
6. Ian Potter Foundation Children's Garden, Royal Botanic Gardens

This is more garden than playground or splash park- but it gets the job done! The Children's Garden encourages children to get their hands dirty, get amongst the greenery…and get wet! This gorgeous natural space will excite, intrigue and teach children about the environment, whilst cooling down on days where temperates hit or exceed 25 degrees. Features include the Metting Place fitted with a water feature that sprays skyward in Summer, a Wetland Area and The Rill- a gentle waterway that runs through the garden that kids love to splash in. Read more about the features and highlights of this garden here.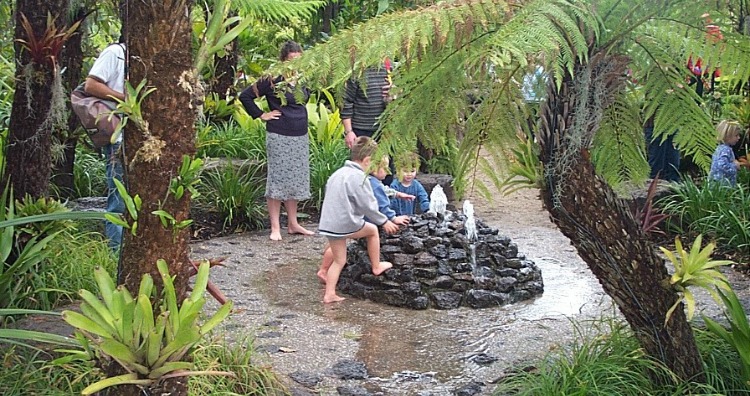 Source: Pinterest
Visited an awesome water play park that's not on our list? We want to know about it! Comment below.