Top Ten Kid-Friendly Sydney Festival Events
Preschoolers
Family
Kids
Teens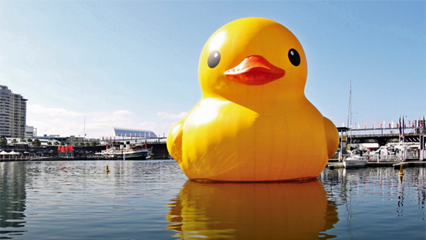 ellaslist COVID-19 update: Please note that all the information on the website is correct at the time of publication. Please check the relevant website before visiting a venue or destination for the latest COVID-19 information. ellaslist is not responsible for any cancellations or closures.
Just when you're looking for school holiday boredom busters, the Sydney Festival kicks in, in the nick of time!
Every January, Sydney Festival enlivens and transforms Sydney with a bold cultural celebration, and this year is no different. The action-packed schedule of events is bursting with vibrant FREE and ticketed events for everyone, including little festival-lovers.
Check out our Top Ten Kid-Friendly Sydney Festival Events here:
1. Sacrilege
Stonehenge is reimagined as a life-size inflatable castle– with everyone invited to have a bounce!
9-26 January, 9am-9pm. Closed Mondays.
Baby Bounce and Accessibility Sessions: 14 & 21 January, 9–10am
Festival Village, Hyde Park North. FREE.
2. The Rubber Duck
As soon as the five-storey high, yellow Rubber Duck floated into Cockle Bay last year, it became something of a celebrity. Now he's back!
10-19 January, all day.
Parramatta River, Parramatta Park (between Pavilion Flat & Government Farm). FREE.
3. Band of Magicians
One year ago, four of the hottest young magicians of the moment met for the first time and the world's first magic supergroup was born. Keep your wits about you for this one. It's awe-inspiring entertainment from the finest magic specialists around!
10-19 January, Tue-Sat at 7.30pm, Sat & Sun at 2pm. No performance on Monday.
Parramatta Riverside Theatre. Tickets $55/$50.
4. Boxwars
Boxwars brings its elaborate cardboard battalion to Festival Village. Get hands-on in workshops designed for kids of all ages.
12-17 January , 10am-2pm. Closed Mondays.
Festival Village, Hyde Park North. FREE.
5. The Piper
This immersive retelling of The Pied Piper of Hamelin is a unique theatrical journey for children and adults. Brought to life by a combination of multimedia, puppetry and innovative stagecraft, The Piper sees My Darling Patricia focus its inspired storytelling on a younger audience.
9-19 January at 11am, 11 & 16 January 2.30pm, 19 January 4pm. No performances 13 & 17 January.
Carriageworks, Eveleigh. Onstage $55 (includes 1 adult and 1 child) Seated general admission: Adult $35/Child $20.
6. Squaring the Wheel
Jens Altheimer is a circus-theatre performer, puppeteer, magician, teacher and owner of a collection of ingenious thingummybobs. In Squaring the Wheel, a quirky character finds topsy-turvy ways to look at a pile of junk. With a little imagination, a frying pan turns into a friend, a broom plays music, an egg takes a walk, and even the most ordinary household items become extraordinary fun.
21 & 22 January at 12.30pm, 23-25 January 10am & 12.30pm.
Festival Village, Circus Ronaldo Tent, Hyde Park North. $20.
7. Othello: The Remix
Older kids 10+ will love this innovative, intelligent and street smart adaptation. Othello: The Remix turns the volume up on Shakespeare's rhymes and rhythms for a new generation to tune into. Chicago hip-hop sensation Q Brothers create fiery, feisty musical ad-rap-tations of classic plays.
23-26 January: Thurs & Sat at 8pm ; Fri, Sat, Sun at 5pm; Sun at 2pm.
Seymour Centre, Chippendale. $42/$38.
8. Ockham's Razor
Known for daring yet refined aerial acrobatics, this performance uses tailor-made aerial equipment to bring three vividly theatrical works to Sydney Festival. The agile physical performers investigate themes of isolation, reliance and the way our actions impact on those around us.
21, 22, 24 & 26 January at 8pm ; 23 & 25 January at 2pm.
Seymour Centre, Chippendale. $42/$38.
9. Jazzamattaz
Lead by the insanely talented cabaret star Ali McGregor, this hour of jazzy beats and trashy pop classics will get kids 2-10yrs singing, prancing, twisting and dancing. Parents, grandparents and friends can join in or sit back, relax and simply watch the little ones tire themselves out on the dance floor to songs like 'Who Let the Dogs Out?' and 'Single Ladies.
17-19 January at 11am & 1pm
Festival Village, The Spiegeltent, Hyde Park North. $20 (kids under 2 free)
10. La Cucina dell'Arte
The sixth generation of a renowned Belgian circus family, Danny and David Ronaldo have charmed audiences all around the world with their masterful blend of circus and theatre. In this Circus Ronaldo production, a big top tent turns into a glorious pizzeria, but the kitchen is in chaos. With a recipe of slapstick, vaudeville and commedia, La Cucina dell'Arte offers up a hearty serving of buffoonery all the while seducing you with the nostalgic romance of traditional circus.
9-19 January at 8.15pm
Festival Village, Circus Ronaldo Tent, Hyde Park North. $40/$36.
Reviews
We are taking our 5yo & 8yo kids to see Tom Thum - beatboxer extraordinairre - can't wait!