Top Kids Movies To See This Summer School Holidays 2016-17
Family
Kids
Mums & Bubs
Teens
Preschoolers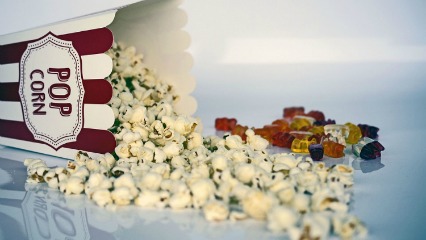 ellaslist COVID-19 update: Please note that all the information on the website is correct at the time of publication. Please check the relevant website before visiting a venue or destination for the latest COVID-19 information. ellaslist is not responsible for any cancellations or closures.
By: Phoebe Ackland, ellaslist
Hint: cinemas are air conditioned! Escape the heat and keep the kids entertained these Summer school holidays! With the latest hit, a bucket full of popcorn and a hand wrapped around a choc top- your kids are bound to be happy little Vegemites.
1. Fantastic Beasts and Where To Find Them

The magic continues! Set 70 years before Harry Potter picks up his school text book of the same name, follow the secret world of New York's witches and wizards, fronted by the author Newt Scamander. Of course, magical creatures abound!
Release Date: 17 November 2016
Rating: M (maybe one for older children)
Running Time: 2 hrs 13 minutes
2. Trolls

Watch these little creatures with their signature wild, colourful hair burst into joyful song and dance! From the creators of Shrek, follow completely different trolls Poppy (Anna Kendrick) and Branch (Justin Timberlake) on an epic journey beyond the Troll World after it is threatened by the troll eating Bergens.
Release Date: 1 December 2016
Rating: G
Running Time: 1 hr 32 minutes
3. Moana

Meet the new Disney Princess: Polynesian heroine Moana! Featuring the voice of Dwayne "The Rock" Johnson (so little boys won't mind coming along!), the soundtrack is co-produced by one of the geniuses behind The Lion King. We're sensing some serious musical hits are coming our way. The animations are said to be lush and amazing, set in a gorgeous tropical landscape perfect for Summer. Join Moana as she embarks on an epic adventure to save her people.
Release Date: 26 December 2016
Rating: PG
Running Time: 1 hr 53 minutes
4. Sing

With an array of stars lending their voices, Sing is a musical comedy about finding the shining star that lives inside all of us. You'll be singing along to all the great musical numbers in this singing competition that aims to restore the crumbling one-grand theatre presided over the the Koala. From the creators of Minions, Despicable Me & The Secret Life Of Pets… need we say more?
Release Date: 26 December 2016
Rating: G
Running Time: 1 hr 48 minutes
5. Red Dog: True Blue

Every Aussie's favourite four legged friend is back! When 11 year old Mick is shipped off to a cattle station in Western Australia's Pilbara region, he finds adventure and friendship with a certain canine…
Release Date: 26 December 2016
Rating: PG
Running Time: 1 hr 29 minutes
6. Monster Trucks

Tripp, a high school senior, builds a monster truck out of scrapped car materials With these cutting edge visual effects, you'll be on the edge of your seat. After an accident at a nearby oil-drilling site displaces a strange and subterranean creature with a taste and a talent for speed, Tripp may have just found the key to getting out of town and a most unlikely friend.
Release Date: 12 January 2017
Rating: TBC
Running Time: 1 hr 42 minutes
7. Ballerina

When we first heard about this one, we squealed with excitement! Sure to inspire a little generation of future dancers, follow the big hearted journey of orphan Félicie (voiced by Elle Fanning) as she travels to Paris in 1879 to follow her dreams of attending posh ballet school, the Grand Opera House. Despite many challenges, competitive girls and tough teachers, Félicie discovers that she has one thing the others lack: passion! We feel like this could be the next Frozen…
Release Date: 12 January 2017
Rating: G
Running Time: 1 hr 29 minutes
More To Look Forward To…
The Boss Baby
You'll hear the voices of Alec Baldwin and Lisa Kudrow in this tale where A suit-wearing briefcase-carrying baby pairs up with his seven-year old brother to stop the dastardly plot of the CEO of Puppy Co.
Release Date: 23 March 2017
Rating: TBC
Running Time: TBC
Smurfs: The Lost Village

In this fully animated, all-new take on the Smurfs, a mysterious map sets Smurfette and her best friends Brainy, Clumsy and Hefty on an exciting and thrilling race through the Forbidden Forest filled with magical creatures to find a mysterious lost village before the evil wizard Gargamel does. Embarking on a rollercoaster journey full of action and danger, the Smurfs are on a course that leads to the discovery of the biggest secret in Smurf history!
Who doesn't love the smurfs? You'll hear the likes of Demi Lovato and Joe Manganiello
Release Date: 23 March 2017
Rating: TBC
Running Time: 1 hr, 26 minutes
Beauty And The Beast

We are super excited for this re-make! We're blown away by the gorgeous still of Emma Watson, in Belle's signature yellow ball gown. Although many parents might be sad that a classic has been tampered with, this re-make means that the next generation of children can enjoy and engage with its magic. The trailer broke records for most views within 24 hours, check it out!
Release Date: 23 March 2017
Rating: PG
Running Time: TBC
The
LEGO

Batman Movie


Two of our favourite things have collided: Batman and LEGO! Bruce Wayne must not only deal with the criminals of Gotham City, but also the responsibility of raising a boy he adopted.
Release Date: 30 March 2017
Rating: TBC
Running Time: 1 hr 30 minutes