TOP 60 Kids Birthday Party Themes for under 6's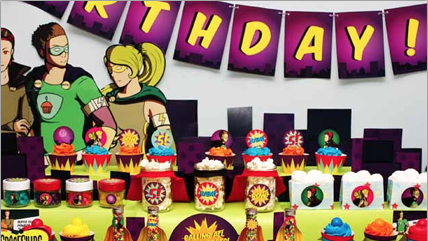 ellaslist COVID-19 update: Please note that all the information on the website is correct at the time of publication. Please check the relevant website before visiting a venue or destination for the latest COVID-19 information. ellaslist is not responsible for any cancellations or closures.
Planning your children's birthday party can be fun, but for those of us who aren't Martha Stewart it can also be somewhat stressful. There are just so many things to consider:
- Where to hold the birthday party?
- How many children to invite?
- What type of food?
- What kind of entertainment?
- How to decorate?
- What kind of cake?
Oh, the list goes on…
The easiest way to start planning your child's birthday party is to choose a theme and go from there. If your child has a favourite character and wants to invite both boys and girls, you can even combine themes. For example, you could have a "Superheroes & Princesses" or a "Pirates & Mermaids" party. To get your creative juices flowing, here is our list of the 60 most popular birthday party theme ideas.
| | | |
| --- | --- | --- |
| Boys Party Themes | Girls Party Themes | Unisex Party Themes |
| Bob The Builder | Fairies | Wiggles |
| Thomas the Tank Engine | Ballerinas | Winnie the Pooh |
| Batman | Angels | Monsters Inc |
| Spiderman | Princesses | Sesame Street |
| Superman | Barbie | On the Farm |
| Star Wars | My Little Pony | Toy Story |
| Angry Birds | Make Up & Pamper | Rainbows |
| Army | Hello Kitty | Disco |
| Cars | Ladybugs | Circus |
| Firemen | Strawberry Shortcake | Zoo Animals |
| Ben 10 | Mermaids | Beach Party |
| Hotwheels | Polka Dot | Micky & Minnie Mouse |
| Knights & Medieval | Garden Party | Tropical Hawaii |
| Lego | Hollywood Glamour | Dinosaur |
| Pirates | Cowgirl | Magic |
| Robots | Butterfly | Spongebob Squarepants |
| Minecraft | Alice in Wonderland | Jungle |
| Soccer or Football | Flowers | Spooky |
| Transformers | Little Miss Cupcake | Club Penguin |
| Astronauts | Dora The Explorer | Superheroes |
If you can't choose from one of these, perhaps choose a theme colour – pink, red or purple for the girls and blue, green or chocolate for the boys.
For young children, you will, of course, be doing all the hard work, planning the birthday party yourself. However, as your kids get older, you can get them involved in choosing their birthday party theme and supplies, and even be helping you make some of the decorations! This is your chance to get really creative and have a lot of fun.
There are plenty of party supplies to choose from. Depending on your budget, and the amount of time you have before the party, you can get some great products.
If you choose a theme that is popular at the time, you will find many party supplies in your local supermarket, Lincraft or even Spotlight store.
Some more fun games to consider include:
Egg and Spoon Race
Obstacle Course
Sack Race
Relay Races
Pinata
Hide and Seek
Pass the Parcel
Balloon Race
Statues
Pin The Tail On The Donkey
Duck Duck Goose
Hot Potato
Simon Says
With a little planning, your child's birthday party will be a huge success. Recruit a few friends to help you prepare for the day, then watch your child's face light up as their big party begins!