Throw Them Out! Fair Trading Issues Warning About Taronga Zoo's Light-Up Writsbands From Vivid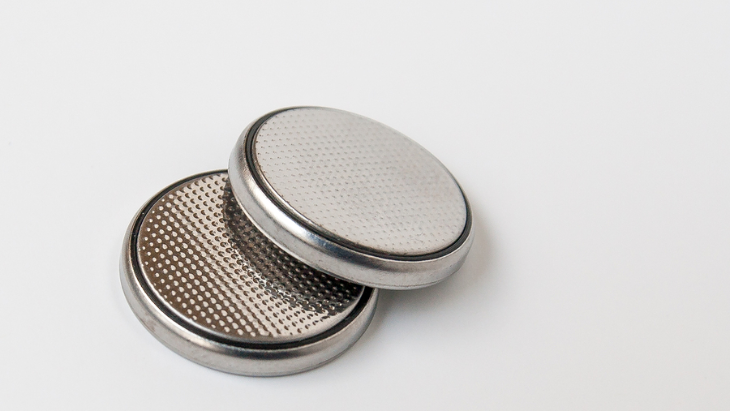 By: Phoebe Ackland, ellaslist
Fair Trading NSW has issued a warning about the light-up wristbands given to visitors of the 2017 Vivid Festival that ended last weekend.
Fair Trading made a complaint and a visit early last week to Sydney's Taronga Zoo, one of the most family-friendly precincts of the festival, and in response, the zoo decided to "voluntarily suspend the issue of the wristbands" according to the Daily Telegraph. NSW Fair Trading has said that the wristbands could cause "serious health issues" if swallowed due to the small button batteries in the band. Any families holding onto their bands as keepsakes are urged to dispose of them.
Blame It On The Batteries
Despite the warning from Fair Trading, Taronga Zoo maintains that their bands met safety standards. A Taronga spokesperson told the Daily Telegraph: "Each wristband consists of five recyclable or reusable parts and Taronga actively encouraged all guests to recycle their wristbands at the end of the night."
Choice: Button Batteries Have To Go
A spokeswoman from Fair Trading emphasised that the alarm was sounded due to the presence of button batteries: "A button battery can get stuck in the oesophagus or elsewhere in a child's system, burning through soft tissue in as little as two hours, and causing serious illness or death."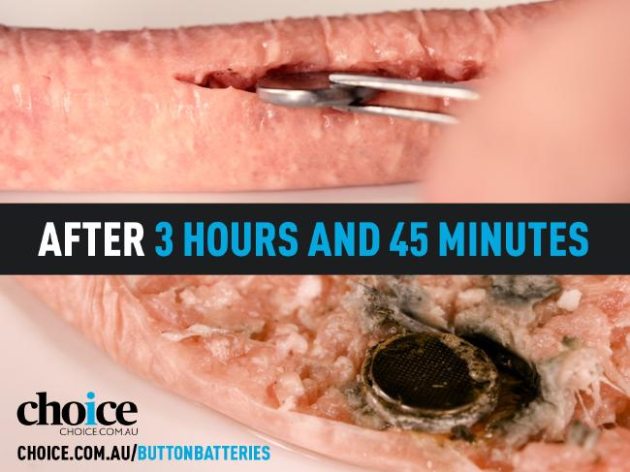 Choice have been warning parents about the dangers of button batteries for years, claiming that we have lost 2 young Australians to them and that hospitals receive around 20 children per week with button-battery related issues. Besides in Taronga's Vivid wristbands, Choice says that they can be found in bathroom scales, hearing aids, reading lights, cameras, flameless candles, games and toys, watches, calculators, torches, laser lights, thermometers, remote control devices that unlock car doors and control MP3 speakers and even musical greeting cards.
What's So Bad About Them?
So, what's so bad about button batteries? Apart from the fact that they can cause death, burn through soft tissue (even leaving little ones with the inability to swallow their own saliva), Choice says that the issues with button batteries lie in these factors:
Size: the button battery is the perfect size to lodge in a windpipe. If it were much smaller, it would travel to the stomach and eventually be passed in the stool.
Design: the anode (where the current flows in from outside) and cathode (where the current flows out) are close, and result in a high current which passes quickly through salty tissue. It is this electrical current (not the leaking battery acid) that creates heat that can cause serious burns within two hours of swallowing.
Dangerous even when flat: a lithium battery will still cause damage when it's out of charge. The battery will stop working at about 1.1 volts, but can still cause burns even when it's below one volt.
They go down easily and they don't hurt: many children can swallow a disc battery without choking or coughing, which means unless someone sees them do it, parents or carers will be none the wiser. Kidsafe's Teerds says the smooth, shiny look and feel is also particularly appealing to younger children who like to put things in their mouths. Soft tissue in the oesophagus and gut doesn't register pain very well, so the battery can burn severely without the child noticing.
The symptoms are varied: if a child has swallowed a battery, they're unlikely to tell anyone. Young children don't remember, and older children are often reluctant to say anything for fear of getting in trouble.
So, what does Choice want to be done about this issue? Choice wants all button battery powered products to have a secure battery compartment, for batteries of up to 35mm in diameter to be sold in child-proof packaging, for products supplied with a button battery to ensure the battery is secured within the battery compartment and not loose in the product packaging and for products that use or contain button batteries to have clear and concise warnings, making the risk clear to consumers at point of purchase.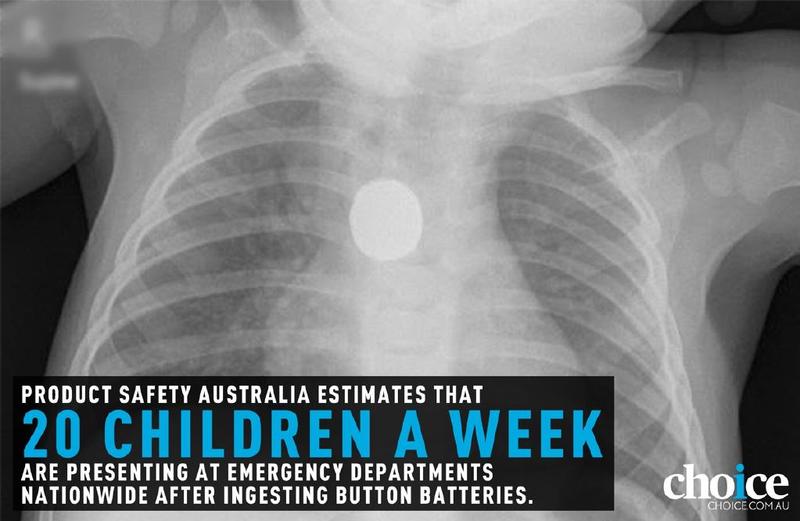 Think Your Child Has Swallowed A Battery?
Here's what to do, according to Choice:
If you suspect a child has swallowed a button battery, immediately call the Poisons Information Centre on 13 11 26 or go to a hospital emergency room. Do not let the child eat or drink, and do not induce vomiting.
Keep coin-sized button batteries and devices out of sight and out of reach of children.
Examine devices and make sure the battery compartment is secure.
Dispose of used button batteries immediately. Flat batteries can still be dangerous.
Tell others about the risk associated with button batteries, and how to keep their children safe.
According to the Daily Telegraph, Fair Trading and Taronga Zoo management are working together on the next steps involving this wristband issue.