Autumn In Sydney: Things To Do With Kids These School Holidays
Mums & Bubs
Toddlers
Preschoolers
Kids
Teens
Family
Autumn is upon us! Although we are moving from sunny summer to wet winter, and the days are becoming shorter and cooler, we can still make the most of this beautiful season before hibernation sets in.
Counter the cabin fever with these fun, family-friendly things to do with kids in Sydney this Autumn.
1. Calmsley Hill City Farm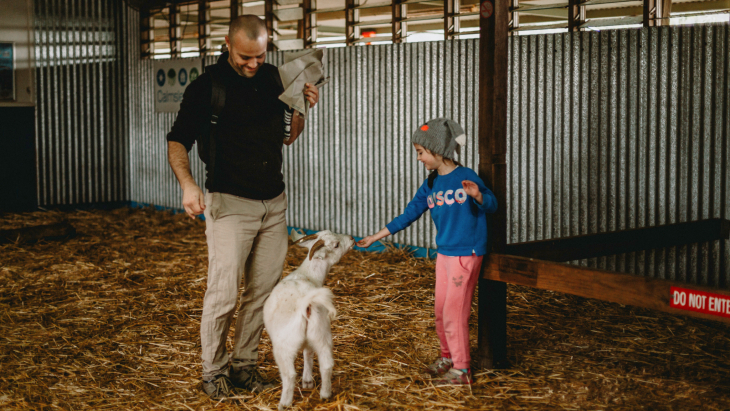 Head to Calmsley Hill City Farm this Autumn for an authentic, interactive farm experience without leaving the city! Less than an hour from Sydney, you can learn all about the native and farmyard animals, and enjoy shows and entertainment. The schedule includes cow milking demonstration, a tractor ride and a sheep-shearing show! If you don't think a whole day is enough, you can spend the night and camp out in the paddock.
Where: 31 Darling St, Abbotsbury
When: Up to 20 March - Open 5 days a week
From 21 March - Open 7 days a week
Cost: Adult $27.50; Child $15.50; Family $82.50 (2 adults, 3 children); Under 3s FREE.
2. Brickman Cities powered by LEGO® CITY at Sydney Tower Eye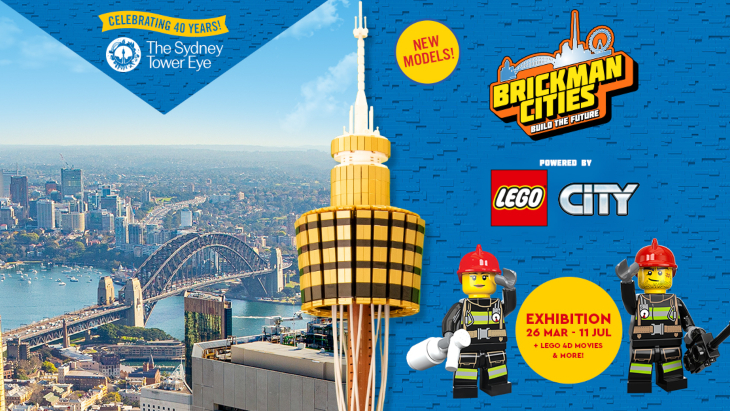 LEGO® lovers—listen up! The large-scale LEGO® experience Brickman Cities powered by LEGO® City is coming to Sydney Tower Eye this March as part of the Tower's 40th-anniversary celebrations! The experience explores the life and architecture of five of the world's greatest cities; Dubai, London, New York, Tokyo and, of course, Sydney! The focal point is a replica of the Sydney Tower made from over 30,000 LEGO® pieces. For kids, there is a kid play area where they can get creative and build their own LEGO® models!
Where: Sydney Tower Eye, Level 5 Westfield Sydney, 108 Market Street, Sydney
When: 26 March 2021 - 11 July 2021
Cost: Brickman Cities powered by LEGO® CITY: $22.50
Brickman Cities powered by LEGO® CITY + Observation Deck: $49.50
VR Pods: $10 add on to any Observation Deck ticket
3. Liverpool Catholic Club—Ice Skating and The Laneway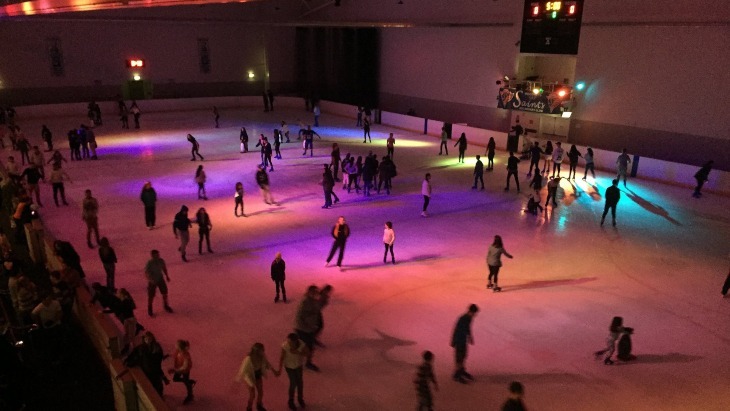 Are you looking for a family activity for the autumn school holidays? Bring the kids to Liverpool Catholic Club for some fun ice-skating. Book in a lesson with one of the many qualified, award-winning coaches in a safe and fun learning environment or just put on some ice skates and have a go. Afterwards, check out The Laneway—a new play and modern food precinct at the Club with an amazing playground for kids! It has several different eateries in the air-conditioned precinct with tables around the large, fenced climbing play area where kids can be entertained for hours.
Where: 424 - 458 Hoxton Park Road, Prestons
When: Autumn School Holidays
Cost: See website for cost.
4. Special Kids Lunch at Tradies Caringbah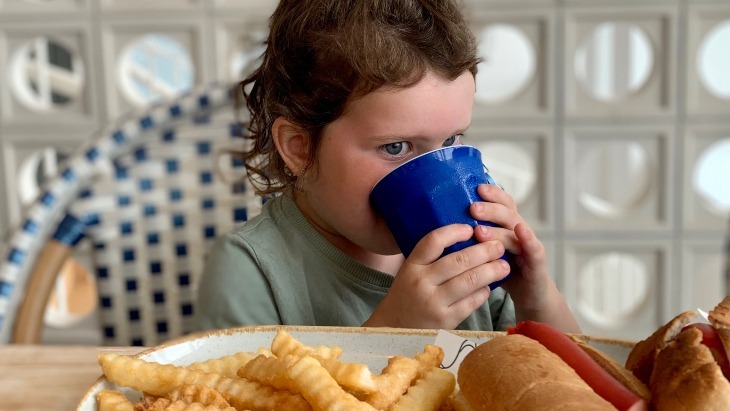 With a contemporary, family-friendly and environmentally sustainable design, Tradies Caringbah offers a welcoming and relaxing environment in the heart of Caringbah. For the Autumn School Holidays, they offer a special weekday kids lunch for $10. This includes a kids meal, entry into The Play Space plus a ticket in the draw to win a family pass to Symbio Wildlife Park (valued at $120). The deal is available Monday to Friday lunchtime throughout the Autumn school holidays. The Symbio pass will be drawn on 16th April!
Where: 28-30 Banksia Road, Caringbah
When: Kids Special is available from 5 April to 16 April 2021
Cost: $10 for special kids lunch
5. PJ Masks Mission: SEA LIFE Sydney Aquarium & WILD LIFE Sydney Zoo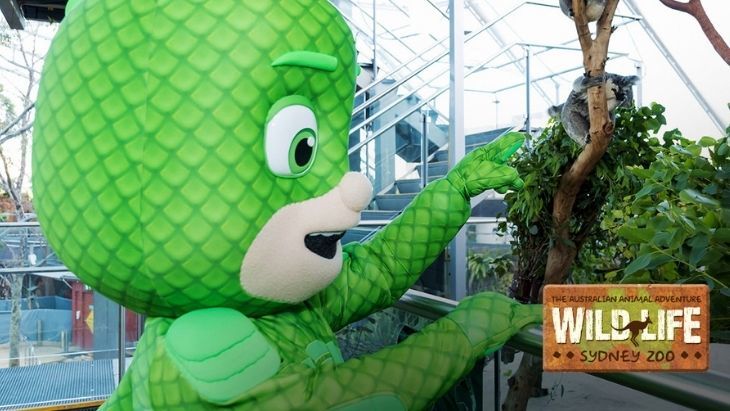 If you have a house full of PJ Masks fans and are looking to fill multiple days these April school holidays, WILD LIFE Sydney Zoo and SEA LIFE Sydney Aquarium's exciting school holiday activities have got you covered. Luna Girl, Romeo and Night Ninja have taken over WILD LIFE Sydney Zoo and caused trouble and your kids are needed to help The PJ Masks defeat the night-time baddies and find the missing animals. Meanwhile, they're also needed at SEA LIFE Sydney Aquarium to help The PJ Masks 'Stop the Marine Mayhem' by defeating the night-time baddies and restoring the aquarium to its peaceful state!
Where: SEA LIFE Sydney Aquarium & WILD LIFE Sydney Zoo
When: 2 - 18 April 2021
Cost: From $57 per adult and $40 per child when you pre-purchase a 2 attraction pass online.
6. Parramatta Nights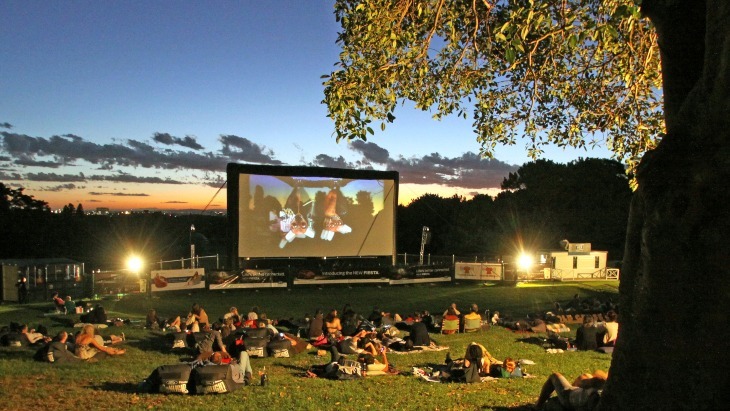 Enjoy entertainment across 3 destinations in the Parramatta CBD, featuring an open-air cinema, rooftop concerts, roller staking rink, live entertainment, food and drinks and All That Jazz!
When: Thursday through to Sunday night between 25 March and 11 April.
Where: Parramatta Square
Cost: Free
7. Mogo Wildlife Park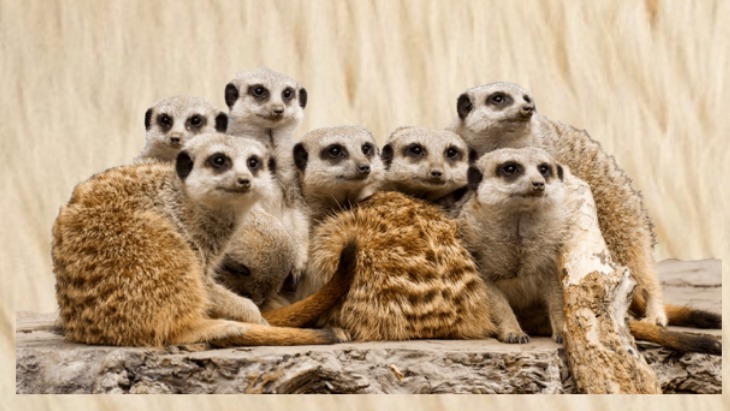 Meet some of your favourite animals at this epic South Coast wildlife destination! Mogo is home to so many amazing creatures, and they offer a great selection of animal encounters. Visitors can meet a lion, tiger, rhino or emperor tamarin! There's also the chance to feed a giraffe, #askazookeeper, and even enjoy their epic, all-inclusive camping package—the perfect way to experience the park during the school holidays!
When: Throughout the school holidays
Where: Mogo Wildlife Park, 222 Tomakin Rd, Mogo
Cost: $25 for kids, $38 for adults, family up to $110
8. Featherdale Sydney Wildlife Park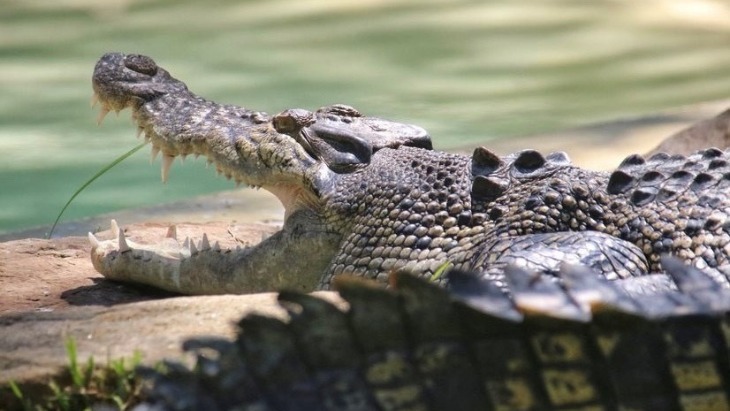 Featherdale Sydney Wildlife Park has welcomed its newest arrival, Max, a 2.6m saltwater crocodile. Max is a captive-born saltwater crocodile, who has grown to over 2.5 metres in length in his first 10 years of life and is the perfect size for his new home at Featherdale Sydney Wildlife Park.
Where: Featherdale Sydney Wildlife Park, 217-229 Kildare Road, Doonside
When: 10:30 am and 12:30 pm every Saturday and Sunday
Cost: Guests can hold a young crocodile for FREE. Park entry fees apply.
9. Hyde Park Barracks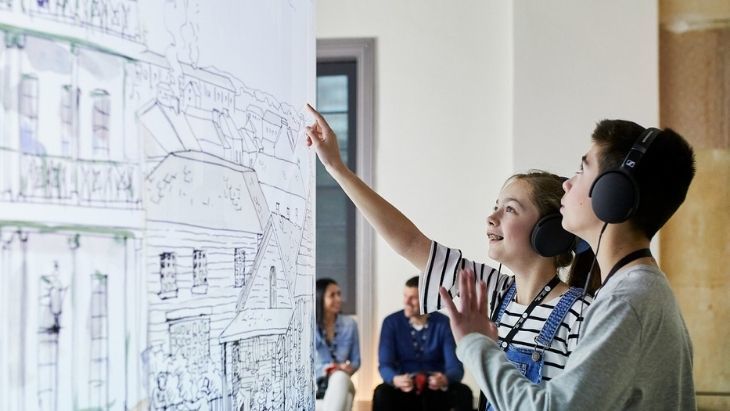 Embark on an adventure through time at the Hyde Park Barracks and discover what life was like for the many people who stayed here. Kids can explore the museum during the school holidays with a new tailored audio guide and activity trail!
Where: Hyde Park Barracks, Queens Square, Sydney
When: Open Thursday to Sunday, 10 am – 5 pm
Cost: Included in general admission: Child $16, Adult $24, Family $64. Members and children under 5 are free.
10. Sydney Living Museums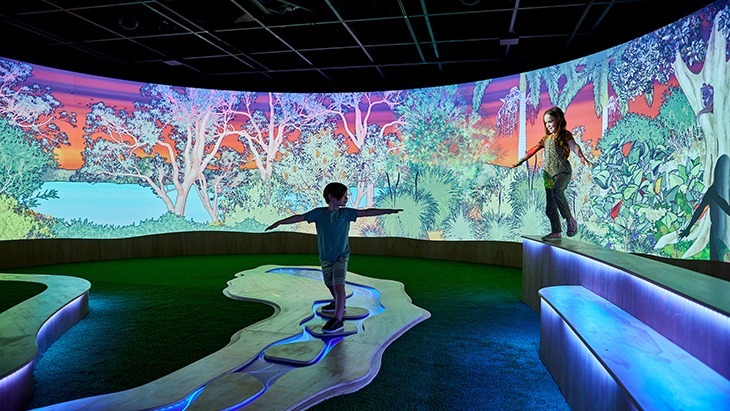 There's so much to explore at Sydney Living Museums this autumn! There are Easter Trails across Elizabeth Farm and Vaucluse House, plus plenty of exhibitions and other activities across their sites—such as the Kids' Trail at Hyde Park Barracks or Enchanted valley in the Paradise on Earth exhibition at the Museum of Sydney!
Where: Across Sydney Living Museums sites
When: Various
Cost: Various
11. Hunter Valley Gardens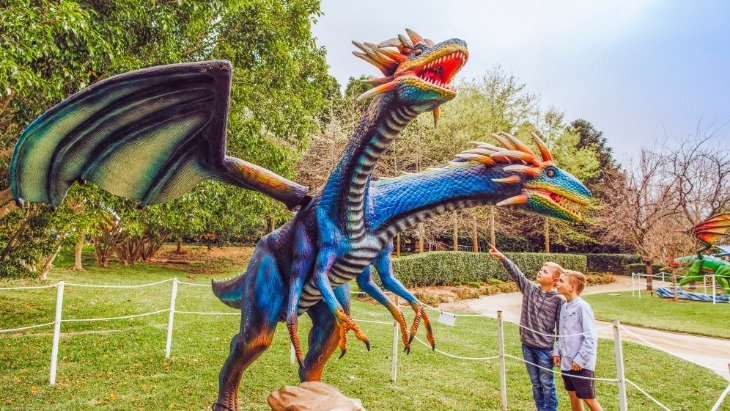 Join in the fun this autumn school holidays as Mega Creatures take over the Hunter Valley Gardens during the day and at night. Showcasing some of Australia's largest bugs, dinosaurs and dragons, the displays will thrill both parents and children alike! There will also be a fossil find, dino egg hunts, an epic Night Safari plus amusement rides and food and beverage available for purchase.
Where: Hunter Valley Gardens, 2090 Broke Rd, Pokolbin
When: 27 March - 25 April 2021
Cost: See website for details
12. Sydney Family Show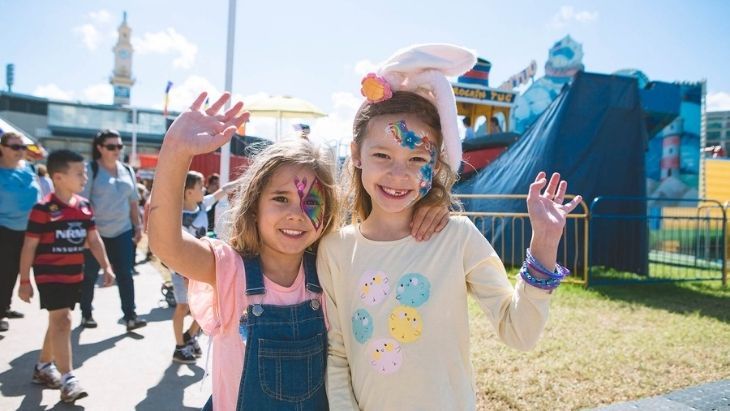 The Sydney Family Show will return to the Entertainment Quarter in Moore Park this April. There will be bunny hopping competitions the all-new Easter Basket Scramble, furry friends at the animal nursery, and heaps of carnival games to guarantee a great day out! Variety Day is back on Thursday, 8th April too!
Where: Entertainment Quarter, 122 Lang Road, Moore Park, NSW 2021
When: 1 - 18 April 2021
Cost: Entry fee is $15 for an adult; $7 for a child; and $40 for a family of four.*
13. Gunyama Park Aquatic and Recreation Centre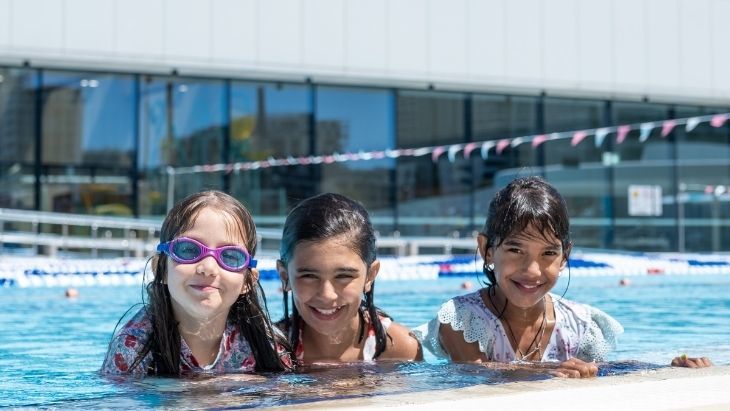 This beautiful, world-class facility at Gunyama Park is a place for everyone to play exercise and take some much needed time out! There is an outdoor 50m heated pool, as well as an indoor leisure zone that boasts slides, fountains and even a mega-drencher for kids!
Where: 17 Zetland Avenue, Zetland
When: All autumn
Cost: Entry fee is $8 for an adult; $5.90 for a child; and $21.10 for a family of four.
14. Entertainment Park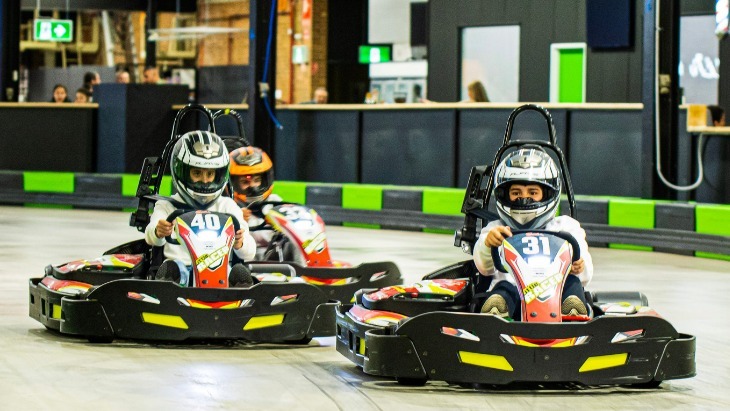 Indoor school holiday fun doesn't come much better than this! Entertainment Park in Bankstown will keep the kids thoroughly entertained with their epic roster of activities; including go-kart racing, bowling, racing car simulators, traditional old-style arcade games, a pool table, a VR arena and more!
And if they're peckish? No stress! During the school holidays, kids under 12 will receive 1 game of bowling and food (nuggets, chips and water) for $20.00—while for kids over 12 Sydney's most advanced racing simulator is available for half an hour for $50.00, including a chicken schnitzel burger and chips for lunch! Race you there!
Where: Entertainment Park, 20 / 361 Milperra Road, Bankstown
When: Daily during the holidays from 10 am - 10 pm.
Cost: $20 (bowling) and $50 (racing simulator) including food!
15. EQ Moore Park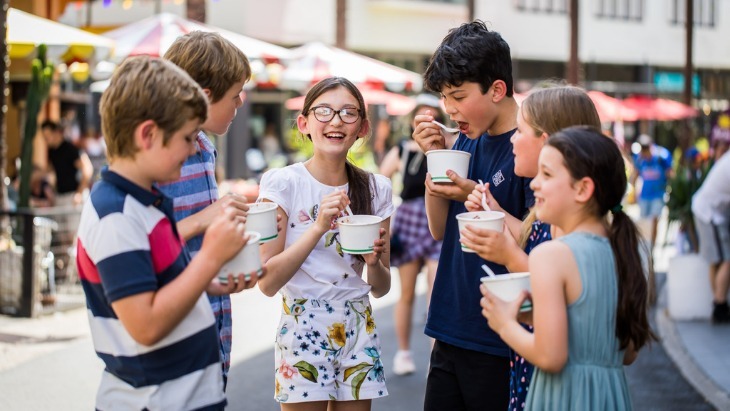 There are so many things to do at EQ during the Easter holidays and throughout autumn, including open-air markets, family-friendly restaurants and a wonderful range of unique experiences for adults and kids—including the Sydney Family Show! There's also the chance to blow off some steam at Monkey Mania, get creative at Plaster Funtime and a whole lot more. Check out the full line-up of events here!
Where: EQ Moore Park
When: 1 – 18 April 2021 (Monday - Friday)
Cost: Various
16. Map It! At the Australian National Maritime Museum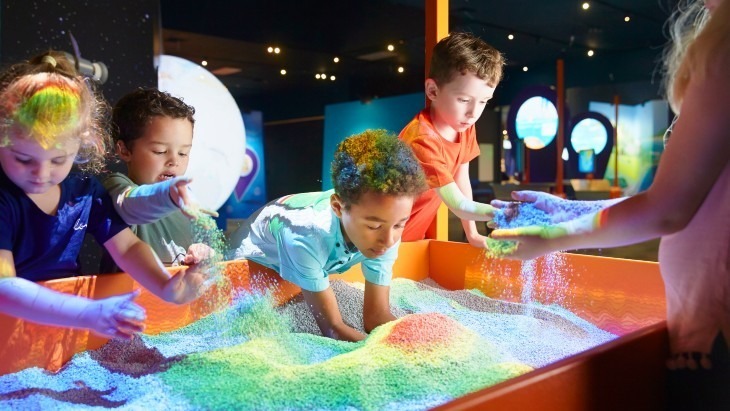 Complete a quest across land, sea and space to explore the role of mapping and navigation in everyday life these autumn with Map It! at the Australian National Maritime Museum. Curious kids will love putting their puzzle-solving skills to the test in this hands-on exploration of mapping and navigation.
As they solve puzzles, the kids will collect different layers of their very own map, which can be brought to life through augmented reality. They'll make their way through shipwrecks, escape a virtual building and pilot a simulated underwater exploration vehicle!
Where: ANMM, 2 Murray Street, Darling Harbour
When: 27 March - 11 July 2021
Cost: Adults $25, Child (under 4) FREE, Child (aged 4–15)
$15, Family $65, Members FREE.
17. Four Seasons Family Fun Package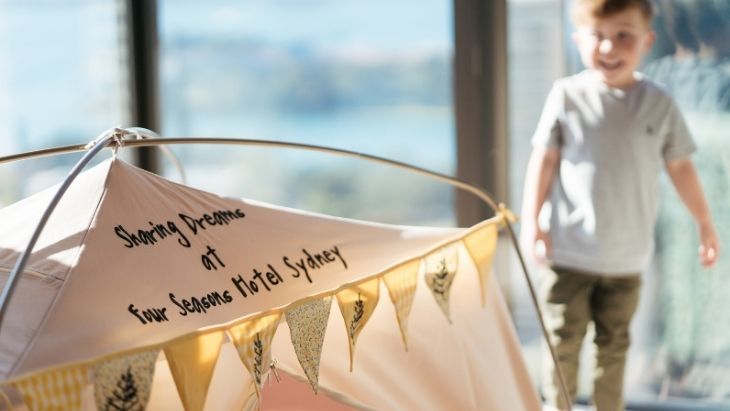 A family staycation is a perfect way to experience autumn in the city this year, and the luxurious Four Seasons has put together the ideal package. The Family Fun Package includes a welcome gift for the kids, daily breakfast for two adults and two children under 12 at Mode, one in-room kids' movie with movie snacks, 50% savings on kids' laundry items, kid-friendly bath amenities, themed linen and a tent experience included with stays in a suite. Sign us up!
Where: Four Seasons Hotel, 199 George Street, Sydney
When: April 16th 2021 until March 31st 2023
Cost: Check website for costs and rates
18. Bathurst Heritage Trades Trail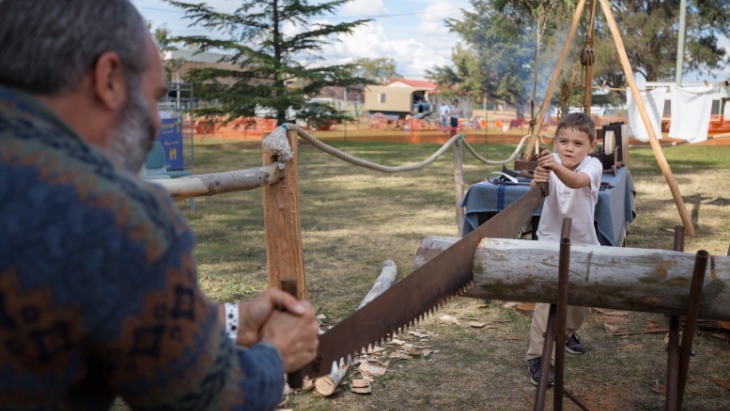 Take your kids on a journey back in time to explore over 200 years of history at the Bathurst Heritage Trades Trail. At this unique and exciting event, over 120 local and guest artisans will demonstrate rare trades that helped build the Bathurst region including blacksmithing, saddlery, dry stone walling, whip making, glass artistry, tapestry, embroidery, carpentry and joinery, violin making and more.
Kids will have a fascinating chance to see, feel and experience how everyday items were made before the advent of modern technology!
Where: Bathurst Showground pavilions and Bathurst Agricultural Research Station
When: 10 - 11 April 2021
Cost: $15 if pre-purchased online or $20 on the weekend of the event. Children under 16 are free.
19. Cockatoo Island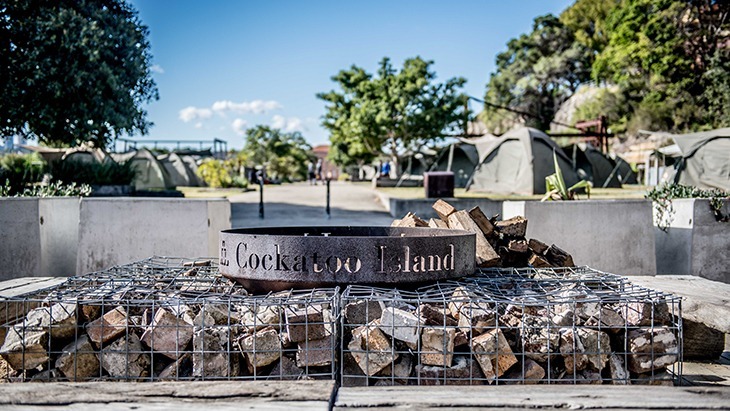 There's never been a better time to rediscover the heritage destinations on Sydney Harbour, and, bursting with beauty, cultural heritage and plenty of history, the Harbour Trust's visitor destinations are a rich source of exploration and discovery! These include North Head Sanctuary in Manly, Sub Base Platypus in North Sydney, Headland Park in Mosman and Cockatoo Island on Sydney Harbour, and throughout autumn, there are plenty of tours and ways to discover these city-side gems. Check out the full itinerary here!
Where: Various throughout Sydney
When: Throughout autumn
Cost: See website for individual ticket costs
20. High Tea at the Four Seasons Hotel Sydney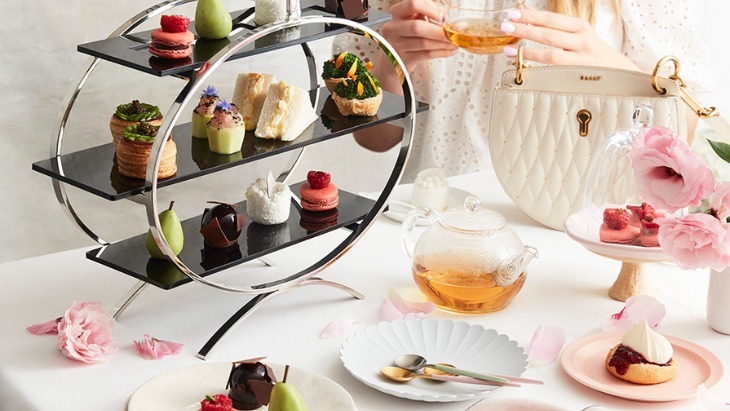 The perfect autumnal treat for adults and children alike, high tea at Mode Kitchen & Bar at the Four Seasons Hotel Sydney is the perfect seasonal activity for budding socialites! Enjoy three tiers of handcrafted sweets, savouries and scones on the new High Tea menu, which are made in-house by the Hotel's Alain Ducasse-trained French pastry duo, Elliott Roussel and Quentin Zerr. Just as with Mode's lunch and dinner menus, all dishes are based on the best available seasonal produce.
Where: The Mezzanine, Four Seasons Hotel, 199 George Street, Sydney
When: Wednesday through Sunday from 2:00 to 5:00 pm
Cost: Traditional High Tea is $69 per person
Champagne High Tea is $89 per person
Children's High Tea is $35 per person
21. Museum of Contemporary Art Family Tours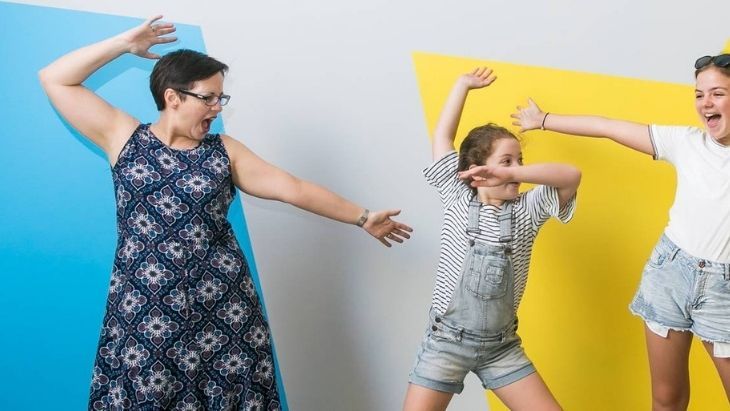 Be ready to laugh, shimmy and play! Bring the entire family along and participate in this inclusive and collaborative experience at an MCA Family Tour. The MCA artist-educator will guide your family through the exhibition MCA Collection: Perspectives on place, stopping at a few key artworks to have a closer look and partake in some creative learning strategies that the whole family will enjoy. Recommended for families with children ages 6–12.
Where: MCA, 140 George Street, The Rocks
When: 10am - 5pm Tuesday to Sunday, 10am - 9pm Friday. Closed Monday.
Cost: Free entry, $40 family ticket
22. Australian Botanic Gardens Mount Annan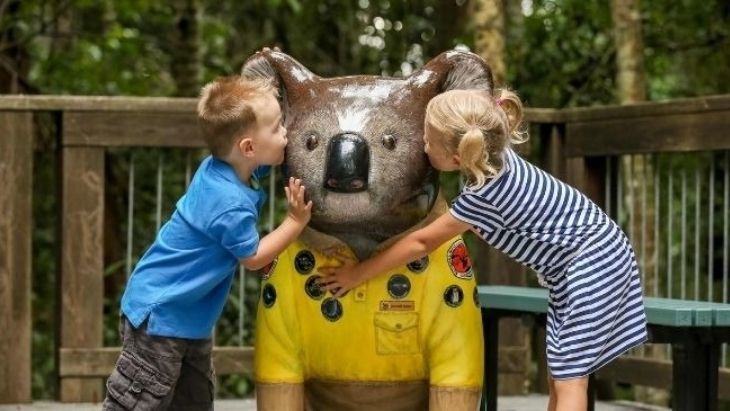 Bring the whole family and enjoy the bespoke trail curated by Arts and Health Australia and presented by Campbelltown City Council. The trail will be hosted across several Council sites as well as the Australian Botanic Garden Mount Annan. The trail encompasses 22 one-metre high koala sculptures, hand-painted by Australian artists. The Hello Koalas sculpture trail is a unique award-winning concept, conceived by AHA and centred in Port Macquarie. The trail aims to promote koala conservation and conservation of other threatened animal and plant species in Australia!
Where: Across Campbelltown and Australian Botanic Gardens
When: 1st to 30th April 2021
Cost: FREE
23. Octonauts at SEA LIFE Sydney Aquarium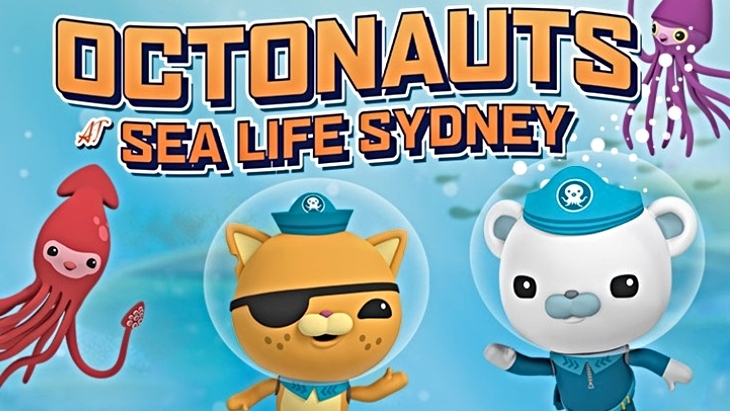 Ahoy, mateys! The Octonauts are coming to SEA LIFE Sydney Aquarium for exclusive FREE live shows during March. As part of an action-packed aquarium adventure, you can see 'Captain Barnacles and the Octopod Rescue' every Monday, Thursday, and Friday in the aquarium café. Then you can join the Octonauts on a mission around the aquarium, completing activities and tasks to help save Captain Barnacles who goes missing while out on a solo mission.
It's also worth investing in Multiple Attraction Tickets so you can save money and tie your aquarium visit with other attractions such as Madame Tussauds, WILD LIFE Sydney Zoo, Sydney Tower Eye and Illawarra Fly Treetop Adventures.
Where: Aquarium Wharf, Darling Harbour
When: Live shows every Monday, Thursday & Friday | 10am & 12pm
Cost: FREE. Aquarium Online General Admission - Adults $38.40, Children $28, Under 2s FREE.
24. Sky Zone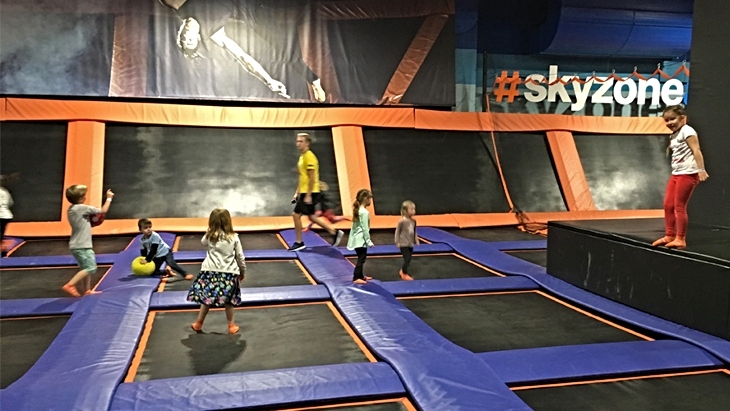 This indoor trampoline park is a perfect all-weather school holiday boredom buster and one of Sydney's most popular entertainment venues for kids! Sky Zone has 100 interconnected trampolines so they can expend all their energy bouncing off the walls, jumping into foam pits, playing dodgeball and shooting hoops. Even little ones can join the fun in the toddler only areas. There is also an Enduro obstacle course and a Sky Climb rock-climbing walls, and the in-house Altitude Cafe makes for an easy lunch or much-needed coffee.

Where: 75 O'Riordan Street, Alexandria
When: Open every day
Cost: One hour of jumping and Enduro is $18pp
25. Jamberoo Action Park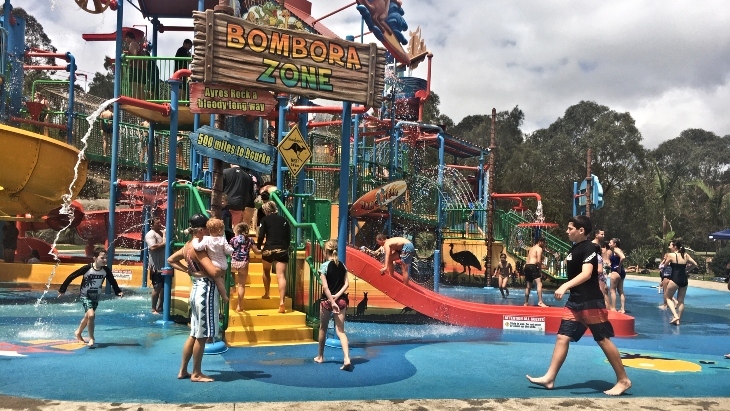 Take a school holiday family road trip to Jamberoo Action Park! The huge water park set in rolling hills has loads of adrenaline-charged rides and slides including The Perfect Storm, a completely dark vortex with streaks of lightning and cracks of thunder, and The Rock, a whopping 5-metre high cliff face for jumping into a deep water pool below - perfect for thrill-seeking kids. For the less adventurous, the family-friendly Rapid River and Outback Bay beach area, offer hours of relaxed fun, plus there are colourful waterparks and play areas dedicated to young children.
Where: 1215 Jamberoo Road, Jamberoo
When: Friday 2nd to Sunday 25th April 2021 | 10am - 5pm
Cost: Online General Admission - Adults $55; Children $45; Under 3 FREE
26. Strike Bowling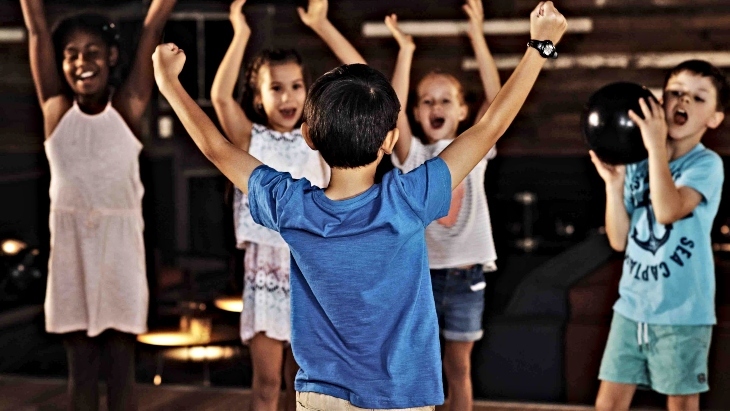 Bowling alleys have come a long way and boast a range of challenging interactive activities aside from knocking down ten pins. With laser tag, karaoke and escape rooms also on offer at Strike Bowling, there is loads of fun for everyone and have special deals throughout the week and on school holidays.
Where: Strike Bowling has venues at EQ, Chatswood, King Street Wharf, North Ryde and Castle Hill
When: Check your preferred venue for opening hours
Cost: Check your preferred venue for prices and special school holiday offers
27. Holy Moly Golf Club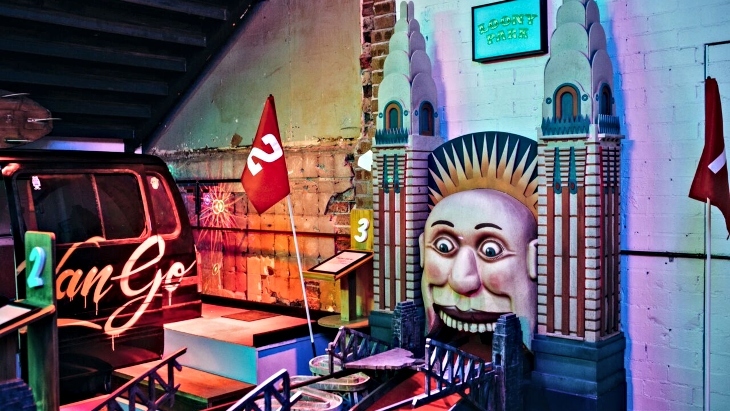 Australia's best mini golf course turns traditional putt-putt into a multi-sensory wonderland of uniquely themes holes! Holy Moly Golf Club combines a course uniquely inspired by nostalgic childhood faves and iconic pop culture with a funky soundtrack so you can strut while you putt.
They welcome under 18s before 5pm (due to liquor license restrictions).
Where: Holy Moly has venues in Chatswood, Newtown, North Strathfield, Castle Hill and Darlinghurst
When: Check your preferred venue for opening hours
Cost: Check your preferred venue for prices
28. The Australian Museum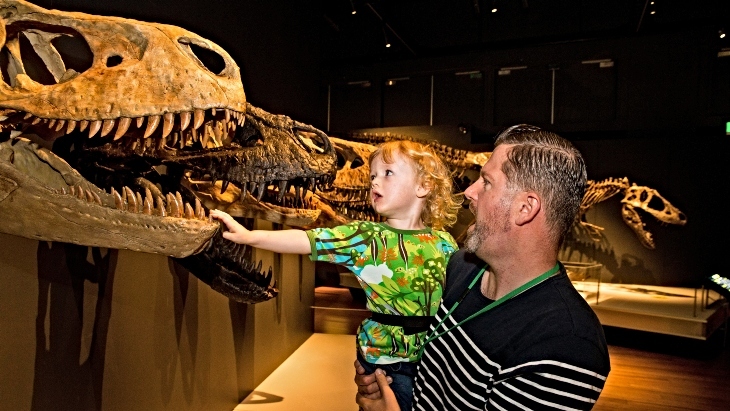 If you haven't visited the revamped Australian Museum following its giganotosaurus, $57.5m renovation, then add it to your Sydney in Autumn bucket list! The epic transformation has created generous, modern public spaces to explore and a collection of over 21 million scientific specimens and cultural objects waiting to be discovered. There are also improved amenities, a new Museum Shop and a second café. Plus, general admission for the public is FREE.
Little dinosaur buffs will love the new Prehistoric Playground on level 2 and families can also enjoy after-hours fun at Nights At The Australian Museum.
Where: 1 William Street, Sydney
When: Open every day | 10am - 5pm
Cost: General admission is FREE for a limited time.
29. Puppeteria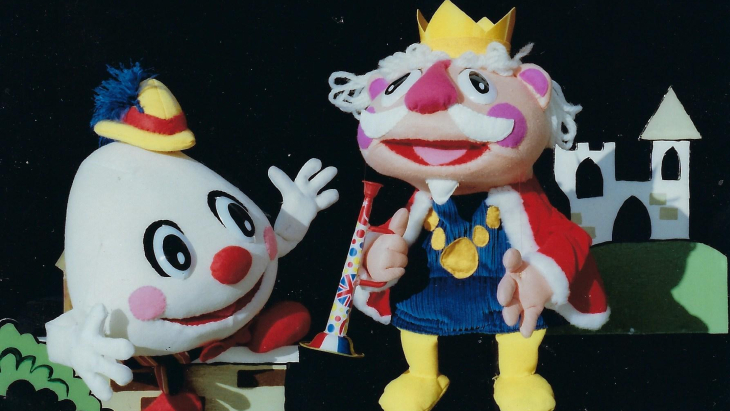 The Jeral Puppets are back at Puppeteria this Autumn with classic puppet shows of your favourite fairy tales. Three Little Pigs, Jack and the Beanstalk, Little Red Riding Hood and more will come to life with stories, songs and lots of laughs.
A regular schedule of lively performances especially for children ages 2 to 9 years runs until Sunday 18th April 2021.
Where: Puppeteria Theatre, 12H Denawen Ave, Castle Cove
When: On now until 18 April 2021
Cost: Children $12; Adults $15
30. Night Owls Film Fest - A Decade of Unfolding Stories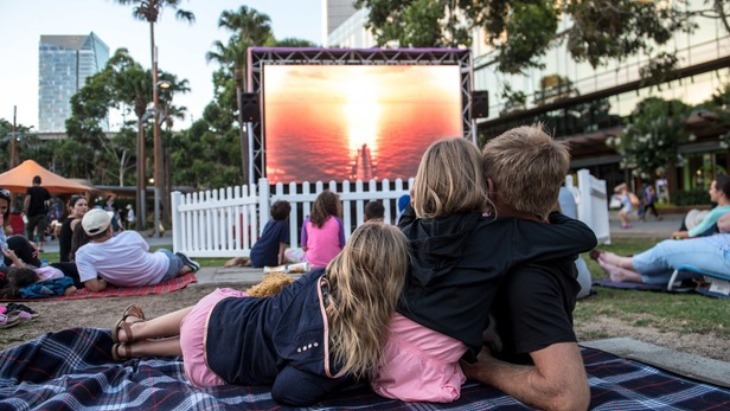 A Sydney school holiday institution for a generation of families – Darling Quarter's Night Owls Film Festival celebrates its tenth year this April! Returning with an enticing line-up of free family movies (plus after-hours screenings for the adults on selected evenings), everyone is invited to kick back on the Northern Village Green and enjoy the evocative magic of simple and beautiful storytelling on the big screen. Each evening at 5:45 pm Night Owls begins with 30-minutes of kids' entertainment curated by the much-loved Lah Lah!
Where: Northern Village Green, Darling Quarter, 1-25 Harbour St, Sydney NSW 2000
When: Thursday to Sunday for three consecutive weeks from 1 to 18 April 2021
Cost: FREE
More Autumn Activities
Best Easter Activities For Kids
Autumn School Holiday Programs And Activities For Kids In Sydney 2021
Where To Go Fruit Picking In Autumn

Have you signed up to our newsletter? Join ellaslist to get the best family and kid-friendly events, venues, classes and things to do NEAR YOU!