Things To Do During Earth Hour In Sydney
Tell them ellaslist sent you:
If you haven't heard of Earth Hour before, you're going to want to acquaint yourself with the movement before 8.30pm on Saturday, March 30th 2019.
In the last 40 years, the world has already lost nearly 60% of the global wildlife population, and climate change is emerging as the biggest threat to biodiversity, now and in the future. It's becoming increasingly and more heartbreakingly evident that the unique wildlife and natural places we love face a perilous future unless we step up to protect the planet - our home - from the impacts of climate change.
As the largest global movement for the sake of the environment, the annual Earth Hour was launched by WWF in 2007 and sees millions of people in over 180 countries ditch electricity and switch off their lights (yes, this includes devices like phones and iPads!) as a symbolic gesture to show the need for stronger climate action.
Here's what you can get up to in order to make the most of this once-a-year, meaningful experience with kids.
1. Play board games

Image: MakeUseOf
You may be operating by candlelight, but why not make some new memories around the dining table during Earth Hour. Get out all the board games you have and play a few rounds of different games. It's a fun way of spending time together (unless anyone in the family is a sore loser—*cough* Dad *cough*) in a situation that you just don't get around to doing too often, despite your best intentions!
2. Stargaze
Because really, is stargazing on the back lawn or balcony something that you ever actually get around to doing? It's also a great way to engage the kids in conversations around the meaning of Earth Hour and to encourage them to appreciate the beauty of the planet and to treat it kindly.
3. Watch the harbour lights go off

Image: the Australian Museum
As a show of solidarity to the cause, some of Australia's most iconic buildings will also switch their lights off—including Sydney Opera House, Sydney Harbour Bridge and the Australian Museum. Why not take a wander down to one of these and watch as the lights go out, then indulge in one of the other activities listed for the hour?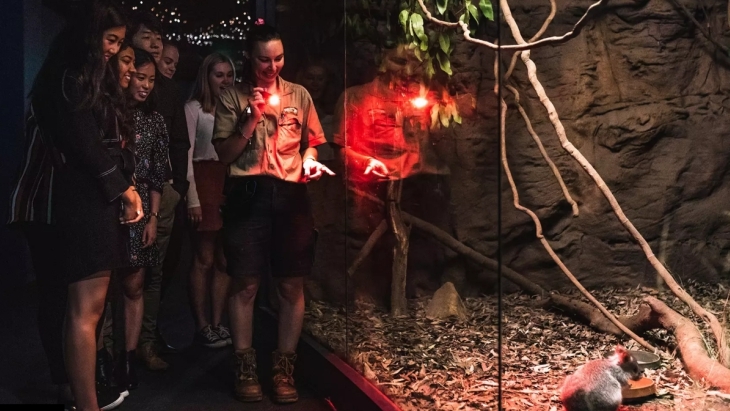 If you're in the city you might want to jump on one of the Torch Light Tours at Wild Life Sydney Zoo. You'll get access to the secret after-dark lives of our Aussie animals in an exclusive after hours tour.
4. Play cards

Image: Burst by Shopify
Another activity that tends to happen when you're camping, in a no-phone-signal zone and without the distraction of screens is a good, old-fashioned game of cards. When was the last time you sat down as a family at home to play a game of rummy or the like? Use the time to brush up on your skills and do some serious family bonding.
5. Have a conversation
Look, it's radical we know—but if your kids are of the age where they don't need *heaps* of entertainment, why not try and hone your familial conversational skills? Why not start with conversations around the planet, the environment and how to care for it—and see where it takes you!
6. At-home picnic by candlelight

Image: Glitter and Bubbles
If your kids are old enough to be trusted around naked flames, why not indulge in an at-home picnic this Earth Day? Think a picnic rug in the lounge, lots of candles and lots of your favourite snacky picnic foods! Hunker on down for your feast and then follow up with a fun-filled activity from this list!
Register here for Earth Hour and join the global movement!
Hero image: SMH
More Environmental Reads Here:
Have you signed up to our newsletter? Join ellaslist to get the best family and kid-friendly events, venues, classes and things to do NEAR YOU!