There's Oodles Of Family Fun To Be Had At Darling Harbour This Winter
By: Lisa Wolff, ellaslist editor
A visit to Darling Harbour makes us feel like we are on holiday. Even though it's so central, easy to get to and no problem to park, it just seems worlds away from our regular humdrum routine. There's always something happening at Darling Harbour and these winter holidays is no exception. There is ice-skating, penguins, gorgeous gardens, thrilling adventure, togas, scrumptious food and so much more. We took the kids to check out the fun.
We packed in our pick of activities into one day but there is so much choice, that you may want to visit more than once. Some of our favourites are:
Chinese Garden Of Friendship
The Chinese Garden has been on my list for many years and yet I have never visited. My recommendation is: don't wait - just go! It was such an enjoyable visit and the kids loved discovering the meandering paths, stepping stones, bridges, waterfalls and the gorgeous temples. There is also a tranquil tea garden serving a selection of dim sum, scones and other treats. These holidays, the Garden is hosting Dragon Tales - FREE puppet making sessions (weekdays: 11am and 1pm) as well as the Emperor's Quest hunt for the Zodiac sculptures. Each child gets their own special map on entry and they need to follow the path to find the 12 animals of the Chinese Lunar New Year scattered around the gardens. My five-year-old daughter adored this adventure and was so excited to spot the animals.
There is also daily feeding of the magnificent Koi fish at 11:30am.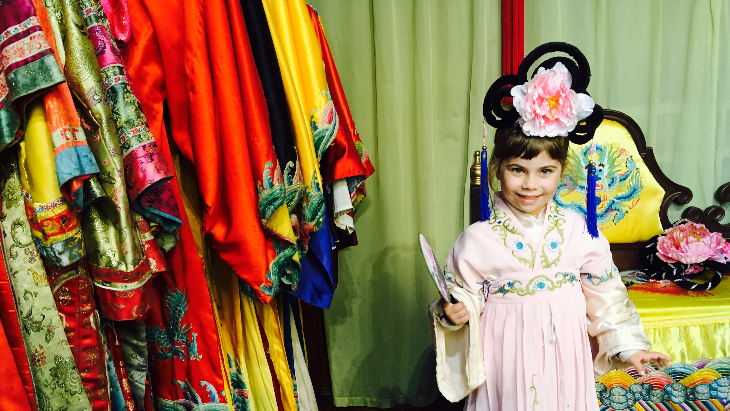 The highlight was dressing up in traditional Chinese dress and wandering around the gardens taking photos in the beautiful surroundings. My daughter felt like a real princess and loved all the attention she received from other visitors. It costs only $5 a child and $10 an adult to dress up - highly recommended.
The paths are quite bumpy but are pram accessible. However, there are stairs as well so it may be best to bring the baby carrier too. There are also streams and easily accessible water, so you may need to hold young kids close.
Admission:
Adult: $6
Child: $3 (under 12 years)
Family: $15 (two adults and two children)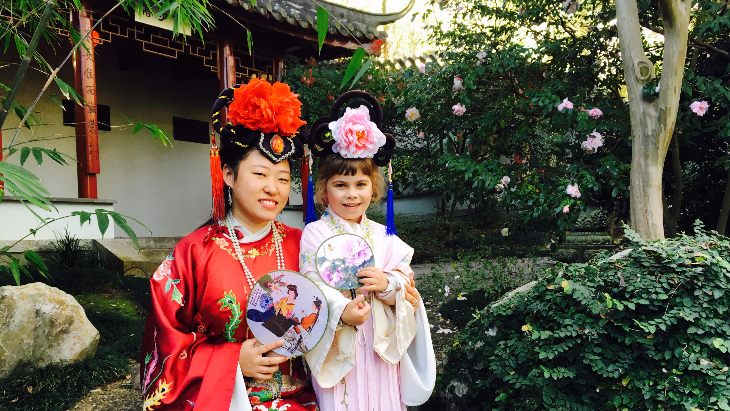 Icecapades
Get your skates on these holidays and take to the ice at one of the most scenic ice-rinks in the city- Icecapades. The ice-rink is situated at the amphitheatre in front of the Harbourside Shopping Centre and overlooks the water and the CBD skyline.
At dusk, the fairy lights come on and it really is something special spinning on the ice under the lights. Don't miss the professional ice skating show at 6pm Friday, Saturday and Sunday nights.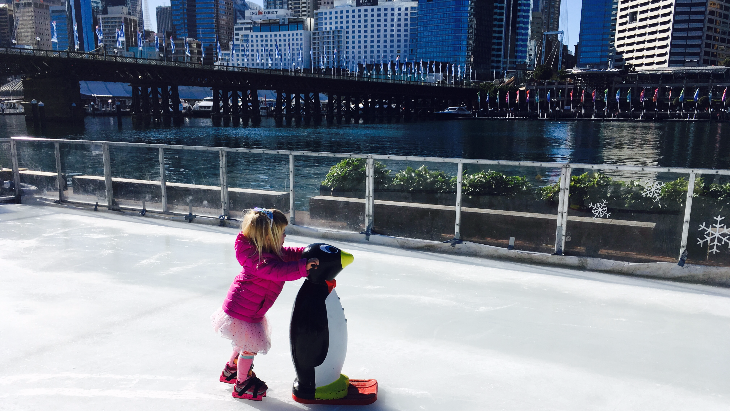 Sessions run on an hourly basis from 10am until 9pm.
Costs: Adult (14+ years) $22.00
Child: (5 - 13 years) $18.00
Family: (Includes 2 Adults and 2 Children or 1 Adult and 3 Children) $69.00
Infant: (Under 5 years old, must be accompanied by an adult) $12.00
Penguin Assist Hire: $8.00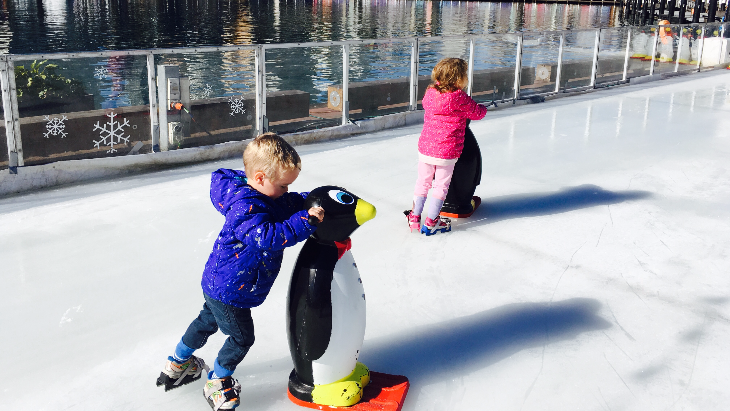 9D Action Cinema
Forget regular movies - 9D action cinema takes things to a new (thrilling) level. The cinema is situated in Harbourside Shopping Centre and is a small intimate theatre with comfortable seats and a big screen. First, you get to pick which movie you want to watch - there was a list of about 15 to choose from - ranging from mild adventures perfect for kids to scary zombie battles (which is apparently the most popular). We opted for an adrenaline packed snow-sled race. We strapped ourselves in, put on our 3D glasses, the lights dimmed and the action began. The experience jolted every sense as the chair jiggled and jagged from side to side and up and down, mimicking the movement of the bobsled speeding on the screen. Real snow drifted onto our face and when the bobsled went through a snow storm, droplets of rain sprinkled down. It really felt as if we were on a crazy crusade through the ice and even though the whole experience was only about 8 minutes, it felt much longer.
My daughter loved it so much that we had to try another one - this time we boarded a roller coaster through the jungle. The ride was a crazy topsy-turvy race through snake-infested trees, temples and other obstacles. Pshew - what a rush!
Daily from 10am.
1 Ride: $7 child, $40 family
2 Rides: $12 child, $65 family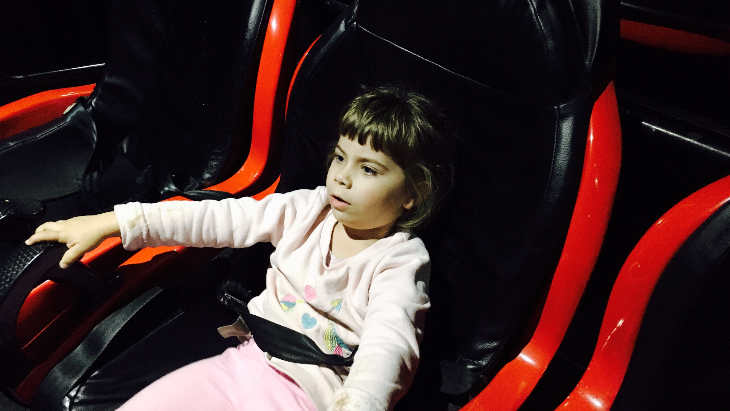 Darling Harbour Children's Playground
The Darling Harbour Children's Playground at Tumbalong Park is one of our favourites. It boasts fantastic climbing nets, a flying fox, slides, a mega sand pit, swings, roundabout and more. The water play during the summer is a highlight but during the chillier months, there's plenty of FREE fun to be had.
There is also a traditional carousel adjacent to the playground, which our kids always plead to ride. Kids 3 and under are FREE when accompanied by an adult.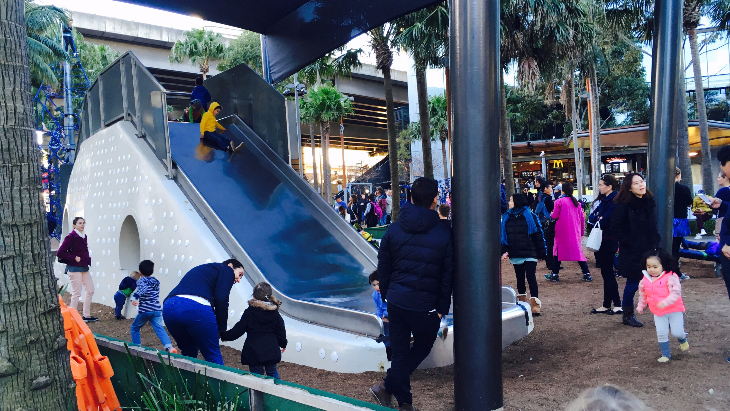 Where To Eat
Darling Harbour has such a variety of different cafes and restaurants to choose from and most of them are very family friendly.
One of our very favourites is Cyren which has the perfect position at the front of Harbourside. Whenever we visit, the staff are so friendly to our kids and make them feel welcome. Each child gets their own activity pack and crayons to keep them busy while the grown-ups can enjoy a glass of wine or two and enjoy the view.
We sat outside to soak up the atmosphere and we ended up taking off our jackets as there was ample heating.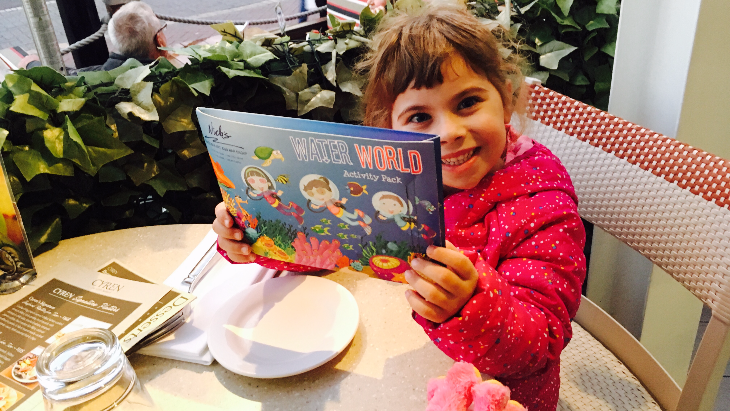 What's On The Menu
There are some great value selections for the kids, including chicken & chips, fish & chips, spaghetti with tomato sauce and pizza - priced at $13,50 and include a drink and an ice-cream treat.
Cyren is famous for its seafood and ribs and I saw many patrons' eyes almost pop out of their heads with excitement when they saw the impressive seafood platters placed on their tables - wow! I ordered the kangaroo which was tasty and the kids opted for the pizza which was given 2 thumbs up!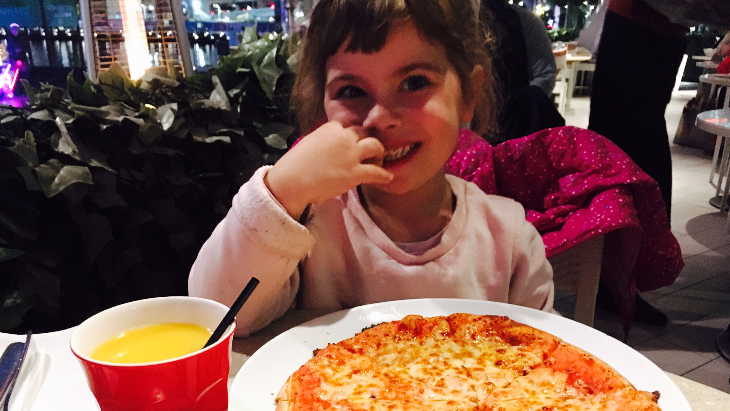 But Wait There's More….
Check out more Winter fun at Darling Harbour these holidays:
Become an Animal Planet Ranger - Meet the coolest creatures alive, and learn fun facts about them and their quirky personalities. Then hop aboard a boat ride and meet Sydney's newest and cutest penguins at the all-new Penguin Expedition.
Cost: Adult - $42; Child (4–15yrs) - $29.50; Child (under 4 yrs) - FREE
Australian National Maritime Museum School Holiday Fun:
From togas and treasure to turtles and tall ships, there's an adventure to be had every day of the school holidays at the Australian National Maritime Museum.
Where: ANMM, 2 Murray Street, Darling Harbour
When: Daily, 2 - 17 July 2017
Cost: Adult - $32; Child (under 4yrs) - FREE; Child (4–15yrs) - $20; Family - $79; Members - FREE
Discover Your Style for Tweens (Madame Tussauds):
Make-up tips, tricks and giveaways for fashion-loving 'tweens. Plus digital makeover, catwalk and cover shoot opportunities.
Where: Aquarium Wharf, Darling Harbour
When: 30 June - 16 July 2017
Cost: Adult from $29.40; Child (4–15yrs) from $20.65
Thai-riffic! by Monkey Baa Theatre Company :
Imagine being stuck with the most embarrassing family in existence. Hilarious and heartfelt family theatre.
Where: Lendlease Darling Quarter Theatre, Terrace 3, 1-25 Harbour St, Sydney
When: 4-8 July 2017
Cost: $29/ticket; Family of 4 - $104; Family of 5 - $125