The Weird & Wonderful at SEA LIFE Sydney's Jurassic Seas Exhibition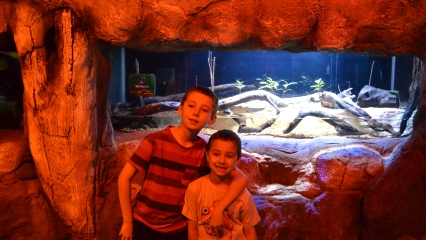 ellaslist COVID-19 update: Please note that all the information on the website is correct at the time of publication. Please check the relevant website before visiting a venue or destination for the latest COVID-19 information. ellaslist is not responsible for any cancellations or closures.
By Lenore Pearson, ellaslist explorer
On a sweltering Sydney morning, we were very grateful to be inside with air conditioning and immersing ourselves in the depths of Jurassic Seas. The newest exhibition to emerge from the waters of SEA LIFE Sydney Aquarium, Jurassic Seas is a superb opportunity for all budding palaeontologists to come face to face with weird and wonderful creatures that have survived since pre-historic times and outlasted the dinosaurs.
My boys are obsessed with dinosaurs, if I'm not stepping on them, sitting on them or sharing a bathroom with them, I'm finding them in my bed, in the car or on my kitchen bench. So you can imagine the dinosaur frenzy in my household that followed the release of the movie Jurassic World, not to mention the excitement at the thought of being treated to a day at SEA LIFE Sydney Aquarium to explore the new Jurassic Seas Exhibition.
Prehistoric Paradise
Designed to capitalise on the latest surge of prehistoric fever, the exhibition is well-presented with prehistoric props and dino décor. The boys were particularly taken with the enormous Australian Lung Fish and the aptly named Pig Nosed Turtle. I, on the other hand, was mesmerised by the Ancient Nautilus which is said to have slowly evolved over 500 million years! There was also a small hands-on observation table set up where kids could interact with diverse objects such as the jaw bone of a small shark, the incredible screw-shaped egg from a Horn shark and a sample of coral. The staff were great with the boys and very knowledgeable.
The exhibition itself is quite small and won't take more than 10-15mins to explore, however, the boys were more than happy to keep moving through the aquarium in search of a 'huge shark' but were momentarily attracted to the Discovery Rockpool where they were free to gently handle sea urchins, star fish, sea cucumbers and hermit crabs.
What We Loved About Jurassic Seas


Kids can have a photo with the Jurassic World Velociraptors but be prepared that some photos may not turn out well as flash photography is not allowed inside.
There is a wonderful little corner called 'Art Aquarium' in which kids can colour in pictures of a Mosasaurus, jelly fish, sharks and various other underwater creatures and then have it scanned and projected up onto a wall where their drawing comes to life. This was a particular highlight for my boys who stood intently waiting for their jelly fish and shark to appear and swim along the wall.
Feed a deadly plesiosaurus using a technology-based interactive game – kids as well as adults (read husband!) enjoyed this feature.
ellaslist Top Tips


Suitable for school age children 5 to 12 yrs, younger kids won't get a lot out of this particular exhibition, however, the rest of the themed zones will more than make up for it.
The entry price includes a Jurassic World Activity Pack for children which involves hunting through the 14 themed zones of the Aquarium for fun hidden dinosaur facts – ask for one if you aren't given one when you collect your tickets.
It is much cheaper if you purchase tickets online plus the prepaid ticket line moves faster than the normal line.
Arrive early as during the holiday period the queue to get in is quite long. The ticket desk now handles ticket sales to all three attractions: Madam Tussauds, The Wild Life Sydney Zoo and the Sea Life Sydney Aquarium.
If you look at the website, it indicates various parking stations that offer cheaper parking deals. Just validate your ticket at the ticket desk upon entry as they don't validate it at the gift shop on your way out.
Why We Love the Aquarium


Under 4 years –

FREE

Admission


Easy to navigate with a child in a pram or wheelchair


There are toilets and parent rooms located mid-way through the aquarium as well as at the gift shop


There is a snack bar mid-way through the aquarium and two food outlets – Aqua Café and Wharf Kitchen located in the main foyer – or why not pack a lunch and sit by the water?


There are 14 themed zones throughout the aquarium – we highly recommend Dugong Island and Shark Valley


Fun Sea Life photos taken by animated staff members upon entry and mid way through which can be viewed and purchased as you exit the final zone.



WARNING

: Great souvenir shop upon exit – difficult to remove the kids!


Guaranteed super fun family day out
Jurassic Seas at SEA LIFE Sydney Aquarium – Everything You Need to Know
LOCATION- SEA LIFE Sydney Aquarium is located on the city side of Darling Harbour. 1-5 Wheat Road, Aquarium Wharf, Darling Harbour.
OPENING HOURS- 9:30am – 7:00pm daily. Last entries strictly 6:00pm
ADMISSION- (Walk Up Price) Adults – $40, Child (4-15) – $28, Family – $136
WEBSITE- www.sydneyaquarium.com.au
Hello! My name is Lenore, proud mumma to three gorgeous kids, amazingly awesome wife to one cool dude and self-professed travel addict! I started out my career as a primary school teacher for five years, which, second to having my own kids, was extremely rewarding for me.
While I was pregnant with baby number 3, and slowly going insane pacing (waddling) up and down the house, I felt I needed to keep my mind active and decided to take up a Diploma in Travel and Tourism, because I clearly wasn't going to have my hands full enough with three kids!
I am all about exploring. For me, living a full life is about collecting amazing experiences from as many incredible places as possible. Travel and adventures fuel my imagination and I love sharing them in the hopes of inspiring the explorer in each of us! Along with my family, I have been fortunate enough to have discovered lots of places already.
I am super excited to be an ellaslist Explorer, aiming to provide very real and practical information for families looking to create their own adventures and experiences. I am forever researching new and exciting things to do with the kids and I look forward to sharing them with you.
I have also just launched my own travel blog 'Little Miss Piggy' a treasure trove of travel inspiration and unique experiences in and around Sydney and abroad.