The Rocks: Historical Sydney Comes Alive During The School Holidays For ellaslist!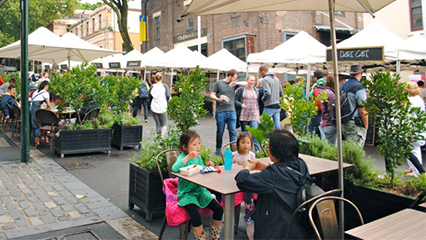 ellaslist COVID-19 update: Please note that all the information on the website is correct at the time of publication. Please check the relevant website before visiting a venue or destination for the latest COVID-19 information. ellaslist is not responsible for any cancellations or closures.
By Helena Leung, ellaslist explorer
It was the day after that muggy Summer heat wave, when Sydney melted like a pool of ice cream. As the rain spattered and the weather cooled, I decided to take my girls and their Grandma on a re-discovery tour of The Rocks. Born and bred in Sydney, I vaguely remembered the story of the First Fleet and convict settlement, but I was yet to transfer this knowledge to my 4 and 6yo. What better way than to have a fun-packed day at The Rocks!

Getting There The Easy Way!
The easiest way to get to The Rocks is to catch the train to Circular Quay and then walk straight up to George Street. There are lifts for strollers at the station. Silly me didn't pack any snacks so I was assaulted with cries of "
I'm hunnngrrrryyyy
" for the half hour train journey. Luckily…
The Rocks Friday Foodie Market
Timing our visit on a Friday meant we were able to browse and eat lunch at the
The Rocks Friday Foodie Market
at Jack Mundey Place. "
What a coincidence!
" said Foodie Mum. Grandma immediately gravitated to the La Renaissance truffle cheeseburger while I couldn't resist Phillip's Foote's famous roast pork roll with crispy crackling! The girls eyed the loopy pretzels and sizzling pork sausage hotdogs from Munich Butcher. Viewing the long line of delicious foodie stalls, from fresh sushi to biltong snacks, I wished (not for the first time) that I had four stomachs like a cow.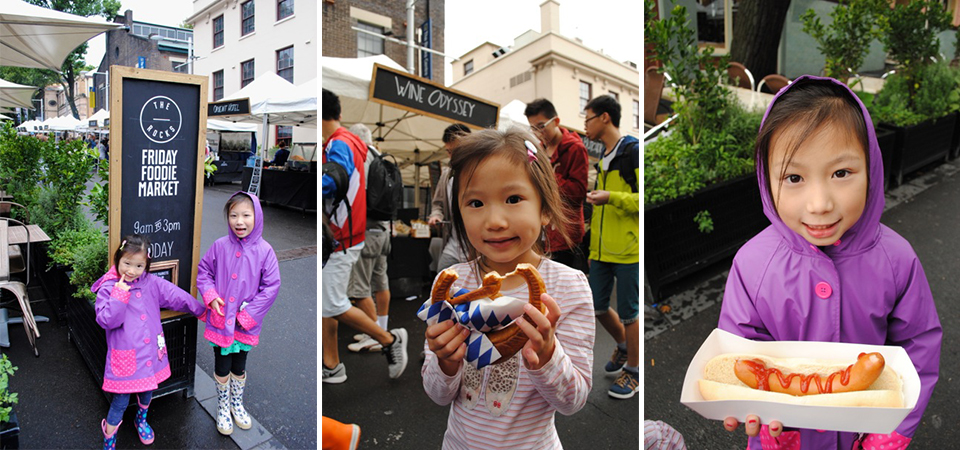 The Rocks Discovery Museum
With our tummies full we ventured down Kendall Lane until we reached
The Rocks Discovery Museum
. Entry is free (yes!) and a helpful receptionist quickly armed my girls with a treasure hunt sheet to help them focus on specific artifacts as they wandered. There are four main rooms in the museum, which exhibits four historical eras of The Rocks precinct. It guided us from indigenous times and European settlement, through to present day, by way of videos, displays and photographs. There is a lot of informative written text along the walls, which my girls largely glossed over. They were mainly interested in the…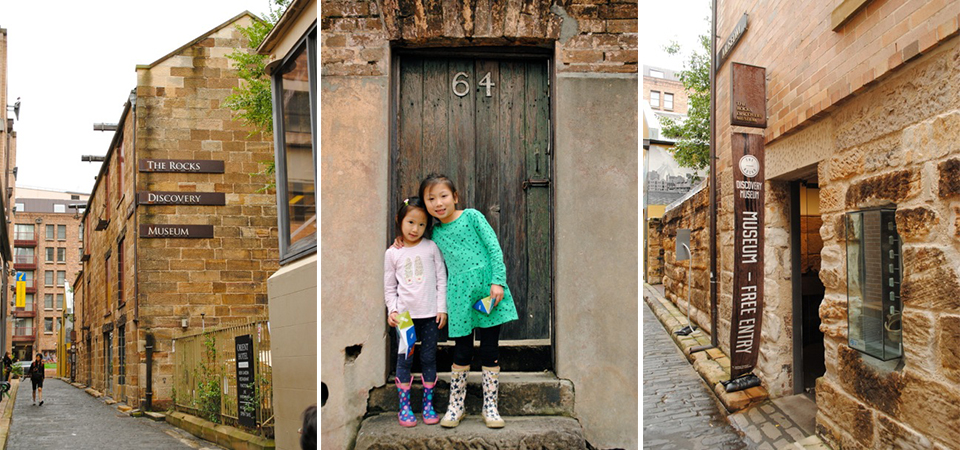 Basket Weaving Workshop
During these Summer holidays the museum is running
FREE

basket weaving workshops for the kids
(10.15am-12.45pm). Due to the young ages of my girls the educator taught them how to make a simple bracelet using long pieces of straw-like string. Miss 6 caught on pretty quickly, but Miss 4 needed me to help. Older kids can try to tackle making an actual basket. They may not finish the entire thing at the museum, but they will have learnt a new skill that they can take home.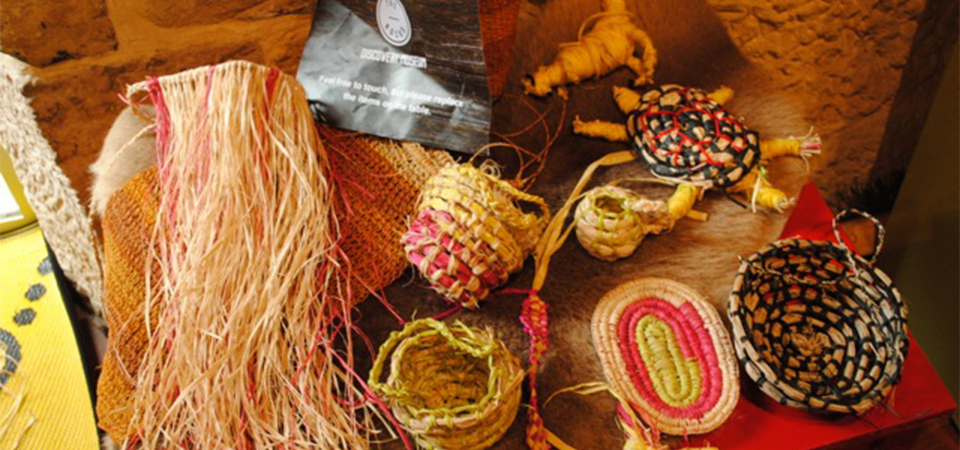 When Nature Calls
After proudly finishing their bracelets I took the girls for a quick toilet break, out of the door of the museum, left turn and down a narrow alley. Strollers can fit down the alley and there is a toilet cubical with a bench suitable for a nappy change. We then headed back to the museum for…
Are You Curious About George?
The Rocks Discovery Museum is currently offering
a free guided walking tour that explores the fascinating life of the convict George Cribb
. The tour was advertised for ages 6+, so I wasn't too sure if my girls would be able to concentrate for 45 minutes of walking and talking, but Miss 4 sure surprised me! The guide took us up to the Big Dig archeological site where we learned about George's sordid convict past. I won't give too much away, but the tales revolved around his abattoir, a poisoned well, his three wives and a racehorse! Are you curious?!
Mouth Watering Desserts
After so much exploring it was nigh time for a good cup of coffee and some tasty desserts. Along Jack Mundey Place sits
the quaint little French Patisserie, La Renaissance
. Their little cakes, although on the pricey side of $10.50, are both works of art and amazingly delicious. We opted for a berry mousse and a lychee white chocolate cake. We also tried their famous almond croissant, which was light, flaky and not overly sweet. We sat outside on the pavement, enjoying our al fresco afternoon tea, and were even joined by two curious rainbow lorikeets!

Sticky!
Last but not least, if you make the trek out to The Rocks with the kids these holidays, you
MUST
take them to see a lolly making demonstration at
the rock candy shop, Sticky
. Their candy-making workshop is visibly open to the public and your kids will stand transfixed as the candy makers fold, stretch and mold candy into all sorts of colours, shapes and sizes. You will probably walk away with at least one bag or lollipop!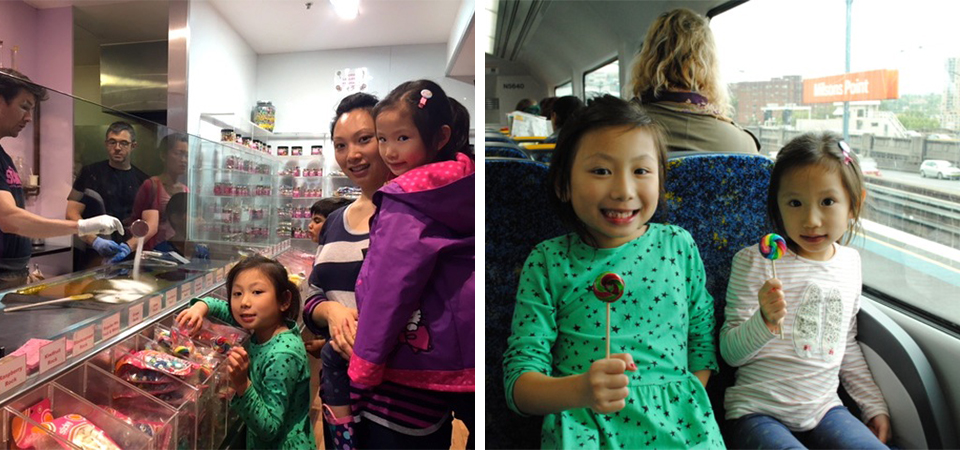 Our Highlights
When I ask my two daughters about the day Miss 6yo was quick to say '
making a bracelet and watching the man make lollipops'
while Miss 4yo piped up '
George Cribb and his three wives. And watching the man make lollipops
.' It was a fanatastic day out to keep them happy and amused during the school holidays!
ABOUT HELENA

Helena Leung is a high school English teacher who gave up the glory of classroom teaching for a quieter home life. She has two little girls, Alisa and Sofia, and is married to a Nissan Pulsar driving, Garage Band singing, Top Gun pilot wannabe husband. When she is not tutoring students on the finer points of Shakespeare and T.S. Eliot, Helena can be found stalking the haberdashery section of Spotlight in order to feed her fabric addiction. She also loves to make beautiful handmade hair clips, which she sells for practically no profit on eBay. Despite her lack of business acumen Helena enjoys her family life and exploring everything that Sydney has to offer. Weekends are often filled visiting parks, cafes and catching up with friends. One day Helena hopes to become very, very famous for writing a very, very good book (or review on ellaslist.) One day.