The Latest Food Craze, the Raindrop Cake, is in Sydney!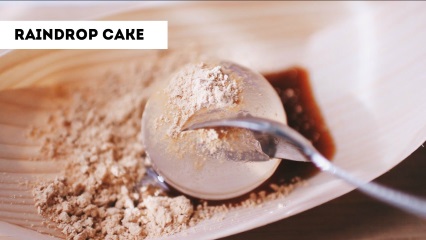 By: Serina Hajje, ellaslist
New York's hottest food craze has just arrived in Harajuku Gyoza at Potts Point. After sweeping New Yorkers off their feet, the raindrop cake has been popping up all over social media.
What Is A Raindrop Cake?
The inspiration for the raindrop cake comes from the Japanese dessert mixu shingen mochi. The fragile, 150-millilitre blob of agar jelly is eaten quickly (before it melts) with sugar syrup and soy flour, or brown sugar syrup mixed with sesame powder. Some places have played around with strawberries and blueberries inside the cake, with condensed milk, and crushed peanuts.
What Does It Taste Like?
Well, brave Buzzfeed correspondent Julia Reinstein tasted it and came back with "Yes, it is squishy, yes, it is jiggly, but the second it enters your mouth, it melts into water. It doesn't even pop — it just sort of instantly dissolves. It seriously is like eating a raindrop." You can assume that it may taste like water but imagine it mixed with sugar and soy flour.
So, maybe taste it for yourself by making it!