The Escape Hunt Experience - The Ultimate Live Escape Game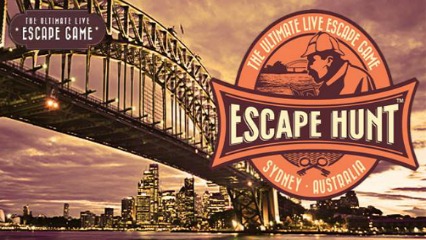 By: Hayley Christofi ellaslist 
We love a great board game in our house and our current favourite is an oldie but a goodie – Cluedo! All that mystery and suspense really challenges the kids to think a little differently and also helps them to tap in to some problem solving skills. So when we discovered The Escape Hunt Experience tucked away in the heart of the CBD we just had to give it a go.
Billed as exciting, addictive, challenging, educational and above all, fun, I was intrigued. The Escape Hunt is the chance to play the part of a famous detective solving mysteries, (Sherlock Holmes caplet and deerstalker optional). Players are locked in a simple room with objects where they gather clues, crack codes and solve puzzles in order to escape the room before time runs out. Solve the mystery and escape!
We went on a rainy dark Sunday afternoon and it felt like a bit of a mystery from the onset. The Escape Hunt Experience is hidden in a regular office block on George Street so finding it was the first challenge. Tick.
Greeted by Olga (dressed as Sherlock himself), we were told that there had been a robbery in the cottage and we had to find the thief before he disappeared forever! Olga quickly went through the rules, handed us a walkie talkie and escorted my family of 4 to the cottage, closing the door behind us. It was at this point that I realised I didn't have a clue as to what was going on and neither did my twin 7 year old boys. Thankfully we had an alpha male in our family and a walkie talkie with direct access to Olga!
Now I don't want to give away too much information as that would spoil the surprise, but there are plenty of challenges to complete within the 60 minutes. We became a little complacent half way through thinking we'd nailed it in record time, but not everything is as it seems and there are plenty of twists, turns and combination locks to keep you guessing.
Twin 1 loved the surprise element and tried very hard to solve the puzzles we were presented with, however the complexity of the challenges were quite difficult for a 7 year old. He loved the race against the clock and took it upon himself to annoyingly remind us how much time we had left in 2 minute intervals. Twin 2 has a very logical mind, but again he also struggled with the puzzles. Saying that, the challenges are multi-layered, and the kids were able to get involved in each task, whether it was searching for clues or ultimately opening a padlock. We would however recommend that 7 is a minimum age and your group would benefit from a mix of ages.
We did have a great family experience at The Escape Hunt. Its about logic, thinking outside of the box and most importantly working together as a team, something all families will benefit from!
The Escape Hunt is located at Level 4, 393 George Street, Sydney (between King Street and Market Street opposite Dymocks) Book online for a 10% discount. Open 7 days a week 9:45am – 10pm