The Best Vivid Light Walk for Kids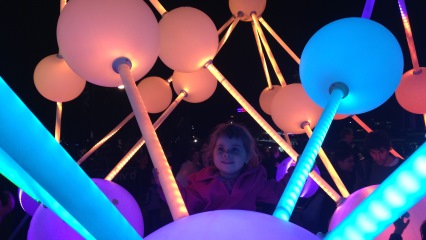 By: Lisa Wolff, ellaslist
Have you been to Vivid Sydney yet? It's that mesmerising light show that illuminates the night sky every winter. We took our three year old this week and we were dazzled. In fact, I think this year's festival is the best ever.
When taking kids to Vivid, you need to be a bit strategic. I'll go through the route we followed and the top 10 attractions we saw plus our TOP TIPS. But remember the lights switch off on 9 June so don't miss out.
OUR LIGHT ROUTE
Martin Place


We started our light walk at Martin Place. The lights switch on at 5:30pm here (as opposed to 6pm everywhere else) so it made sense to see these installations first.
1) We were first in the queue for DRUM CIRCLE – the awesome semi-circle of different sized drums that light up when you bang on them. Who doesn't like a good drumming – especially on ones that change colour. This attraction has limited capacity so get there early. It's worth waiting for though – the kids will love it!
2) Next up, we had a fun play on ROBOTANIC, which is an interesting structure with wooden leaves dotted with motion sensors. When you touch the sensors, the lights and music change. It was so refreshing to experience art that kids could actually touch and play with.
3) We then had a dinner stop at the Vivid Food Stalls at Martin Place. There was a yummy selection of pop-up restaurants on offer – including Porteño, Thievery, Agape Organic, Cantina Movil, Tsuru and famous gelato Cow and the Moon.
You could take a seat at the illuminated stools within the Transcendence Bar but we chose to have dinner on the go as we made our way to circular quay.
Circular Quay
There are so many interactive and exciting installations at Circular Quay. We picked a few highlights in First Fleet Park (the large patch of grass between the MCA and Circular Quay) and surrounds but would definitely need to go back to experience the ones we missed.


4) We headed straight for AFFINITY. This is something from a kid's technicolour fantasy world. It is a web of interconnected coloured globes representing the human brain. When an orb is touched, the colour and sound changes. It felt like we were tourists in the Matrix. Our little one was in her element and had the best time running from one globe to the next. There is limited capacity for this structure so get there early. We waited in the queue for about 5 minutes.
5) Next up was DUCK DUCK GOOSE which features different coloured container drums. Apparently there is some sort of game you can play but the kids didn't seem to care. There was enough fun to be had in just drumming on the containers to change their colours.
6) There was a bit of a queue for SWING GLOW but our daughter insisted on having a turn. This is the ultimate playground adventure. The illuminated, interactive swing sets change colour as you swing through the darkness. Only two can swing at a time so there could be a bit of a wait. Plus there's a marshal limiting your swing time so be prepared for some tears and begging for another turn.
7) Our toddler cheered up when we were handed head phones at SPACE FOLDING. We stepped into a cylinder with tiny little globes which changed colour. The transy music added to the surreal experience.


8) Our next stop was BEAT DICE. An instructor led us through a BEAT DICE concert where we controlled the music. Each side of the dice made a different sound so we had lots of fun moving the dice around and making some funky rhythms.
9) We then had a quick look at the gorgeous light projects on the MCA and the Opera House before making our way through the huge crowds gathered outside Customs House.
10) ENCHANTED SYDNEY projects free-flowing images of Sydney's flora and fauna onto the walls of Customs House. This was probably my highlight! It is absolutely spectacular and I felt privileged to be able to watch this creative animation. Definitely don't miss this one! And don't be put off by the crowds – you can pretty much stand anywhere and still see the projections.
It was past 8pm by now and time to go. But it was so hard to leave knowing that we had only touched the very tip of all the amazing lights. So we will definitely be back for some more Vivid action. Next up…Darling Harbour.
TOP TIPS FOR VIVID WITH KIDS



You need to get there early – preferably before the lights go on! We were ready and waiting at Martin Place at 5:30pm. The city was bustling with city workers but they were all rushing home leaving us to enjoy the lights.


You need to have your route planned out. You could follow the route we did or check the Vivid site to make your own. But have an idea of what areas you would like to visit.


Choose one (or maximum two) precincts and focus on seeing the installations in these areas. Kids get tired easily and the experience is super stimulating so don't try and cram in too much in one night. Rather spend more time in one area so you're not rushing around the city.


Take public transport. We took a train into Martin Place and it was so much more relaxing than tackling the traffic and worrying about finding parking. Plus it was much cheaper.


Go on a week night. The weekends get pretty packed so plan an outing during the week.


Have an early dinner either at Martin Place like we did or else the Sculpture Terrace at the top of the

MCA

which is really kid friendly and open till 9pm during Vivid.
WANT MORE AWESOME IDEAS LIKE THESE ? 
SUBSCRIBE TO OUR WEEKLY NEWSLETTER TO DISCOVER WHAT'S NEW AND COOL FOR KIDS IN SYDNEY.
Reviews

Reviews get lonely too
Be awesome and write a review