The Best Kids Shows in Spring 2016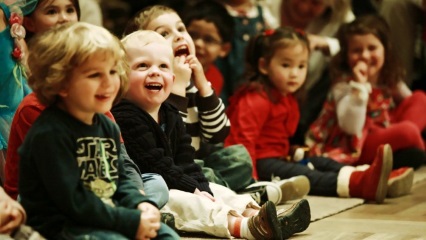 ellaslist COVID-19 update: Please note that all the information on the website is correct at the time of publication. Please check the relevant website before visiting a venue or destination for the latest COVID-19 information. ellaslist is not responsible for any cancellations or closures.
By: Serina Hajje, ellaslist
A full season of exciting new kids' shows are popping up this spring in Sydney! From music and comedy to puppetry; keep the kids entertained and learning with these amazing shows.
FREE Shows by Polyglot Theatre – Seymour Centre
The Seymour Centre will keep your little creatures entertained this September school holidays with wildly fun productions and a program of roar-inspiring free activities. Enjoy a meal like no other, as your invited to make culinary delights from the forest ingredients around them at Forest Feast. Face hundreds of giant bread crumbs and three big insects, and figure out what the Ants want! The Owl's Apprentice is an interactive solo show created by Jenny Ellis using a combination of shadow puppetry, hand puppetry and storytelling.
When: 26 Sept – 7 Oct 2016
Where: Cnr Cleveland St and City Road, Chippendale
Cost: FREE
Puppeteria
Celebrating its 50th birthday as a professional puppet company, The JERAL PUPPETS will be presenting an exciting program at Puppeteria. See the classic tale of The Three Little Pigs, be mesmerised by the retelling of The Princess and the Frog and see The Strongest Mouse In All the World.
When: Term 3 program until 25 Sept 2016
Where: 12H Denawen Ave, Castle Cove
Cost: Admission is $12 per child and $14 per adult
North Shore Emerge Festival
Watch the colourful street parade, visit market stalls, enjoy live entertainment and kids' movies on the giant outdoor screen. Relax and rejuvenate at the pop-up Oasis at Chatswood Mall Market (1 – 2 September) and The Concourse (22 – 25 September). Think deck chairs, umbrellas, music, entertainment, interactive kid's activities and more. Young festival-goers will be delighted by Peppa Pig (21 September) and Spot (23 – 25 September) children's theatre shows at The Concourse.
When: 1 – 25 Sept 2016
Where: Various locations across the lower North Shore
Cost: Various – check website for details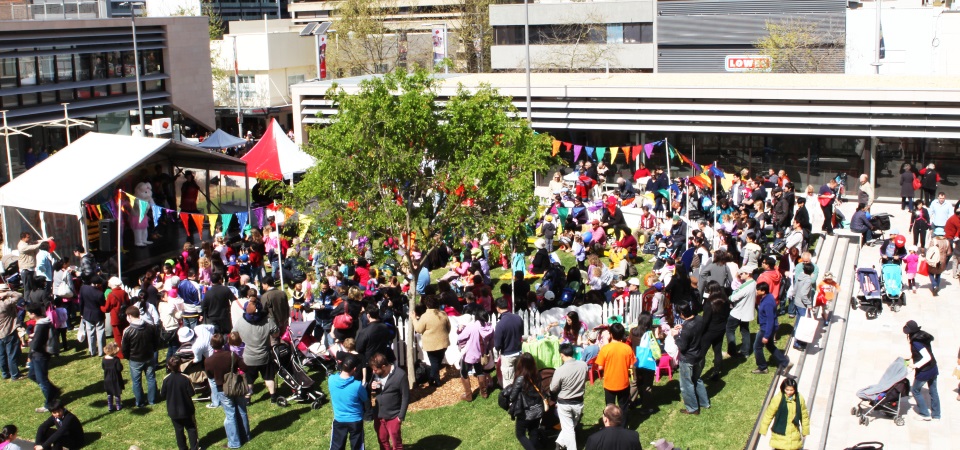 North Shore Emerge Festival
The Gruffalo – Seymour Centre
Join the clever little mouse on this delectable tale through the deep dark woods full of predators. The Gruffalo will delight kids 3yrs+ with this memorable and classic story.
When: 19 – 20 Sept 2016
Where: The Seymour Centre, City Rd & Cleveland St, Chippendale
Cost: $28 for Adult/Child
BOOK HERE.
Ruby's Wish at the Belvoir
Ruby's Wish– an enchanting show overflowing with puppets, magic, beatboxing and exquisite performances. Ruby may not believe in fairytales but she certainly believes in wishes. Confined to a hospital bed, little Ruby has had to grow up far too fast. But when she is visited by Dot, a tongue-tied clown doctor, she finds a way to use her greatest asset: her imagination.
When: 21 Sept – 9 Oct 2016
Where: Belvoir St Theatre, downstairs theatre
Cost: $48 – Adults; $25 – Kids
BOOK HERE
The Essential Baby & Toddler Show
Look forward to 150 local & international brands for you to shop from including, Chicco, Joie, iCandy, Baby Zen, Aden & Anais, Gro and many more at the Essential Baby & Toddler Show at the Entertainment Quarter.
There will also be advice from experts including Pinky McKay, live shows by Hi-5 (AND meet & greet), life-size Thomas & Friends and so much more.
When: 23 – 25 Sept 2016
Where: Royal Hall of Industries & Hordern Pavilion, 1 Driver Avenue, Moore Park
Cost: $20/Adults, Under 16yrs FREE
Register NOW for your FREE ticket and save $20!
Spot – Seymour Centre
Our favourite cartoon dog is on stage for the first time in Sydney! Spot and his friends are off on an adventure to visit Spot's dad Sam on the farm and meet the farm animals. But when they arrive all the animals are missing, presumed lost! Spot will need your help to solve this puzzle.
When: 23 Sept – 5 Oct 2016
Where: North Shore, Inner City, Western Sydney
Cost: Tickets from $20 (plus applicable booking/transaction fees)
BOOK HERE.
Sydney Opera House: The Very Hungry Caterpillar Show
Combining The Very Hungry Caterpillar with three more Eric Carle stories – 'The Artist Who Painted a Blue Horse', 'Mister Seahorse' and 'The Very Lonely Firefly', this colourful and joyful interpretation of the books, will delight the whole family.
When: 24 Sept – 9 Oct 2016
Where: Sydney Opera House
Cost: $30 – $49
BOOK HERE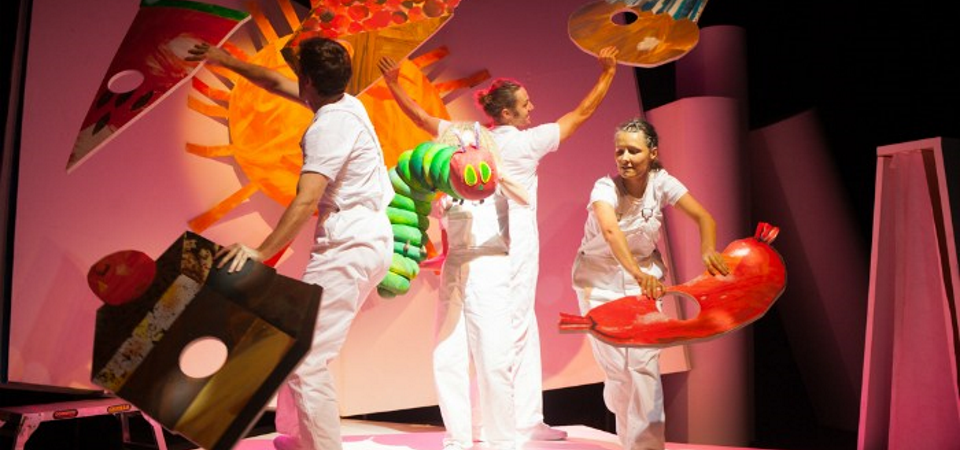 The Very Hungry Caterpillar – Sydney Opera House
Jay Laga'aia – Monkey Baa, Lend Lease Theatre
One of Australia's most renowned performers for children and the star of Play School, Jay Laga'aia ignites imaginations, both young and old, in this musical celebration of the power of play.
When: 27 Sept – 1 Oct 2016
Where: Darling Quarter, Terrace 3, 1 – 25 Harbour St, Sydney
Cost: $29 per ticket. $104/family of 4, $125/family of 5
BOOK HERE.
Seymour Centre Presents Erth's Dinosaur Zoo
Meet awesome prehistoric creatures, from cute baby dinos to some of the largest carnivores and herbivores that have ever walked the planet! Erth's dinosaurs are unmistakably 'alive' and mostly friendly in this fun, educational and unique performance that will delight all audiences from ages 5 years and up.
When: 27 Sept – 1 Oct 2016
Where: York Theatre, Seymour Centre, Cnr of City Rd and Cleveland St, Chippendale
Cost: $22/Adult, $80/Family
BOOK HERE.
Kidtopia Festival
Kidtopia– Sydney's newest and coolest Festival for Kids (and their grownups) – brings the carnival to Parramatta for the October school holidays! Enjoy Live Acts on the Sound Stage; a great mix of local, kid-and-parent-friendly talent throughout the day!
When: 7 – 9 Oct 2016
Where: Kidtopia Festival, Parramatta Park, Parramatta
Cost: $10/child, $15/adult. Kids under 5yrs are FREE!
BOOK HERE
Sydney Symphony Orchestra: The Pied Piper of Hamelin
An immortal tale with exciting new music… The Pied Piper is an exciting and powerful retelling of classic childhood tale with enchanting orchestral music.
When: 9 Oct 2016, 2pm
Where: Sydney Opera House, Concert Hall
Cost: $39 single ticket or 3 concert packages at just $87
BOOK HERE.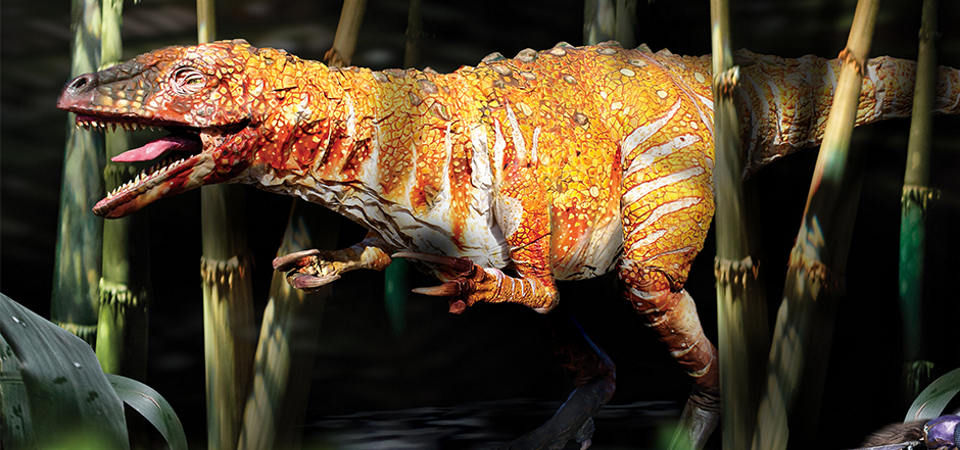 Erth's Dinosaur Zoo in Randwick
If you're in the eastern suburbs, Randwick Town Hall's Erth's Dinosaur Zoo might be easier to see! Learn all about Aussie dinosaurs in this interactive and one-day show!
When: 9 Oct 2016
Where: Randwick Town Hall, 90 Avoca Street, Randwick
Cost: $15/person
BOOK HERE
Sydney Opera House: Babies Proms
2016 sees the return of the ever popular Babies Proms series with three shows – Music for Tutus, The Four Seasonsand 'Twas the Night Before Christmas. Babies Proms has been introducing kids aged 2-5 to the magic of live performance for over 30 years and is the perfect program to inspire little ones to discover their inner musician.
When: 26 Nov – 6 Dec 2016
Where: Sydney Opera House
Cost: $25 – $30
BOOK HERE
For a full list of upcoming Sydney shows for families, visit ellaslist's Kids' Shows guide.