The Best Kids Movies At IMAX To See in April School Holidays
Preschoolers
Family
Kids
Mums & Bubs
Teens
Todders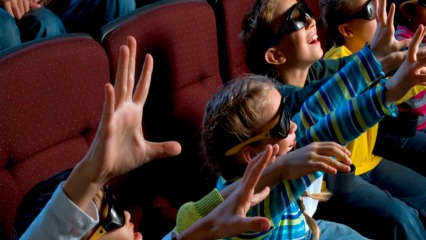 By: Phoebe Ackland, ellaslist
Darling Harbour has it all these holidays- from thrills and spills, to delicious cuisine and animal encounters. The IMAX Theatre, one of the harbour's biggest attractions, boasts the world's largest cinema screen – perfect for seeing one of these upcoming flicks in epic style. Grab the kids, a bucket of popcorn and prepare to be entertained. It's so fun!

1. Batman v Superman: Dawn of Justice
(151 minutes) Rated M, Release Date: Thursday, March 24
Keep in mind that it goes for over 2 hours and is rated M, but older boys and thrill-seeking girls will just love seeing not one but
TWO
of their heroes hit the big screen. When the city of Gotham fears the great powers of Superman, Batman takes him on, but unknowingly opens up mankind to a whole new kind of danger.
BOOK
TICKETS
HERE
https://www.youtube.com/watch?v=eX_iASz1Si8

2. The Jungle Book 3D
(Running Time and Rating Not Released Yet) Release Date: April 14
This beloved classic comes to stunning real life! Mowgli, missing the jungle and his old friends, runs away from his village, and upon return to the wild, puts himself in danger when tiger Shere Khan lets it be known he is no longer welcome. This screen and 3D style will immerse you in a lush and enchanting world.
CHECK

IT

OUT

HERE 
https://www.youtube.com/watch?v=5mkm22yO-bs

3. Zootopia 3D
(108 minutes), Rated PG, Release Date: March 18
The city of Zootopia is sent spinning when Officer Judy Hopps, a bunny, arrives on the police force. Determined to prove herself, she must unravel the conspiracy framing Nick the fox for a crime he didn't commit, finding herself dragged into the centre of all the drama. A crime-soving, animal-lovers dream flick.
BOOK
TICKETS
HERE
https://www.youtube.com/watch?v=jWM0ct-OLsM

4. Island of Lemurs: Madagascar 3D
(45 minutes) Rated G
Narrated by Morgan Freeman, this short and incredibly sweet film take the audience on a spectacular journey to the remote and wondrous Madagascar, the home of the now endangered lemur. It features scientists who are working to help these creatures, sharing fun facts and awesome footage. Perfect for animal lovers or anyone who loves Madagascar, the animated movie series.
BOOK
TICKETS
HERE
https://www.youtube.com/watch?v=yLNKXSn2tEE

5. Under the Sea 3D
(45 Minutes) Rated G
You'll feel as if you're underwater as you explore the unique and interesting critters under the remote seas of the Great Barrier Reef, Southern Australia and Papua New Guinea. In this entertaining and inspiring film, kids can learn about climate change, sea lions, leafy sea dragons and so much more.
BOOK
TICKETS
HERE
https://www.youtube.com/watch?v=0HfhAJ1NJI4

6. Bugs! 3D
(45 minutes), Rated G

This is an action film about the secret world of insects! It delves into the life and death of the intricate, creepy and sometimes gorgeous creatures that crawl, fly and slither around the wild tropical rainforests. You'll meet butterflies and learn about their lifecycle, leaf cutter ants, rhino beetles and their attempts at wooing females; all magnified to up to 250,000 times their actual size! You've never seen bugs like this!
BOOK
TICKETS
HERE
https://www.youtube.com/watch?v=5u0W7qsibOU

For full information on what's on at Darling Harbour these School Holidays visit their website
Reviews

Reviews get lonely too
Be awesome and write a review