Ten of the Best Events for Lego Lovers
Preschoolers
Family
Kids
Mums & Bubs
Parents Only
Teens
Todders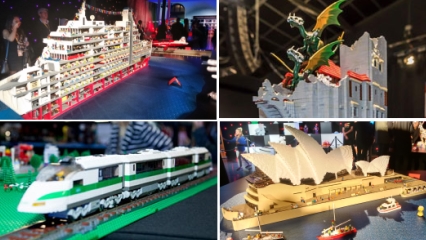 By: Silvi Flores Lupson, ellaslist
Deciding what to do to keep the kids entertained during school holidays can be tough, but once you start looking you'll find loads of options. So, how to choose a really good one? We suggest you go for the 'no disappointment' guarantee of LEGO!
Check out the 10 best things to do to keep little LEGO builders happy:
1. The Brick Man LEGO Experience


A fantastic LEGO ​exhibition featuring 60 spectacular models and a fun interactive kids zone. Ryan 'The Brick Man' McNaught is the only LEGO ​certified builder in the Southern Hemisphere and has used more than 6-million LEGO bricks to build mind-boggling structures ranging from a giant space shuttle to a never-seen-before QANTAS A380.
27 June – 12 July, Sydney Town Hall. $21.90 – $34.90 (Kids under 3 FREE!)
2. Bricks 4 Kidz: School Holiday Workshops using LEGO Bricks
An entertaining and educational activity for the holidays! At Bricks 4 Kidz workshops, kids learn to work with LEGO pieces such as electric motors, axles and gears. The workshops are for kids ages 5 – 11 and have a relaxed learning environment.
Currently running in Hills District, Lower North Shore, Strathfield, South West Sydney and Upper North Shore. $40 ­- $180.
3. A LEGO fan annual event: Newcastle BrickFest 2015


An event that no LEGO lover can miss! The BrickFest will feature some fantastic models such as the 3.2 metre long Pasha Bulker, a 10m long city and amazing Star Wars models, all using thousands of bricks. There's also a free building area and loads of LEGO for sale.
4 & 5 July. $4 (per person), $10 (Family). Profits donated to Newcastle Public schools.
4. Funky Planet: LEGO building classes
During the school holidays, Funky Planet offers an amazing range of fun workshops for kids aged 4 ­- 12. They supply all materials along with morning tea, lunch or afternoon tea depending on the time of class. You can choose from LEGO building to crazy chemistry, from chocolate making to magic shows. Impossible to get bored!
Various locations, $30 ­- $35
5. LEGO Robotics in Centennial Parklands


LEGO building to a whole new level! If the LEGO fans of your family are aged 7+ they will definitely love the LEGO Robotics workshop. Kids can learn how to program the new LEGO Mindstorms EV3 robots or teach a robot to do what they wish using motors and sensors.
10 July. $40
If we tell you that a single workshop includes: Disney Land + Space + LEGO + Art + Soccer, you'd think you're well on the way to parent of the year, won't you! At Live Love Learn holiday workshops the kids get to build DisneyLand in Space using LEGO and finish with a game of soccer outdoors. It doesn't get more original than this!
Until 3 July, Bellevue Hill Public School. $72 (child), $136 (child + sibling).
7. Towers of Tomorrow with LEGO at Sydney Living Museums


Towers of Tomorrow feature the most spectacular buildings from Australia and Asia built entirely with LEGO by Ryan 'The Brick man' McNaught. Plus, the kids (you won't be able to resist yourself!) will have over 200,000 loose bricks to build their own creations and add them to the exhibition for everybody to admire.
Every day until 12 July, $20, under 3 free, Cnr Phillip and Bridge Streets, Sydney
8. The LEGO Olympics, Belrose Hotel
Little Builders is giving passionate LEGO builders the chance to challenge themselves in a LEGO brick building Olympics. The kids will be split into age groups and take part in building challenges and games. All participants ​will receive a Lego Minifigure packet.
Until 3 July, Belrose Hotel. $36
9. LEGO Pompeii, one of the largest LEGO historical models ever built
Following the success of previous exhibitions, Lego Colosseum (2013) and Acropolis (2014), this year the Nicholson Museum feature is LEGO Pompeii, one of the world's best archeological sites. Created by LEGO ​expert Ryan McNaught, LEGO Pompeii incorporates history, fiction and pop culture. Be on the
look out for Doctor Who and his TARDIS, Mozart and even Pink Floyd!
10 January – 31 December. Nicholson Museum, Camperdown NSW. Free Admission.
10. Toy Brick Fair & LEGO at Wollongong Central Shopping Centre


The Toy Brick Fair features more than 100 unique LEGO models, LEGO Building Tables & Pits, building competitions, prizes and a huge LEGO ​shop with all the latest products. Plus a 10m Mega City with light up buildings, working railways and streetscapes. A must for LEGO lovers!
27 June – 5 July, Wollongong Central Shopping Centre, $5 per person (Kids under 2 FREE!)