Summer in the City Soundtrack: Check out the Sidney Myer Free Concerts this February
Preschoolers
Kids
Teens
Family
All Ages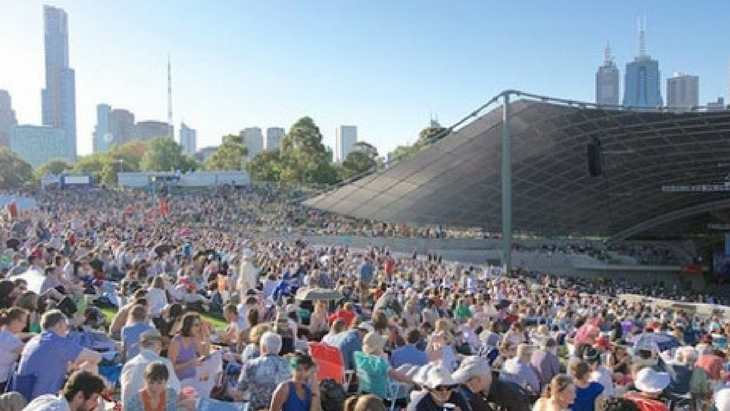 The sounds of the classical music greats float over the breeze, while you and the family are kicking back in the beautiful Kings Domain (hopefully on a rug with a stocked picnic basket!) - can you think of anything nicer?
See out the rest of Melbourne's glorious summer evenings with the Melbourne Symphony Orchestra, which is normally far pricier than FREE to see!
2018 Sidney Myer Free Concerts
The free concerts held at the Melbourne iconic outdoor Sidney Myer Music Bowl run over several nights from 7-14th February from 7:30pm. Gates open from 4.30pm, and entry is on a first-in, best-dressed basis. Good luck!
Romance and Classics
Wednesday 7 February
Antony Hermus conductor
Sophie Rowell violin
Wagenaar Overture Cyrano de Bergerac
Bruch Violin Concerto No.1
Tchaikovsky Symphony No.4
Hot Summer Night!
Saturday 10 February
Antony Hermus conductor
Luciana Mancini mezzo-soprano
Ravel Alborada del gracioso
Falla El Amor Brujo
Marquez Danzon No.2
Berio Folksongs
Ravel Boléro
This event features a pre-concert curtain-raiser from Melbourne Youth Orchestra conducted by Brett Kelly and featuring Shostakovich's Festive Overture and Gadfly Suite.
From MSO, with Love
Wednesday 14 February
Benjamin Northey conductor
Natalie Aroyan soprano
Rosario La Spina tenor
R. Strauss Don Juan
Puccini Tosca: Mario! Mario! Mario!
Martucci Notturno
Tchaikovsky Capriccio Italien
Puccini Preludio Sinfonico
Puccini La Bohème: Finale Act 1
For more info, head to the Melbourne Symphony Orchestra website - where they have helpfully included links to Spotify playlists for each concert you can listen to for free at home.
Main image credit: Melbourne Symphony Orchestra