Six Ways to Serve Extra Hidden Veggies
Preschoolers
Family
Kids
Mums & Bubs
Parents Only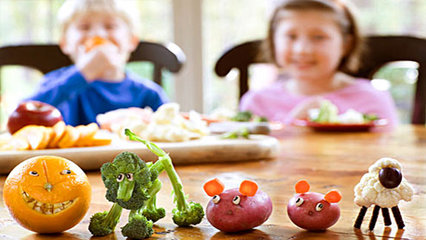 By Megan Gibson, ellaslist explorer

1. Chocolate Zucchini cake
So moist and chocolatey and yet full of greens. If you have a thermomix (or similar food processor) this is a
great recipe
to try.
2. Use veggies to bulk out a variety of meals
Lasagne, chili con carne, mac and cheese and spaghetti bolognaise all work well with extra hidden vegies (like mushrooms, carrots, celery and eggplant). Puree with a food processor or grate finely before adding to the dish
3. Smoothies
This is the perfect summer breakfast or afternoon snack. Use your choice of frozen or fresh fruit, berries, apples and bananas (peel and freeze overripe bananas in a plastic bag and add them to your smoothie). Add your milk of choice, some oats, almonds (or any kind of nut), chia seeds, yogurt and even a dash of cocoa or hot chocolate powder. Then sneak in a vegie – cucumber, baby spinach, fresh beetroot (cooked, not pickled), celery or carrot are great. Puree and serve. Ingredients always vary depending on what is in the fridge, so it's a new taste sensation each time.
4. Carrot Cake
Traditional and delicious. A great way to include at least one veggie a day in your child's diet. Many recipes include quite a lot of sugar but I always add slightly less sugar than is listed sometimes as little as half the stated quantity.
5. Kale Chips
Simply wash and dry kale, break off small pieces from the stem, drizzle with olive oil and a dash of salt and pepper and bake at 180 degrees for 10 -15 minutes. These are so crispy and delicious you will never believe they are good for you as well.
6. Chocolate Beetroot Cake
In Australia we are very used to buying beetroot pre-cooked and canned. Fresh beetroot from the produce section is delicious however you eat it. However kids will love chocolate beetroot cake. Jamie Oliver has a
delicious recipe
. Give it a try.
I am a Sydney-sider born and bred, but spent 12 years living in Wagga, Canberra and London. I am married to an Englishman and we have three children, Eli age 5, Allegra nearly 3 and Cooper who is just 5 months.
I am a stay at home Mum and keep myself sane by getting out and about and exploring all that Sydney has to offer. The kids and I enjoy parks, museums, picnics, playgroup, gardening, walking, cycling and road-tripping. I am the typical "crafty" mum and love getting my hands dirty, taking photos, and running (sort of). You can read my blog here.