Six Of The Best Ways To Distract Kids in a Queue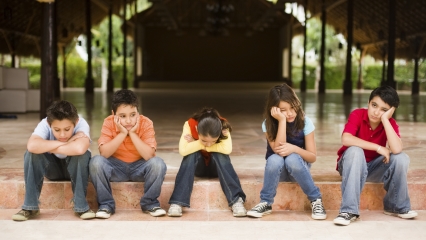 ellaslist COVID-19 update: Please note that all the information on the website is correct at the time of publication. Please check the relevant website before visiting a venue or destination for the latest COVID-19 information. ellaslist is not responsible for any cancellations or closures.
By: Helena Leung, ellaslist explorer
Ever been stuck waiting in a queue with rabid kids who are about to chew your leg off from hunger, boredom or sheer frustration?! Well, here are six of the best ways to buy yourself some more time. Sometimes distraction is the best medicine!
1. I Spy
An oldie but a goodie. You can go with ol' fashioned I Spy, or you can get creative. I like to start with, "I spy with my crazy eyes" or something else that will make the kids laugh. For younger kids you can use colours – "Something that is green." or for bigger kids try to stump them – "Something ENDING in P."
2. Hum That Song
Do your kids have an ear for music? Take turns humming well known tunes and see if they can guess the songs. Try nursery rhymes or The Wiggles. Older kids will love a bit of Taylor Swift. If grandpa is playing you may have to brush up on your Mozart or Cole Porter.
3. Clothes Swap
This is a fun one, especially if you are in a busy place. Ask the question, "If you could swap clothes with anyone you can see, who would it be?" Everyone MUST choose! Sometimes the more limited the choices the more hilarious the responses. A variation to this game is that each person chooses the clothes swap for another person! (Another fun one for the Mums is "Husband Swap" but I DO NOT encourage this AT ALL!!)
4. Animal Antics
An easy one, especially for littlies. Someone chooses an animal. Everyone acts out that animal. Not for the easily embarrassed!
5. Things Starting With…
Pick a topic, then a pick a letter. For example, "Girls names starting with B". Everyone goes around and gives an answer. The last person who can't give an answer chooses the topic and letter for the next round.
6. Story Time
All kids love stories. Ask them to choose three objects they can see and it's your job as the parent to invent the most amazing story they've ever heard, full of wit, humour, dramatic escapes, a light sabre fight, a strange plot twist, and a climactic ending, all while waiting in the queue. Easy!
ABOUT HELENA

Helena Leung is a high school English teacher who gave up the glory of classroom teaching for a quieter home life. She has two little girls, Alisa and Sofia, and is married to a Nissan Pulsar driving, Garage Band singing, Top Gun pilot wannabe husband. When she is not tutoring students on the finer points of Shakespeare and T.S. Eliot, Helena can be found stalking the haberdashery section of Spotlight in order to feed her fabric addiction. She also loves to make beautiful handmade hair clips, which she sells for practically no profit on eBay. Despite her lack of business acumen Helena enjoys her family life and exploring everything that Sydney has to offer. Weekends are often filled visiting parks, cafes and catching up with friends. One day Helena hopes to become very, very famous for writing a very, very good book (or review on ellaslist.) One day.