Six Of The Best Wacky And Fun Kids Dinners That Break The Rules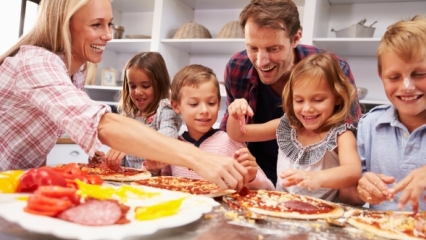 By: Lenore Pearson, ellaslist explorer
While the spouse is away, the mice will play! My husband's job doesn't necessarily involve a lot of travel, but in the last two years a lot of opportunities have come up that involve him being away from home. Naturally the kids and I miss him, so as a special treat I try to have one or two meals in the week that break the rules. Here are the six best dinners that have been a big hit!
1. Three Course Kebabs

Kebab Starters- cherry tomatoes, cubes of cheese and slices of cucumber
Kebab Mains –diced beef, onion and mushrooms
Kebab Dessert – marshmallows, jelly lollies, bits of fruit
2. Banana Split
That's right, Dessert Dinner! It has a banana in it at least.
3. Make Your Own Pizza
Get the kids to be as creative as they want with toppings.
4. Drive-In Dinner
I bought the red and white stripped hot dog trays, matching paper cups, straws and popcorn boxes. Dinner in front of a movie with hot dogs, ice cream, spider drinks, and popcorn!
5. Porcupine Meatballs and Fries
Meatballs with rice in a tomato soup sauce – delish!
6. Chocolate Pasta
I must admit I bought this from the Hunter Valley Chocolate Shop, but the kids LOVED it! Especially with ice cream.
Hello! My name is Lenore, proud mumma to three gorgeous kids, amazingly awesome wife to one cool dude and self-professed travel addict! I started out my career as a primary school teacher for five years, which, second to having my own kids, was extremely rewarding for me.
While I was pregnant with baby number 3, and slowly going insane pacing (waddling) up and down the house, I felt I needed to keep my mind active and decided to take up a Diploma in Travel and Tourism, because I clearly wasn't going to have my hands full enough with three kids!
I am all about exploring. For me, living a full life is about collecting amazing experiences from as many incredible places as possible. Travel and adventures fuel my imagination and I love sharing them in the hopes of inspiring the explorer in each of us! Along with my family, I have been fortunate enough to have discovered lots of places already.
I am super excited to be an ellaslist Explorer, aiming to provide very real and practical information for families looking to create their own adventures and experiences. I am forever researching new and exciting things to do with the kids and I look forward to sharing them with you.
I have also just launched my own travel blog 'Little Miss Piggy' a treasure trove of travel inspiration and unique experiences in and around Sydney and abroad.