Six Of The Best Parks In The Hills District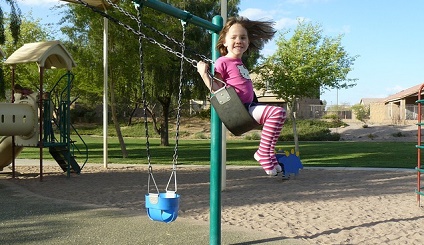 By: Lenore Pearson, ellaslist explorer
The north-western suburbs of Sydney, affectionately known as 'The Hills', generally comprise of Baulkham Hills, Beaumont Hills, Castle Hill, Pennant Hills, Rouse Hill, West-Pennant Hills and Winston Hills, but let's face it, other suburbs would like to be classified as The Hills because it's such an awesome place to live!! The region was given the name due to its hilly topography, but it really lives up to the expectation of being the 'Garden Shire', abundant with glorious gardens and peaceful reserves. Below is a list of parks and reserves you must take the kids.
1. Rouse Hill Regional Park

A perfect family day out that's sure to entertain the kids for hours. The kids will be spoilt for choice – swings, slides, mazes, playhouses and a rope bridge. Pack a picnic or make use of the BBQ facilities. The park is dog friendly and perfect for birthday or family celebrations.
MORE INFO HERE.
2. Balcombe Heights Estate

A beautiful historic site of what was once a school for orphans, the estate has such a delightful atmosphere and beautiful grounds for talking a stroll. Facilities include: BBQ, picnic tables, dog leash free area for dogs to play, toilets, children's playground, skate-park and a Liberty Swing.
MORE INFO HERE.
3. Bernie Mullane Reserve

One of the Shire's largest sporting complexes boasting 5 netball courts, 6 tennis courts, 2 cricket pitches, soccer fields, open picnic shelter with electric BBQ, children's playground and walking tracks.
MORE INFO HERE.
4. Fred Caterson Reserve

A large sports facility with soccer fields, cricket fields and practice nets, baseball field, tennis courts, a basketball stadium, a BMX track and remote control car track!
MORE INFO HERE.
5. Castle Hill Heritage Park

A significant heritage listed site; it is one of the earliest Government Farms dating back to 1801. It was the starting point for the first ever convicts rebellion in Australia in 1804. The park's features include concrete walking tracks, picnic areas, children's playground and toilets. Most of the park is accessible for people with disabilities. Take a stroll around the reserve and read the story of the early settlers.
MORE INFO HERE.
6. Crestwood Reserve

A favourite with the locals and sports groups, facilities include BBQ, parking, dog leash free area, toilets, walking tracks, 2 children's playgrounds, 1 with a Liberty swing, skate-park, basketball half-court and tennis courts.
MORE INFO HERE.
Hello! My name is Lenore, proud mumma to three gorgeous kids, amazingly awesome wife to one cool dude and self-professed travel addict! I started out my career as a primary school teacher for five years, which, second to having my own kids, was extremely rewarding for me.
While I was pregnant with baby number 3, and slowly going insane pacing (waddling) up and down the house, I felt I needed to keep my mind active and decided to take up a Diploma in Travel and Tourism, because I clearly wasn't going to have my hands full enough with three kids!
I am all about exploring. For me, living a full life is about collecting amazing experiences from as many incredible places as possible. Travel and adventures fuel my imagination and I love sharing them in the hopes of inspiring the explorer in each of us! Along with my family, I have been fortunate enough to have discovered lots of places already.
I am super excited to be an ellaslist Explorer, aiming to provide very real and practical information for families looking to create their own adventures and experiences. I am forever researching new and exciting things to do with the kids and I look forward to sharing them with you.
I have also just launched my own travel blog 'Little Miss Piggy' a treasure trove of travel inspiration and unique experiences in and around Sydney and abroad.