Six Of The Best New Playgrounds in Sydney
Preschoolers
Family
Kids
Mums & Bubs
Teens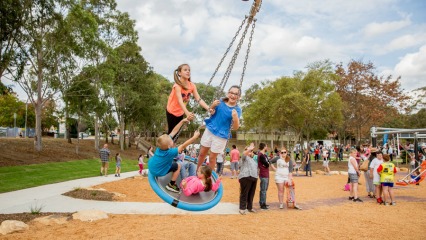 ellaslist COVID-19 update: Please note that all the information on the website is correct at the time of publication. Please check the relevant website before visiting a venue or destination for the latest COVID-19 information. ellaslist is not responsible for any cancellations or closures.
By: Phoebe Ackland, ellaslist
We are spoilt for choice when it comes to awesome kiddies playgrounds in Sydney. From water play parks that we love to visit in Summer to adventure parks with all measure of things to climb up and slide down, here are some of the best and brand spanking new ones to take the family next playtime.
1. Fairfield Adventure Park
We sent an explorer to Fairfield Adventure Park, and are happy to say they had an awesome time in one of "Sydney's best playgrounds". The focal point of the park is an awesome 11-metre high climbing frame that takes kids to a platform where they can choose 1 of 3 spectacular slides to venture back down to ground level. Older kids will love that one plus the squeal-inducing 33m long flying fox! Smaller children are catered for with loads of sand pits (so bring a bucket and spade!), smaller climbing frames, trampolines and swings.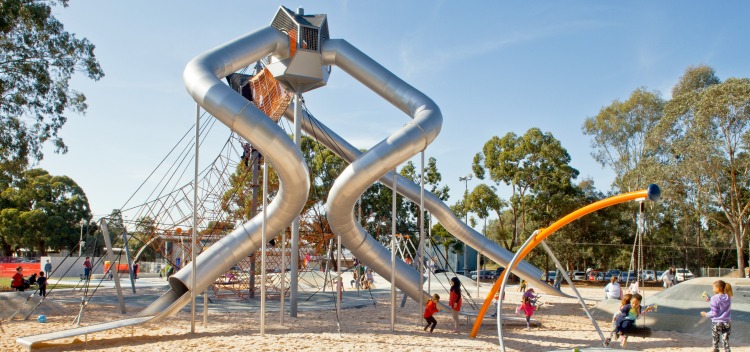 2. Birriwa Reserve Outdoor Youth Space, Mount Annan
This exciting playground is specially designed for older children aged 12-17 years (but is also great for younger ones too), and is super exciting and dynamic. We sent an explorer to check it out, and they loved all the equipment that is anything but run-of-the-mill. Kids will love the 30m long twin cable ride, the skysurf which moves as if you're windsurfing, the rodeoboard to make you feel like you're on a bucking bronco, board rider, air glider, and and epic 6-way swing! There are also a few fun things for smaller kids too, with 3m slides, swings and rotating equipment.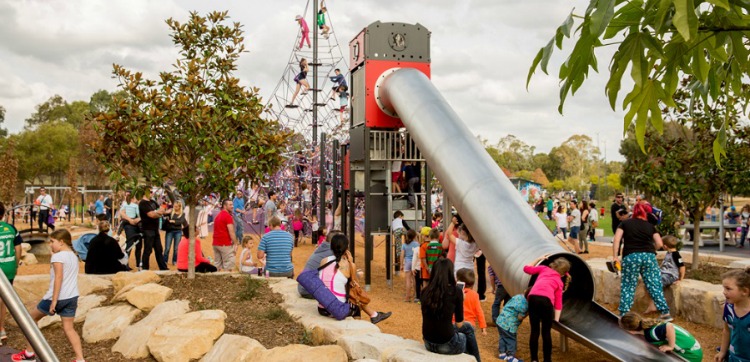 3. Wulaba Park, Waterloo
We sent our first ever dad explorer to Wulaba Park, and his kids just loved the colourful and thrilling playground. The main attraction is the giant slippery dip – it's 3-stories high! There is a colourful climbing tower, an array of nets and swings, a handball court, table tennis tables, and so much more. It's an explosion of colour – play done the right way! But beware that the playground is not gated so parents of roving toddlers need to keep their little ones close.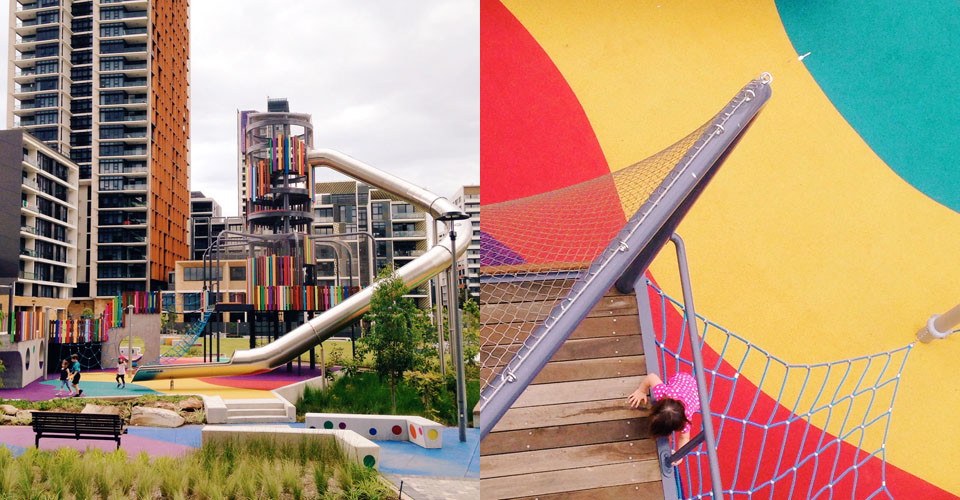 4. Domain Creek Playground, Parramatta
In the heart of the gorgeous Parramatta Park is the brand new Domain Creek playground. The highlight for us was the natural bush feel – wooden cubbyhouse, wooden xylophone, the whole place peppered with metal sculptures of Aussie animals. It's designed for all mobility levels and ages, with interconnecting runways and ramps making moving around the park a breeze. Kids will love the seat-belted flying fox, sand diggers, and rotating carousels! There's a water pump too, so a visit during Summer is on the cards.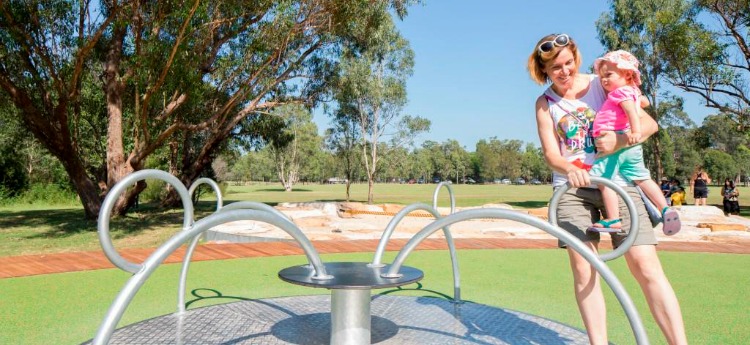 5. Reconciliation Park, Redfern
Reconciliation Park had some new life breathed into it with the introduction of its new focal point – a tree house! There's a spinning pole to take kids back down to ground level. Parents also get a new seating area for a relaxing look on as their kids play in the tree house, which did we mention, is shaded too!? Suggestions from kids from the local primary school was the inspiration behind this renewal, which has also seen the introduction of a community garden, new pathways, and better lighting. Don't forget to check out the beautiful murals on the back wall!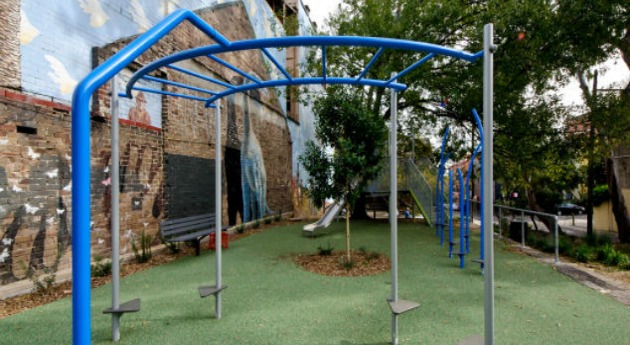 Source: City of Sydney
6. Plough Harrow East, Abbotsbury
Head to the Western Sydney Parklands to check out the fantastic Plough and Harrow Park! It has 22 BBQs, a huge car park, 24 picnic shelters, a duck pond, bathrooms, Amoretti's Cafe, oh and how could we forget, an awesome playground! It lies across a huge space of land – plenty of space to run around, and features a hamster wheel, pentagonal swing and flying fox as well as all the traditional favourites like climbing webs, swings and slides. There are also water pumps at the water play area so don't be surprised if your children end up wet! Bring a bike or scooter and take advantage of the endless paths.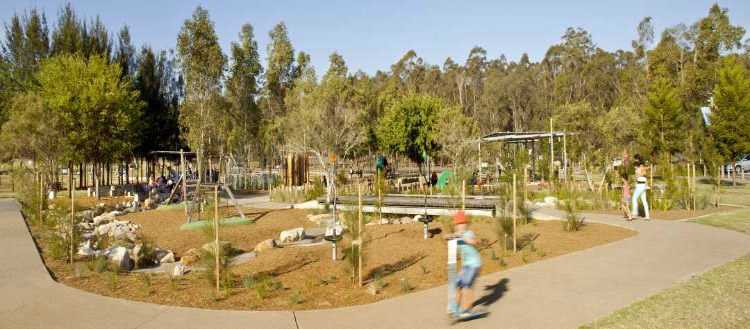 Source: Western Sydney Parklands
More Playground Fun
Reviews
thankyou very much for the info, fantastic
They all look hot, barren and exposed :( the park in Redfern are you kidding? It's got blue monkey bars - hold on to your hats kids! THEY'RE BLUE. Whoop. The tube sides, in an Australian climate....are they an attack on children or did local residents request that kids not come to the park in Summer? Where is the shade? The only adventure playgrounds that have genuine magic in them are Skinners and St Kilda Adventure Playgrounds in Melbourne.
Thank you for these recommendations, you guys do the best job! We get almost all our ideas from Ellas List x