Six of the Best Food Trucks in Sydney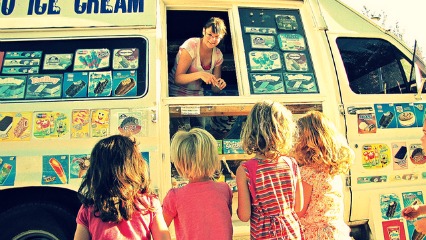 By Zoe Crane, ellaslist explorer
It's only been a couple of years since food trucks arrived in Sydney but they are already making a big splash. When a flock of food trucks gathered at the EQ Food Truck Jam recently, the crowds nearly swallowed up the trucks. If you missed out, there is plenty of opportunity to sample these moveable feasts. Here are our top six food trucks to track down with kids. Find them on the City of Sydney Food Trucks website, or you can download the app.
1. Happy as Larry

This nine-metre long converted shipping container houses a full size wood-fired pizza oven, pumping out traditional Napoli pizza to rival any in Sydney. Soul classics burst from the on-board sound system and the neon sign advertising "Good vibes this way" is spot on. The Happy as Larry menu changes but whatever they serve gets rave reviews. Make sure you stick around for the Nutella calzone for dessert, for the kids of course!
2. The Nighthawk Diner

When two young chefs with a fine-dining background fall in love with American cuisine and an airstream trailer the result is The Nighthawk Diner food truck, and it is seriously cool. Everything is made from scratch, and the menu features diner classics like cheeseburgers and milkshakes, but not as you know them. It is hard to work out which chefs Al and Jim love more, the food or the 1959 International Harvester Scout trailer, which they have names Queen Latifa. This truck is seriously winning the food truck scene for the perfectly-crafted food, the passion of its owners, but mostly just the sheer cool factor.
3. Veggie Patch
If you wish your kids would eat more veggie's the Veggie Patch van might be the answer. With a paddock to plate philosophy they use all local and seasonal produce. The menu changes throughout the year, but dishes like the Zucchini, chickpea & feta burger topped with beetroot relish, caramelised onion, dill mayo & homemade ketchup are making our mouths water, and don't forget the sweet potato chips, more like crisps than French fries. The sustainable philosophy goes beyond the culinary offerings. The van itself runs on recycled vegetable oil and the kitchen runs on solar power.
4. Eat Art Truck
Boasting awards like 'best new food truck' and Good Foods 'top ten cheap eats', you know you're on to a good thing. The menu is described as American street food and features a pulled pork, roast beef or fried chicken bun, with sides of veggie nachos or fries. There is also a great meal deal with your choice of bun, nachos and a drink for just $15. The back of the Eat Art Truck is dedicated to showcasing local street artists. It is painted live about once a month, with the old artworks auctioned off for charity. A great conversation starter for your budding little artist.
5. Urban Pasta
Sometimes kids can be pretty fussy eaters, but it doesn't mean you can't enjoy a night out and some tasty food yourself. The Urban Pasta food truck lets you first choose from penne, ravioli or gnocchi then add whichever sauce you like. There are five sauces to choose from including napolitana (tomato sauce) for kids that like their pasta pretty plain. The lamb ragu is our pick for the grown-ups, with optional chilli and parmesan. Yum!
6. Street Sliders
These mini burgers are perfect for mini burger lovers with mini mouths. Choose from beef, chicken or vegetarian and add corn, salad or fries on the side. If you can't decide what to order they have a meal deal of three sliders and a side for $18. While they do move around, Street Sliders launched in Parramatta and spend more time in the west than most of the food trucks so keep an eye out if you are in the area.
Though a little harder to find, a special mention has to go to Jafe Jaffles because… Jaffles. They aren't on the City of Sydney website but can be found via the Jafe Jaffles Facebook page. Another great truck for kids is Bite-Sized Delights, serving freshly baked pastizzis that are, as the name suggests, just the right size for little mouths and tummies.
Have you tried any of these food trucks? Do you have a favourite we've missed? Let us know in the comments below.
Reviews
Bella Shack truck have the best burger food truck @ Bella Vista Hotel :)