Six of the Best Family Friendly Attractions in Penrith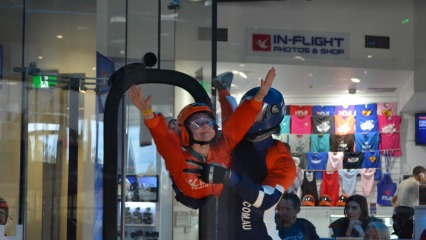 By Lenore Pearson, ellaslist explorer
To be completely honest, I had no idea there was so much to do in Penrith, in fact, there are so many things to do and see that my family and I needed two days in order to cover it all and could still go back for a jam-packed third day. Below are six of the best attractions we loved on our recent visit to Penrith.
1. Nepean River Walk

What a fabulous way to start our day! I knew the day was going to be busy, so we eased into it with a walk along the Nepean River (eastern side enter via Jamison Road) and some fun at the new playground.
There is a wonderful pram friendly path, which is also great if the kids want to bring bikes or scooters. Toby and Lucas had a great time riding along on their scooters while Audrey happily chased after them. There is plenty of room with a great view for a picnic lunch or if you prefer being waited on, there is a Coffee Club across the road.
Coffee Club: 78-88 Tench Ave, Jamisontown
Playground: At the end of Jamison Road near Tench Ave
2. Museum of Fire

This is a not for profit, charity-run museum to honour the dedication and courage of the men and women who risk their lives to protect the community. Located in the former Penrith Power Station building, the Museum of Fire is an intriguing insight into the nature and history of fire and fire fighting. The kids watched intently as a simulation house fire played out and were thoroughly impressed with the elegantly restored fire engines that dated back to 1841.
The Junior Fire-fighters area is superb for all those kids who aspire to be a fire-fighter. Decked out with child-sized fire engines to sit in, dress ups, fire safety activities, computer games, puzzles and fire engine rides, it came as no surprise that the kids were reluctant to leave.
Read more about our Visit to the Museum of Fire.
Price: Adult: $10 Child: $8
Address: 1 Museum Dr, Penrith NSW 2750
Phone: (02) 4731 3000
Website: http://www.museumoffire.com.au
3. Show at 'The Joan'

Named after Australia's remarkable soprano opera singer, The Joan Sutherland Performing Arts Centre has something for everyone. Opened in 1990, 'The Joan' presents world class performances in music, dance and theatre.
We were so lucky that our day trip to Penrith coincided with one of two performances of The Very Hungry Caterpillar Show. I grew up with Eric Carle books and I made sure his colourful stories featured prominently on my kids' bookshelf from a young age.
I have to admit I was a little nervous about sitting through a performance with three kids; my 2 year old daughter 'lost it' as soon as we sat down and I thought I would be spending the entire show out in the hall. However, to my relief, as soon as the show commenced she was mesmerised by the spectacular colours and props, and all three kids sat happily engaged for the whole hour.
I loved the way the actors engaged with the audience and it was very reassuring to know that a kid's show is just that… 'For kids'. They are not expected to sit in silence, there should be laughing and calling out and clapping, so if your child does decide to 'lose it' you are in good company.
Address: 597 High St, Penrith
Phone: Box Office: (02) 4723 7600
Website: http://thejoan.com.au
4. iFly

If you are one of those thrill seekers that have added 'Sky Diving' to your bucket list but are trying to figure out how to go through with it without actually jumping from a plane (like me), then this is the place to do it! Your iFly experience takes place in a large glass flight chamber where wind generators propel you into flight.
My husband and two boys tried it out while I waited excitedly by the all-round viewing platform, where family and friends can watch and take photos. Indoor sky diving is safe for kids from 3 years. Your entry fee includes a pre-flight training session, where participants learn the skills of expert skydivers, a jumpsuit and safety gear and two 'flights'.
I was so impressed with how sensitive the flight instructors were to the individual needs of each participant. The wind generators can be turned up and down according to the age and ability level of each person. My youngest son Lucas became quite worked up once he saw what was involved and didn't want to go through with it, but to the credit of his amazing instructor Jimmy, he gave it one go and gave me a smile and wave as I madly clicked away with my camera. Jimmy held onto him the whole time reassuring him and he even received a big applause from all the people viewing from the platform. To top it off the instructor added an extra category on his certificate 'Bravest Flier', he was so proud of himself. Photos and USB film clips are available to purchase after your flight.
Price: From $89
Address: Panthers World of Entertainment, 123 Mulgoa Rd, Penrith NSW 2750
Phone: 1300 366 364
Website: https://downunder.iflyworld.com
5. Aqua Golf

The place where you can hit golf balls into a lake on purpose! This was great fun for the whole family. Safety is a high priority as each participant has their own hitting bay with its own hitting mat and protective netting on both sides of the bay. There is also a gated fence to stop more than one person from entering at a time.
Golf clubs are provided in all sizes from children to adults and to keep things interesting there are some monetary incentives. When you hit a target, you win a 2 for 1 card: Buy one bucket, get one FREE! If you score a hole in one, you win $10, $20 or $100! I got such a kick out of seeing the excitement on the boys faces as they got closer and closer to hitting a target and Audrey was very happy just transferring golf balls from one bucket to another.
Price: $7 a bucket
Address: Panthers World of Entertainment, Mulgoa Rd, Penrith NSW 2750
Phone: (02) 4721 7240
Website: https://www.aquagolf.com.au
6. Cables Wake Park

Cables Wake Park re-opened about 6 years ago and is located in the Penrith Panthers Complex. It is comprised of 2 main cable lakes where people of all ability levels can water-ski, wakeboard or kneeboard. There are programs for all ability levels ranging from Kids Club, first-timers and all the way up to advanced sessions. Unfortunately, the weather wasn't great for water fun when we went however younger kids are well catered for with a great playground area and huge jumping pillow.
The play area is free to use, as are the basketball and beach volleyball facilities. My kids were more than happy to release some energy in the play area and even made some new friends. There is also an Aqua Park on the water consisting of inflatable slides, trampolines and obstacles, which is open seasonally. Free BBQ areas, a cafe and small water fountain area for kids under 6 add to the enjoyable Cables experience.
Price: Free Spectator Entry
Aqua Park: $15/50mins
Wake Park: From $49 adult and $44 child
Address: Panthers World of Entertainment, Mulgoa Rd, Penrith NSW 2750
Phone: (02) 4722 2537
Website: http://www.cableswakepark.com.au
For more information on fabulous things to see and do in Penrith please check out the new Visit Penrith website: www.visitpenrith.com
Hello! My name is Lenore, proud mumma to three gorgeous kids, amazingly awesome wife to one cool dude and self-professed travel addict! I started out my career as a primary school teacher for five years, which, second to having my own kids, was extremely rewarding for me.
While I was pregnant with baby number 3, and slowly going insane pacing (waddling) up and down the house, I felt I needed to keep my mind active and decided to take up a Diploma in Travel and Tourism, because I clearly wasn't going to have my hands full enough with three kids!
I am all about exploring. For me, living a full life is about collecting amazing experiences from as many incredible places as possible. Travel and adventures fuel my imagination and I love sharing them in the hopes of inspiring the explorer in each of us! Along with my family, I have been fortunate enough to have discovered lots of places already.
I am super excited to be an ellaslist Explorer, aiming to provide very real and practical information for families looking to create their own adventures and experiences. I am forever researching new and exciting things to do with the kids and I look forward to sharing them with you.
I have also just launched my own travel blog 'Little Miss Piggy' a treasure trove of travel inspiration and unique experiences in and around Sydney and abroad.