Six Of The Best Beaches In Pittwater For Kids
By: Alana Whitting, ellaslist explorer
Growing up, my brothers and I were lucky enough to have the still water beaches of Pittwater as our playground, which we explored for hours on end. We now love to share these experiences with our little girls. These still water beaches are calmer than the nearby ocean surf beaches, generally a little quieter in terms of the number of people and absolutely perfect for little ones to enjoy. Here's a list of the best beaches in Pittwater!
The Basin
1. The Basin

The Basin is located on the Western Shores of Pittwater and is best reached via ferry from Palm Beach. Spending a day at the Basin feels like you're a million miles away. There is a protected lagoon area perfect for little ones to splash and paddle and also great for getting out on a kayak or stand up paddle board, as well as the deeper water swimming area. Little ones will love the chance to swim and play on the sand in such an idyllic location while keeping an eye out to see if they can spot a wallaby, kangaroo or goanna! There are BBQ facilities, toilets and a camp ground too if you'd like to stay longer – and it's so peaceful and beautiful here.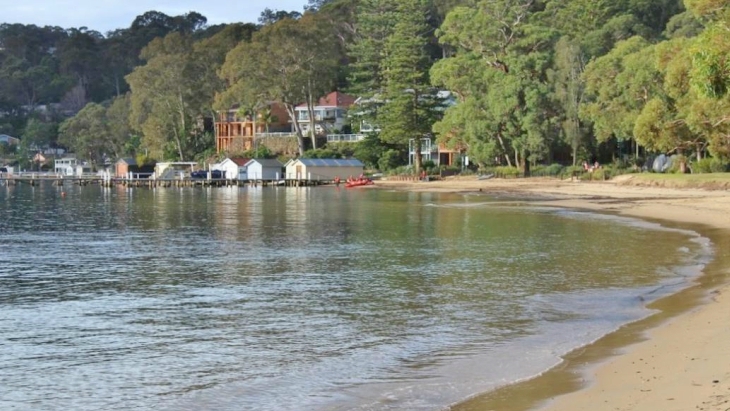 Clareville Beach, image via Pittwater Online
2. Clareville Beach

Clareville Beach is near Avalon and can be reached by road. Parking here can be tricky but once you find a spot it's well worth it to enjoy this lovely sheltered sandy expanse of beach where kids and can run, play and swim with boats bobbing nearby on their moorings. A day can easily disappear with your family having fun at this location which is popular for family picnics and birthday parties. There are lovely shaded areas to sit on the grass that leads directly down on to the beach and perfect for a game of beach cricket!
3. Mackerel Beach

Mackerel Beach feels like another world with gorgeous beach houses and holiday homes set in this seaside suburb, accessible by ferry or boat. Surrounded by National Park this is a great location to enjoy a swim and also explore the bushland bordering the beach via one of the walking tracks. It's best to bring your own picnic to Mackerel Beach as there are no facilities here.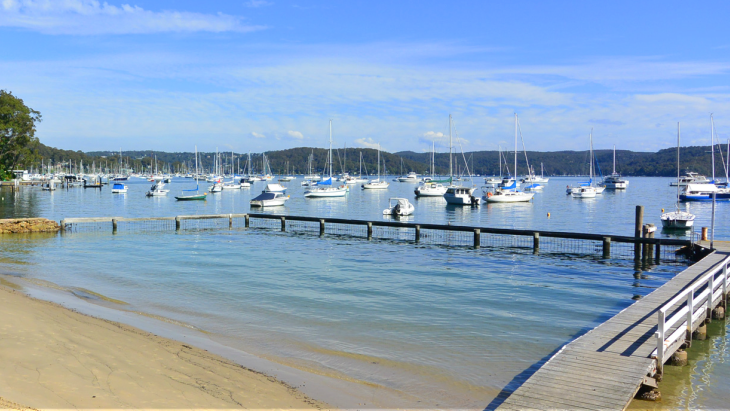 Paradise Beach
4. Paradise Beach

Paradise Beach is a secret spot with a swimming enclosure, meaning it's even easier to keep an eye on little ones as they enjoy the water. There's also a wharf so you can watch the yachties row out to their boats in their dinghy. It really does feel like paradise here.
5. Salt Pan Cove

Salt Pan Cove you can enjoy the water plus a playground right on the water's edge. Views across to Scotland Island and tidal mud flats where you can spot crabs make this a magical and unique spot to enjoy with kids.
6. Station Beach

You'll feel like you've landed on the set of Home and Away at this great family beach location. On the still water side of Palm Beach with Barrenjoey Lighthouse above sitting high above, you'll spot sea planes landing while enjoying swimming, kayaking and paddle boarding on calm waters. At Station Beach, there are BBQ facilities, picnic areas and toilets all nearby as well as some lovely cafes and restaurants making you feel as though you've really immersed yourself in the enviable Palm Beach holiday lifestyle!!
ABOUT ALANA
My husband Andy and I are parents to Cleo, five and Ava, two. Our household also includes two very demanding but adorable Burmese cats, Coco and Tiger. My professional background is Marketing in the hospitality and sporting industries and my husband and I now achieve the often impossible for married couples, working together in our full-service below-the-line design, marketing and production agency.
We love getting out and about and exploring, whether it's adventuring outdoors or checking out the latest event or exhibition as a family, we're always keeping up-to-date with what's happening locally as well as across Sydney. Being busy with our own business and two very spirited little girls lends itself to our active nature and we're always on the go. In our downtime we love watching Disney movies!
Cleo and Ava are all action; Cleo is wonderfully creative with a huge imagination which she translates into beautiful drawings and stories. She also loves nature and everything to do with plants and animals. Ava is cheeky, can entertain herself for hours with building blocks and puzzles, has a love of singing and her very favourite activity is going to playgroup.
I love enjoying an active lifestyle with my family, reading, cooking, keeping up with my powerhouse husband Andy and occasionally indulging in some delicious dark chocolate and a sneaky margarita!
As a family we also enjoy entertaining and spending time with family and friends, eating out and family holidays.
Being a Mum is the hardest job I've even undertaken but without doubt the most rewarding and absolutely the most fun I've ever had.
Reviews
Great article v helpful look forward to exploring next weekend w my daughter. Thankyou.