Paint and Play - The Perfect Playgroup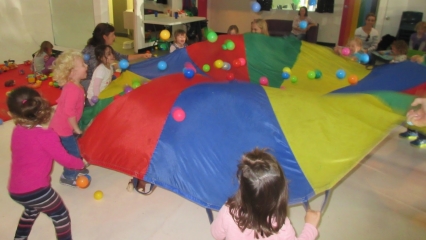 By: Lisa Wolff, ellaslist
School Holidays with a toddler is hard work. Playgroups are closed, playgrounds are packed and library storytimes are silent. But there is one beacon of light in this vast sea of nothingness. Paint and Play. This is one of those playgroups that ticks all the boxes.



OPEN

during School Holidays and older siblings are welcome


No pre-booking or term commitment is asked for. You can just pitch up.


There is so much variety that kids will never get bored


Activities change every week so there's always something new to do


It's perfect for all weather. There is a great outdoor area as well as a massive indoor zone.


No need to bring snacks – The price includes morning tea


It's really well-priced for what it includes ($16 per child / $10 for each additional sibling or buy a 10 visit pass for $140)
Mrs Paint and Play
The brainchild behind this perfect playgroup is Kirsten Doubek, a qualified Early Childhood Educator with over 20 years experience. Kirsten has two young daughters herself and started Paint and Play when she realised mums just like herself needed a fun, safe environment for young kids to play, learn and discover. Kirsten still teaches at a pre-school two days a week so keeps her finger on the latest in childhood education.
So What Did We do?
Play Dough:
When we visited, the play-dough table had an autumn feel with brown playdough, paper leaves, popsicle sticks and lots of tools. My daughter spent ages here experimenting with different playdough creations. Her favourite was a chocolate hedgehog cupcake.
Art & Craft:
The main art & craft activity for that particular week was making birds out of pine cones. Gabi enjoyed picking out different materials to make the face and wings of the bird and was very proud of her little tweety. This was one of the more challenging activities of the morning and required a bit of dexterity and growing out of the tendency to put tiny objects into mouths. Possibly a bit out of reach for the younglings, but I quite liked that there was something for all ages, with the playgroup catering for newborns up until 5 year olds.
Painting:
We then headed to the grassed outdoor area where kids were spraying water paint onto white sheets. Stuff that kid's fantasies are made of! Gabi had never done anything like this before so it took her a few goes to master the spray bottle but soon she was painting the laundry like a pro.
Next to the sheets, blank paper had been pegged to the wall and Gabi released her Picasso passion armed with a paintbrush and paints.
Outdoor Play:
The Alexandria venue has a fantastic outdoor area with a cubby house, ride-on toys, a slide, hula hoops, balls and so much more. Perfect for a sunny day.
Morning Tea:
There was still so much to do so it actually took a bit of convincing to get Gabi inside for a morning snack. But the lure of popcorn proved too strong and we joined the queue inside one of the smaller rooms to collect our snacks. The kids all sat at baby tables and munched on their healthy treats.
Dress Ups & Dolls:
Tummies full, we then raided the well-stocked dress-up tub and with both of us crown princesses, we took the dollies for a walk in the toy pram and settled them to sleep after a bath.
Next visit, we'll be trying out:


The kitchen and food make-believe zone


Toy cars


The chill-out corner with books and puzzles


The baby area with clean age-appropriate toys
Let's Get Physical!
After about an hour or so of free play, Kirsten gathers the troops with a stream of bubbles. The kids stopped what they were doing immediately and chased after the bubbles. Works everytime, doesn't it!
Then it was time for the perennial favourite – parachute. Nursery rhymes and fun songs accompanied different types of parachute play, including popping popcorn (coloured balls) and watching the rainbow (lying down underneath the 'chute).
Next, Kirsten brought out a variety of instruments and each kid got their own to play. When it was time for "galoomph went the little green frog", Kirsten bought out a bag of froggie finger puppets.
Storytime
The session ended with story-time and Kirsten reading a book to the kids, which was a perfect wind-down after all the energy.
All the Details
Days: Mondays and Thursdays
Time: 10am – 12pm
Location: Alexandria
Price: $16 per child /$10 for each additional sibling; $140 for a 10 visit pass (valid for 3 months); Under 1's $5 or FREE when accompanying a paying child
Do I need to book?: NO just turn up
Reviews

Reviews get lonely too
Be awesome and write a review