Our Pick of The Best Vivid Lights For Kids 2017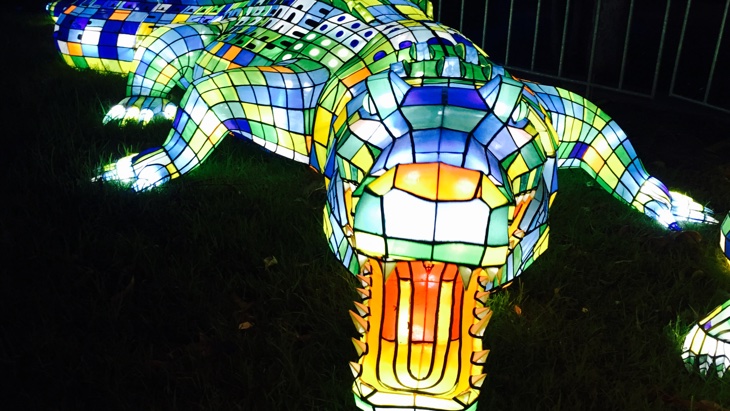 By: Lisa Wolff, ellaslist
Check out our Absolute Essential Guide To Vivid For Kids In 2018!
We LOVE Vivid! Taking the kids can be daunting but it's well worth it for the spectacular lights. We've gone to all the previews, sussed out the sculptures and have created a list of the best kid-friendly Vivid spots for 2017.
1) Our Family-Friendly Pick: Taronga Zoo
If you're a Vivid newbie or have young kids, Taronga Zoo is your best option for Vivid. It's easy to park ($9 for Vivid visitors), lights go on at 5:30pm and because it is paid-for, the crowds are less and well-managed.
This year there are two sessions to pick from: the kid-friendly 5:30pm - 7:30pm slot and 7:30pm - 9:30pm session. We recommend getting there before 5:30pm so you can head straight in as soon as the lights go on.
The entertainment kicks off with a spectacular light show projected on the front entry wall. It is the best interactive show I have seen - with the wall coming to life with wild animals. The kids will love scampering after the turtles crawling on the ground and up the wall. There's a growling tiger that explodes into colour, sun bears clambering on trees and giant elephants lumbering across our path. Wow, what a start to a dazzling night out.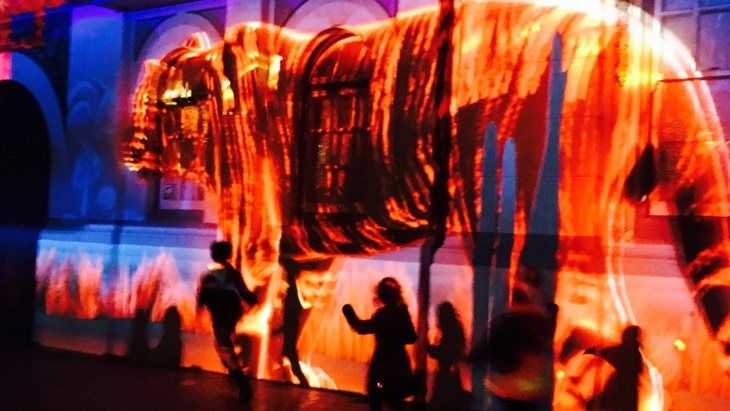 All visitors get a state-of-the-art wristband which changes colour throughout your journey - the kids were thrilled everytime the colour changed when they got closer to the sculptures.
The Vivid light trail follows a circular route through the zoo that is pram accessible. We didn't take a stroller and our kids (aged 3 and 5 years) managed the walk - although the younger ones did start whining to be carried on the way up.
The light sculptures are dotted throughout the trail - a giant Sumatran tiger, an echidna, a crocodile with a gaping mouth, Corroboree frog, elephants, buzzing bees in the trees, a floating stingray and so much more. The highlight was the huge shark (nicknamed PJ) which you could walk through. The kids also loved taking a pic with the family of Silverback gorillas. There is also a field of magical mushrooms doing a lovely light dance. Everywhere you looked there was a sculpture to admire.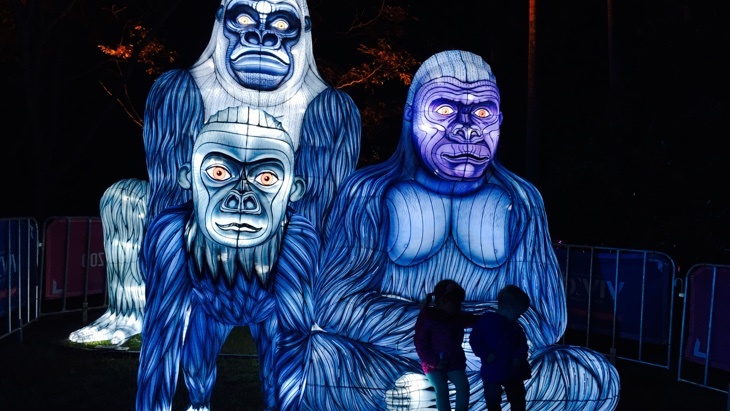 The Blue Pass ticket includes a round trip on the Sky Safari - it's an amazing way to see the city lights at night as well as the illuminated Harbour Bridge and Opera House.
The light trail will take about 90 minutes to 2 hours to complete. There are food outlets open in the zoo but we brought our own picnic dinner for the kids which they ate before lights-on.
Ticket prices: Adult- $21.95 + booking fee, Child (4-15 years)- $16.95 + booking fee, Child (under 4) are free!
More details and book your tickets.
2) Royal Botanic Garden, Sydney
Vivid returns to the Royal Botanic Garden, Sydney and features some spectacular light installations. This year's Light Walk trail gas has been expanded, running through the heart of the garden. Just note that a visit to the Garden is more about looking rather than touching, so just keep this in mind if you have very young children.
Our highlights include:
Birds of Lumos: This sweet mum and chick sculpture represents the rare Rowi species of Kiwi and is one of our favourites
The Sunflowers: These charming, enormous potted sunflowers bow down to welcome you as you pass by. This joyous, sustainable light sculpture uses solar energy harnessed by day to captivate visitors by night.
Spreading Life: This installation captures the delicate moment when a dandelion's seeds float off and spread through the air; a passage of nature — that shows us that as a flower dies, others are born.
The Big Red Button: This installation is somewhat disarming. It features five giant, glaring, glowing eyeballs scattered across the grass. Watch them watch you – and find out what happens if you venture too close.
Dipping Birds: These sticky beaks are thirsty birds. A Vivid Sydney twist on the novelty 'drinking bird' toy perched on the rim of a glass, two enormous bobbing birds stand over two metres tall in a pond in this hypnotic installation. The child in everyone will delight in the charming spectacle as the drinking buddies and the water change colour as they quench their thirst.
Food is available at the pop-up Enchanted Garden Bar and Eatery but not many kid options so maybe bring your own.
Lights go on from 6pm and we suggest you get there early to beat the crowds.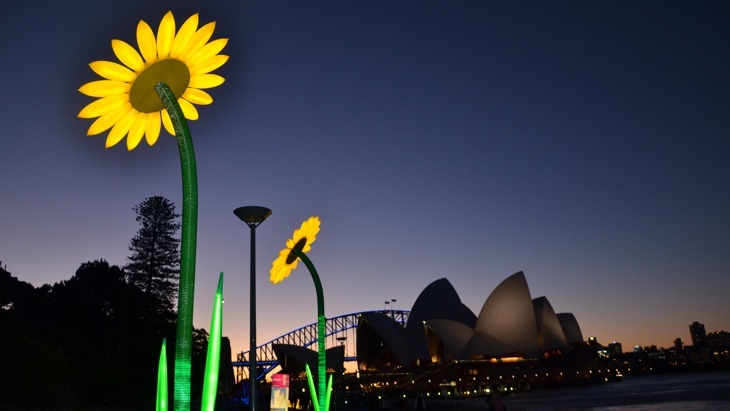 3) The Rocks and The City
The city certainly comes to light during Vivid but because it is free to see, the crowds can often get crazy, especially over the weekend. So if you do want to see the Vivid lights, our top tips are to get the city early and perhaps visit on Monday or Tuesday which will usually be less busy.
Our top highlights include:
Never Ends (The Rocks) – A lone illuminated rocking horse on a platform four metres in diameter, waiting for a rider. Hop on for a ride into the night and everything changes as you create a fairy-tale setting
Don't Step on the Crack (Alfred Street, Sydney) – You might have childhood memories of not stepping on cracks in the footpath, but never like this. Kids jump over illuminated cracks, cross boundaries and question what really lies beneath the surface.
Light Shows -The kids will be mesmerised by the lights projected on the MCA, Opera House and Customs House so make sure you don't miss this.
More details about Vivid in The Rocks Here.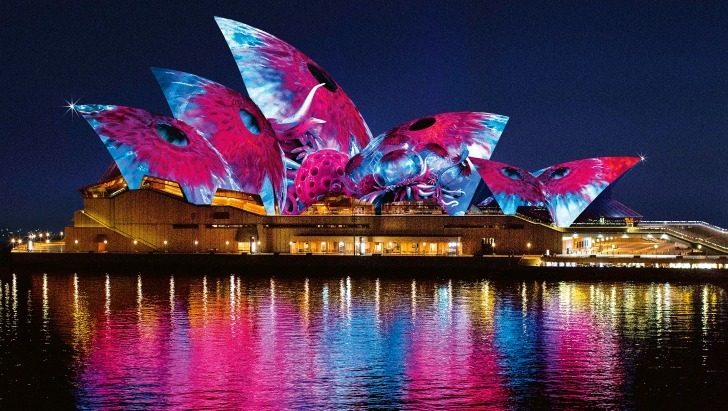 4) Barangaroo South
Barangaroo South is the new precinct in Vivid this year and it may not be as busy as the Rocks so it would be a good one to take the kids.
This walk is extremely pram-friendly, great for kids and a foodies heaven. Start your light walk outside David Jones at 6pm.
Our highlights:
What Lies Beneath - Grab some headphones and wander around the projected central pyramid to discover the secrets of what lies beneath Sydney Harbour. Get up close and personal with the roving divers.
A Day in the Light - A 200 meter walk to the next alley will have you fully immersed in this mystical extraordinary universe. Kids will love running and playing around this long alleyway with sound, light and smoke effects. It's dazzling and out of this world!
Trapdoor - An amazing optical illusion space like being in a computer game that kids can fully interactive with. Hang onto your hats as the floor crumbles away to reveal a subterranean world. Dodge big serpents and jump from boat to logs. Squeals and laughter guaranteed - best for ages 4 and up.
End your evening at one of the many amazing restaurants along the waterfront underneath the stingray walkway.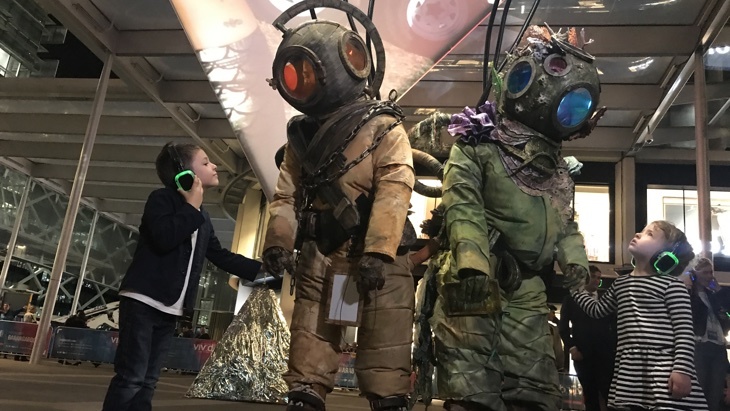 5) Chatswood
During Vivid, Chatswood is transformed into a steampunk themed world, where technology and light fuses with 19th Century steam-powered machinery. Interactive light installations will transform the Chatswood CBD into a funky smart city complete with people-powered steam engines, a giant drumming octopus, underwater worlds and sustainable cities perched in the sky as the bustling precinct is reinvented.
The lights go on at Chatswood at 5:30pm so it's a great family-friendly choice.
Our highlights
Voxelscape: Cue the lights! Exit the Interchange and enter a three dimensional lightshow as more than 9,000 LED light spheres glow in the vast air space above you – all viewable from any level of the Chatswood Interchange.
Gear Shift: Help create this amazing, pulsating, people-powered steam engine simply by moving. This extreme-resolution interactive projection uses intelligent motion tracking to shift, pump and turn in perpetual motion.
Future City Smart City: A fantastical future world is waiting to be discovered. You'll see people take to the air in whimsical airships and an airborne, sustainable community emerge in the sky in this feature projection on the futuristic sails of The Concourse.
Steampunk Waterworld: What lies beneath? Peer into the reflection pool on The Concourse to discover the magic of this submerged world that pays homage to the likes of Jules Verne through light, sound and special effects.
Crossword: What will you say? All is revealed when you wander through a glimmering canopy of light in Chatswood Mall to the Victor Street intersection and discover this installation sending hidden messages mid-air and onto revellers.
Light Bounce: Those who can't wait for sundown to enjoy the lights can wander through an enchanting, sparkling forest of refractive light in a captivating daytime installation at Chatswood Chase Sydney.
Go on a food adventure: Visitors can enjoy dozens of dining options throughout the precinct. Take a foodie journey around the world with international cuisines at The District at Chatswood Interchange, a stroll down Hawker Lane for authentic Asian street-food at Westfield Chatswood, see the light show while dining alfresco on The Concourse, or tuck into specially created Vivid dishes, from Orchard Tavern's Vivid Burger to The Choc Pot's decadent Chocolate Vivid Dessert.
More details about Vivid Chatswood here.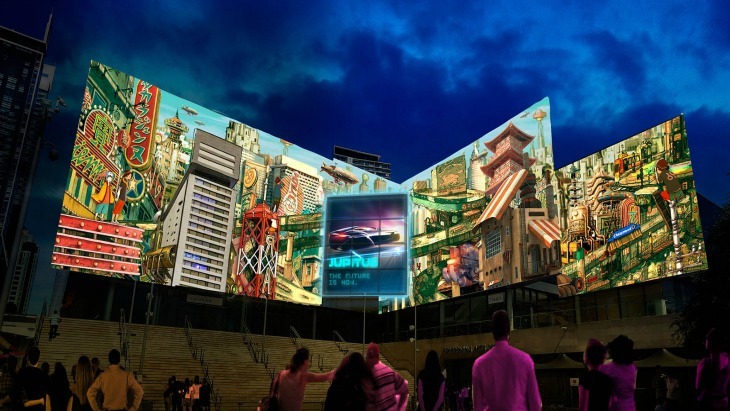 Vivid's Top Tips For Families
Visit early in the week – Monday to Wednesday are quieter compared to Friday and Saturday.
Visit early in the evening – Experience the wonders of Vivid Sydney when the lights go on at 6pm. It's lights on at 5.30pm at Chatswood and Taronga Zoo – ideal for taking in the lights, grabbing an early dinner and getting the family home for bedtime.
Visit more times for more fun – It's impossible to see everything in one night. Plan your visit and travel to different precincts on different days.
Do Barangaroo & Darling Harbour in one go - On the city side, Barangaroo (South) and nearby Darling Harbour could be done in one night. Arrive by train at Wynyard, take the Wynyard Walk tunnel straight to Barangaroo (South) to experience Trapdoor (pictured below) and A Day in the Light, before journeying past the Australian National Maritime Museum which will be illuminated with the projection Inspire By the Sea, then arriving at the spectacular water theatre spectacle Magicians in the Mist.
Do Chatswood & Taronga Zoo separately - On the north side, Chatswood and Taronga Zoo are best done in separate visits. Send the kids 'back to the future' to learn about the steam punk era at Chatswood and grab dinner from one of the many food offerings. Head to the Zoo on another night to see giant animal multimedia light sculptures and make the most of one of the Lights for the Wild sessions. Tickets can be purchased in advance via their website.
Visit by public transport – Leave the car at home (extensive road closures will be in place). Take advantage of extra bus and train services during the festival instead.
Visit a Vivid Information Booth and get an ID wristband for children – Wristbands are available at Darling Harbour, Customs House & West Circular Quay. Add your contact number and put them on your children's wrists to make it easy to be reunited should you be separated at any time. Be sure to keep an eye out for Vivid Sydney's friendly army of volunteers in their bright pink jackets, they can answer any questions or point you in the right direction.
Visit prepared – Planning your visit beforehand is simple with precinct and accessibility maps, transport options and activities available at www.vividsydney.com or through the festival smartphone app.
Reviews

Reviews get lonely too
Be awesome and write a review