Our Little Foxes - a crafty monthly surprise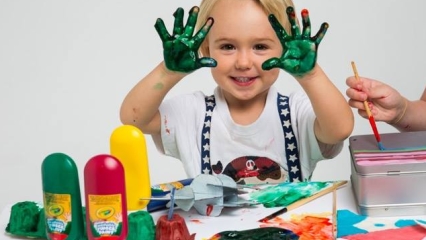 ellaslist COVID-19 update: Please note that all the information on the website is correct at the time of publication. Please check the relevant website before visiting a venue or destination for the latest COVID-19 information. ellaslist is not responsible for any cancellations or closures.
By: Lisa Wolff, ellaslist
I wouldn't call myself a craft mum. I certainly like the idea of getting creative with my kids. But I'm really one of those mothers that draw stick figures and cut out everything crooked. So I was so thankful that our delivery from Our Little Foxes arrived just in time for all that torrential rain.
So, what is Our Little Foxes


Our Little Foxes is a monthly subscription service delivering an activity-packed craft project box to our kids each month. It's a brilliant concept especially for mums like me who are juggling a trillion things. You don't have to think about what materials you need to buy or download instructions to follow. You don't really need to think much at all. Our Little Foxes comes with pretty much everything you need to keep the little ones occupied for hours.
Will the craft pack suit my child's abilities?
Our Little Foxes Packs are tailored to your child's age and are available in three age categories (2-3 years ; 4-7 years; 8-10 years). We tried out the 4 – 7 years box. My daughter is actually 3 and a half and she managed amazingly well with this pack. There were one or two things that were slightly tricky but she loves a challenge.
We put Our Little Foxes to the test
My daughter was super excited to open her Our Little Foxes package. The outer box was simple brown cardboard. I would imagine though that she would love receiving a colourful parcel with Our Little Foxes branding on it. Perhaps in the future?


So, what's in the box?
But it is what's inside that really matters.
Inside the box was a sturdy tin which contained the craft materials needed for this month's projects such as paint brushes, fabric toothpicks, googly eyes and an apron. There was also a cute merit badge that can be sewn onto the apron once the month's tasks are complete.
Also included was top quality non-toxic glue and acrylic paint and a pamphlet with basic instructions and photos of the craft that we could make.
Unleash your inner artist
Each month, the craft project has a different theme. The first box was themed – 'I am…a little artist'. Kids are encouraged to let their imagination run wild and create, make and explore. To be honest, I started feeling a little panicky, especially as I'm the type of person who likes step-by-step instructions for everything. But my little girl loved the brief. And I loved seeing her creativity let loose and totally unconstrained by my more rigid influence.
So what did we make?
We started off by making a stick animal puppet using the felt, popsicle sticks and decorations. We followed the easy instructions and then let our imagination run wild. We made a Nemo fishy and both she and I were super proud of our first creation.
Moving on, we made our own paint palette just as the pamphlet suggested. This actually turned out to be a crucial accompaniment to our crafting as we didn't need to keep opening the paints or risk mixing colours.
Then, using the brushes and palette, she painted her Our Little Foxes craft tin. She loved this task and was fascinated by what happened when she mixed colours.
Next up was creating a bunting to hang up as decoration. She needed a bit of help to cut out the material using the stencil provided and to thread the string through the fabric. But we still had lots of fun.
She then decided to colour in the Our Little Fox drawing on the pamphlet.
We ended our craft session with the grape sculpture using tooth picks and grapes to build towers. I was actually going to skip this task but I am so glad I didn't as she spent over half an hour constructing grape high-rises.
There were still one or two tasks that we didn't get to so we'll keep those for another rainy (or sunny) day.
We chose to spend a full afternoon working our way through the craft box. But you could easily spread the project over the month. Also, many of the activities could be repeated again.
Now what…
We emailed Our Little Foxes with photos of our craft so we could be in line to win one of the monthly prizes. You can also share your works of art on their Facebook or Instagram page.
What's the final verdict?
I was really surprised at how long Our Little Foxes kept my daughter engaged. She was focused and enthusiastic and we both thoroughly enjoyed ourselves. While she could have completed most of the tasks by herself, this was a wonderful mother and daughter activity and we both relished the special moments together learning and discovering as we went along.
My only suggestions would be that the pamphlet comes in an easy-to-read mini-booklet as the fold out format is a bit difficult to follow. I'm a little detail-obsessed so I would also love an inventory of what materials are included and which materials are used for each task. But my daughter preferred to experiment and be less constrained by instructions.
Would I subscribe?
Yes, definitely! I absolutely love that we get a package packed with creativity delivered to our front door each month. No longer will I dread the long rainy afternoons indoors. In fact I (and my daughter) can't wait until our next Our Little Foxes box arrives.
Ok, sign me up!
Our Little Foxes offers great value-for-money subscriptions, starting from $20 per month for an annual subscription. Subscribing is easy. I would love it though if they added Paypal as a payment method.
Visit Our Little Foxes for more information and to subscribe.