Obstacle Racing for kids & parents - Let's get down and dirty!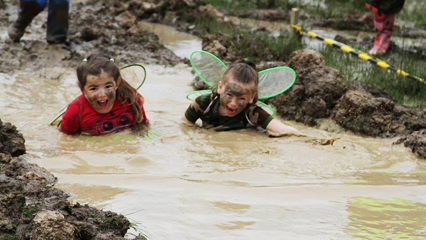 By: Lisa Wolff, ellaslist

Did you know that obstacle racing is this year's hottest new sport for kids? I've always been in awe of friends who've done the hard-core obstacle races and I've only just recently found out that there are mini-versions for the little ones. I love the idea of this kind of sport for my kids. It's muddy, fun and physically challenging and we all know how much kids love getting dirty. Plus it's a great family day out as parents can do the adult race and get down and dirty with the kids.
Still not sure? Here's all the info you need about obstacle racing for kids.
So what exactly is obstacle racing?
Obstacle racing is a sport in which participants walk/run a course on foot and overcome various physical challenges along the way. These can include climbing over walls, carrying things, crossing water, crawling through mud, and jumping over boulders.
It sounds hard-core. Do you have to be super(wo)man to compete?
Not at all. For most of the races, the focus is FUN. Most events are suitable for every level of fitness from first time mud runner/obstacle racer couch potato, to seasoned weekend warriors!
How old does my child have to be to take part?
It varies from race to race. But one of our favourite events – Kiddyhawk – has a 400m toddler race for 3 year olds (accompanied by their parents), as well as a more challenging 1km course for ages 4-13 years. For adults, there's the Battlefield Challenge – 7km of military-style obstacles – which is held on the same day as Kiddyhawk.
What will we get out of it?
A really good laugh and a family day you'll always remember – and maybe a new hobby to boot! Obstacle racing is the perfect combination of action and fun. There'll be non-stop smiles and giggles as your kids beat the obstacles along the way. It's a big burst of adrenaline and a massive sense of achievement. And getting muddy together is the best kind of family bonding.
Can I do the kid's course with my child?
Parents are often encouraged to walk alongside their child as they complete the course. This way they can encourage them, take photos and help them over the obstacles if they need help.
Do we need to buy special gear?
No. Most of the kids' races are run in normal clothes. But be sure to wear old clothes as you're definitely going to get them dirty. Just remember a change of clothes for after the race (or else it'll be a muddy drive home), a towel and a plastic bag to store your dirty stuff. Don't forget your camera, plenty of water and water-proof sunscreen.
The adult races are often run in tight-fitting sports gear. And here's a tip. No Cotton! Cotton holds water, loses shape and sags – all things that can drag you down during an obstacle race. Make sure you don't wear your brand new runners!
Some events provide the kit. For Battlefield Challenge, you get a set of army cams/fatigues to use during the race (that's right – no need to get your own clothes dirty) plus a cool military backpack and chest webbing.
How long does it take to finish a race?
This depends on how long the course is but a 7km adult course (like Battlefield Challenge) usually takes between two and two-and-a-half hours to complete. The kids course can take between 15-20 minutes. However, in Kiddyhawk, the kids can run through the course as many times as they like.
How much does it cost?
The cost varies from race to race. But to give you an idea, the entry fee for Kiddyhawk is $20 while the adult version (Battlefield Challenge) costs $67 to register (and includes all your gear plus dog tags if you finish).
Where are the races held, and when?
Obstacle races are held throughout Australia. In NSW, there is an active race calendar for kids and adults. Check out the obstacle races for kids and the race calendar for adults and take your pick.
Which race is for me?
We're new to the obstacle racing sport so we've decided that our first event needs to be focussed on fun, laughter and muddy memories. We're also looking for a race that the whole family can do and one where we don't have to spend hours in the gym training up.
So we have picked the Battlefield Challenge and the kids equivalent – Kiddyhawk. With both courses, you can run, walk or crawl your way around, just as long as you complete it. This is not a race and it isn't timed. Everyone who finishes, adults and kids, will all receive a 'Certified Tough' Dog tag.
Battlefield Challenge and Kiddyhawk will take place on 16 and 17 May at the Entertainment Grounds in Gosford. We are getting all geared up for our mission and can't wait to get down and dirty.
OK, you've convinced me. I want to race! Where can I book.
Join us in the Kiddyhawk and Battlefield Challenge! Reserve your spot now.
And finally…how do I clean all this mud off?
Most races offer basic shower facilities or hoses for participants to rinse off after.