My Food Bag - Real Review, Lindsay - better planning and less food wastage
Preschoolers
Family
Kids
Mums & Bubs
Parents Only
Teens
Todders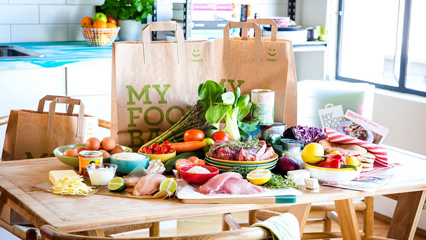 Dinner Persona: Lindsay Hunter – Better Planning and Less Food Wastage
I have two daughters, 5 and 3. Providing a family with a tasty, nutritious meal that they will actually eat, night after night, is a burden that I share with all parents. Shopping for groceries (with a 3 year old!!), finding new exciting recipes that I can whip up quickly, and then throwing away 30% of the fridge contents at the end of the week when I realise that my planning didn't exactly go to, well, plan. It is not easy. I feel like I'm in the supermarket everyday. I want to save time with better planning and to find a better way of buying the right portions so I don't waste food. What I loved about My Food Bag was the high standard and that each meal was delicious.

Would you recommend it? I would absolutely recommend My Food Bag to friends and family, and even if they felt it wasn't affordable on a regular basis, it would be a great way to relieve the stress during particularly difficult periods, for example with a new baby, or if you're returning to work, or when relatives are visiting. I would have to give My Food Bag 5 out of 5. An excellent service!
Convenience: Your week's shopping arrives at your home along with clear, simple recipes in a neat filing system. None of the recipes have long preparation or cooking times – most are ready within 30 minutes. There are helpful tips to ensure your week runs as smoothly as possibly while delivering balanced meals to your family.
Quality of food: The ingredients included in My Food Bag this week were clearly of a high standard and carefully sourced.
Deliciousness: Our daughters (age 5 and 3) are pretty good with eating their vegetables and trying new things, but like all children they are better with the familiar. So I was relieved to see them enjoying their homemade fish fingers, and honey-stung beef. I know lots of children who would turn their nose up at strange foods, but these recipes have enough different elements that they can hopefully chose one or two that they are willing to try.
Value for money: Although I cannot confidently say that it is more economical than doing your own shopping and planning - I do think $159 is reasonable to feed a family of four, for five nights.
Want to try it for yourself? You can grab 25% off your first weekly order. Simply head to www.myfoodbag.com.au and use our code ELLASLIST when ordering.
This exclusive ellaslist offer is for your first bag only. Valid until 19th October 2015. Cannot be used in conjunction with any other offer. Full details on delivery areas and T&Cs available online.