Musical Me Hits All the Right Notes
Family
Mums & Bubs
Preschoolers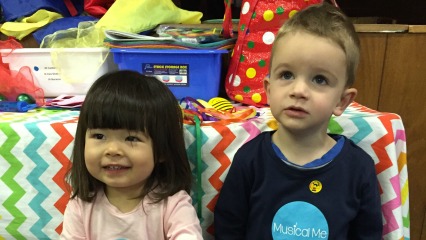 By: Lisa Wolff, ellaslist
There's a new Music Class for kids in town called Musical Me and it's hitting all the right notes.
I've pretty much tried all the music classes in the East. When my eldest was a baby, I was in the midst of major 'first-child syndrome'. I just had to trial every class around. If I heard a friend (or even a stranger) talk about a kid's class, I was booking us in the very next day. It's a good thing that my daughter loved all this musical variety and she still does.
Introducing: Musical Me
Now that Gabi's in pre-school, we don't have time to do many classes but I still get a little thrill when I hear about a new one, so we were both excited to trial a freshly launched Musical Me class.
Musical Me is a fun, educational, high energy music & movement program for children 0-4 years.
Taught by qualified music and early learning childhood educators, Musical Me promotes all stages of early childhood development through music and movement. The music component sees children learning important musical elements whilst promoting development in speech and language skills through the learning of new songs, social and emotional skills being part of a class environment, fine motor skills through the playing of musical instruments, and finally cognitive development such as attention, memory and thinking.
The movement component focuses on developing children's gross motor skills in movements such as crawling, running, jumping, dancing, balancing, hopping, stomping, shaking, clicking, clapping and tapping.
Play & Learn

Children will enjoy a range of movement based games including:
Galumph! Went the Little Green Frog: jumping from spot to spot on lily pads (excellent for improving balance and co-ordination) – watch out for Mr. Froggy who gives you a tickle at the end.
Fly a Kite: With a rainbow of colourful ribbons children love to dance a waltz around the room flying their kites to 'Let's go Fly a Kite' – mums love this one too!
Parachute: Running under the parachute before it comes down, shaking the parachute and watching the colourful balls bounce around on top.
So Many Instruments

Children will play with xylophones, drums, clapper sticks, castanets, triangles, maracas, egg shakers and tambourines during a number of musical games including:
Tempo Train: A fun lesson in tempo where the children move around the room pretending to be trains. They must listen out for when the tempo changes in the music and then match that tempo in their movement.
Dynamics: Through musical instruments such as clapper sticks, egg shakers and drums children learn about dynamics in music introducing terms such as 'pianissimo' meaning quiet and 'fortissimo' meaning loud. Through the use of flash cards children learn the signs and symbols used in music that represent the different dynamics. Children learn to play a crescendo (soft to loud) using their instrument and a decrescendo (loud to soft).
Magic & Music

There wasn't a moment for boredom in the class as the sisters brought out bubbles, balls, scarves and bells to keep the action moving swiftly along. There is even the secret magic music box which is kept under wraps until the big reveal. But you'll just have to go to a class to find out what that's all about.
Special Offer: Trial Pack

It's an awesome time to give Musical Me a try, with their new special offer Trial Pack providing a chance to trial the program, see what is involved and most importantly how your child responds. The Trial Pack consists of 2 lessons for $30 which is a massive saving of over 30% on classes. Lessons are over a period of 2 weeks at one lesson per week and must be consecutive. We find this is beneficial for the children as they are more familiar in the environment and respond with greater participation, enjoyment and confidence. Participating siblings are discounted at a massive 50% and are just $15 for the trial.
Classes and Venues

Mondays: (Bondi) St. Matthew's Church Hall – 34 Ocean St, Bondi 2026
10:15am Mini Majors (2-4yrs)
Tuesdays: (Clovelly) Burnie Park Community Centre – 1R Burnie St, Clovelly 2031
10:15am Mini Mozarts & Majors combined class (1-3yrs)
11:15am Baby Beethovens (0-16mths)
Thursdays: (Coogee) Coogee Scout Hall – Corner Dolphin & Mount St, Coogee 2034
10:15am Mini Mozarts & Majors combined class (1-3yrs)
11:15am Baby Beethovens (0-16mths)
Enrol Now
Enrolment is flexible with casual, drop in and pay on the day options available for just $22 per class! Term enrolment is $200 for a 10 week term which comes with a FREE Musical Me T-Shirt (the most cost effective option with an exclusive discount offer available). Siblings are discounted at 50% also – you are able to join at any time through out the term, pay in advance. Check out the website for more information, or to enrol!
Phone: 0405 632 360
Email: [email protected]
Facebook: www.facebook.com/musicalmesydney
Website: http://www.musicalme.biz/
Tell them ellaslist sent you!
Reviews
I have been taking my now 2.10 year old son to Musical Me for over year now. He is still as enthusiastic about going as he was when we first started and it is definitely a highlight of our week. The class is fun and interactive with beautiful musical experiences. Ali and Mary run the classes in a calm and nuturing manner and give the children many opportunities to enjoy and experience music and movement. My son loves all of the great quality musical instruments and props he gets to use throughout the class. Thanks Ali and Mary for making our Monday's so fun. This is well worth a drop in for anyone looking for a great music class.
My two year old loves this class (& we have tried and given up a fair few!). Ali and Mary are encouraging and inclusive without 'mollycoddling' and as such, the classes are enjoyed in an easy/casual environment. The songs are all interactive/fun with different focuses (following hand actions, jumping along lily-pads, singing along, banging on instruments, pretending to be animals/working puppets). As such, the set up appeals to the active toddler –i.e. no particular activity or song lasts for a large amount of time, so that limited concentration is required – just participation, making a noise and having fun!
These are fabulous music classes for young kids. As a primary teacher, I cannot emphasise enough the importance of music in young children and the benefits for brain development. The teachers, Mary and Ali are highly talented and passionate about what they do. They love the kids and make every child feel special. You must get your kids into these classes!
Musical Me is a fabulous class for young children. As a teacher I cannot emphasise the benefits of such a superb program. The teachers, Ali & Mary, really know their stuff and have a passion for music and working with the children. Every child is made to feel special. This is something you have to get your children involved in.