Mum Finds Gag-worthy Substance in Baby Fruit Pouch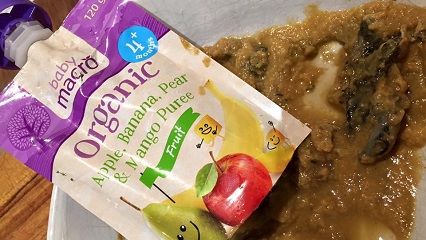 By: Zoe Crane, ellaslist
A Brisbane mum has taken to Facebook to warn other parents about a contaminated pouch of Baby Macro organic apple, banana, pear and mango puree after her kids gagged on it, with one vomiting all night and becoming ill for days.
Gag-worthy photo on Facebook
Nikki De Bondt posted on her Facebook page about the product after her children gagged and almost vomited after tasting it. She decided to cut the pouch open and described what she found inside as gag-worthy. She posted a photograph of the contents, including the batch number for other parents to check. The post was updated the next day to say her daughter had been up all night vomiting and again the next day to say she was still unwell. Five days after she originally posted the pictures, they have been shared over 84,000 times.
[caption id="attachment_100565" align="alignnone" width="960"]

A photo of the contaminated fruit pouch posted to Facebook by Nikki De Bondt[/caption]
Woolworths reacts
In her post, she describes taking it back to Woolworths, and they have agreed to have the substance tested. They have also removed the product from their shelves and referred the case to the QLD department of health, but results from testing have not yet come back. A Woolworths spokesperson was quoted by news.com as saying "Woolworths takes the safety of our products very seriously and was concerned by this report from one of our customers. We always encourage any customer who has a problem with any Woolworths products to get in touch so the issue can be investigated."
Fifty dollars not enough for cleaning up vomit
The mum has said that Woolworths have told her that they would keep her updated and she will update the post accordingly. In the comments, she also noted that Woolworths had offered her a $50 voucher though she noted: "not that that makes up for being up all night and washing all the vomit things this morning!"
ellaslist wants to hear from you, have you ever found anything gross in your kids' food?