Mister Maker answers your questions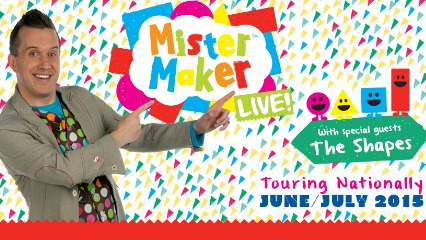 Mister Maker is getting ready to pack the Makermobile with his doodle drawers, Shapes and Tocky, the cuckoo clock and head to Sydney. We can't wait!
We gave you the chance to ask Mister Maker any question. Mister Maker told us that he loves his Aussie fans and was so happy to answer your questions.
So, let's get up close and personal with our favourite crafty superstar.
If you were one of the shapes, which shape would you be and why?
Probably Rectangle as he's the tallest!
(Asked by: Carly Eekman)
Does Tocky sleep and why is he so bossy???
He sleeps in his clock…and I guess he's only a bit bossy because he's always worried about the time! Cuckoo clocks can be like that ;)
(Asked by: Lauren Skinner)
Are your buttons magic?
In the early series of Mister Maker, there were indeed clever buttons that made a picture. But I'm not giving any secrets away I'm afraid – it's all down to a little TV Maker magic.
(Asked by: Cassie Matheson)
Any secret craft things in your doodle draws?
Good question! But no, everything that is made on the programme is created with the materials we show.
(Asked by: Veta Lazaridis)

What is your favourite project to do under a minute?
It has to be the Pompom Bug! The perfect pet and a fantastic fluffy friend.
(Asked by: Melissa Winner)
How do you come up with all the ideas for make it in a minute?
Everyone on the Maker Team pitches in ideas – it is a real team effort.
(Asked by: Jillien Quinan)
If you could be one item from your doodle drawer, what would it be and why?
Wool – soft at heart but when stretched, I'm tough and strong too! (I'm desperately trying to flex my biceps as I write this!)
(Asked by: Leah Antonas Goulis)
How do you sort and store your endless supplies of craft materials? Can you give us some tips on how to sort our kids' craft supplies?
I'm lucky because I have my Doodle Drawers in which to store all my arty things. You can have your own Doodle Drawers at home but they don't have to be as extensive as mine – I always think an old shoe box is great way to start collecting materials for a future arty adventure.
(Asked by: Carly Eekman)
What are your three must-have craft items?
Paper, glue and scissors. But be careful, scissors are…..? (Sharp!)
(Asked by: Mandy Lowe)
What do you do with all art works you make for us?
We keep a lot of them at our Mister Maker Studios – but some I keep myself and others I give away.
(Asked by: Melinda Mckone)
What is one of your favorite projects you have made so far?
Making a kangaroo picture in Sydney – it was an exciting, proud day for me on Mister Maker Around the World and one I'll never forget.
(Asked by: Maria Calopedos)
Who really cleans up your mess?
Me of course! But when I go home to visit my parents, my lovely Mum still looks after me like she did when I was a boy. Long may that continue!
(Asked by: Alison Henderson)


We've already booked our tickets for the Mister Maker Live show on 11 and 12 July. We can't wait for the arty party! Come join us….
Reviews
Hi mistermaker I watch your TV show nearly everyday because I like art could you come to my house to help me with some art? If so please answer back. Thank you Frankie
Is the makermobile a real car and if so what model is it