Launch your Career in Childcare
Preschoolers
Family
Kids
Mums & Bubs
Parents Only
Teens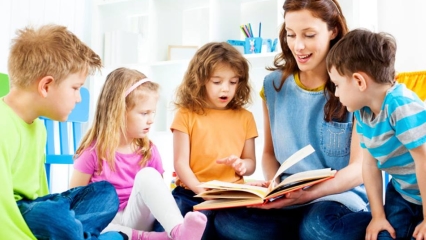 By: Tully Rosenberg, ellaslist
You've probably noticed the proliferation of little people in recent years. They are everywhere. EVERYWHERE. Babies and kids. Strollers and scooters. Beautiful and bewitching, clever and conniving. Wherever you go. They are there. We have a burgeoning population with more on the way. Pregnant women. Everywhere. Gorgeous and glowing, happy and hopeful. More of them than ever before.
Say hello to the 21st-century baby boom.


Australia's second baby boom began in 2010, establishing a new generation that is now being coined the Alpha Babies. Alphas have easily outnumbered the original boomer generation, which began in 1947 with a paltry 182,000 births! Pfft. 2010 witnessed the highest number of births ever registered in Australia within a calendar year, with a record 297,900 newborns entering the Aussie world.
There have been over 300,000 newbies born every year since. The nation's birth rate isn't slowing down either, and is expected to rise by 6.4 per cent over the coming years, to a whopping 332,901 births annually.
Look out, kids about!
Taking up the baton from Gens X, Y and Z, Alphas are tipped to be the smartest generation so far, with the highest level of formal education in history and exposure to the dizzying heights of technology from the get go. But who is going to navigate these wunderkinds through this new age knowledge wilderness? A new breed of mentors, that's who. And, believe it or not, you could be one of them.
We need you…in childcare!
Yes, the baby boom has more of a knock-on effect than extra pram parking at Westfield and a calendar full of Skyzone parties. The sheer weight of numbers of these rapidly emerging tiny tots has induced an unprecedented spike in the demand for the essential services we need to raise our precious offspring – particularly childcare and preschool education.
The childcare industry is thriving and it's not just due to the demographic changes of the baby boom and the rising number of working mothers. Increased Federal Government funding and changes to early childhood education policies are also steering the surge. Business is booming, but the incessant need for top quality childcare brings with it a whole new level of demand for first-class recruits.
Step in the right direction
One organisation is at the forefront of this challenge, providing would-be childcare educators with the best training in town. With a focus on practical, hands-on learning, Empower College, a leading VET FEE HELP education provider and registered training organisation, is graduating early childhood educators at both the certificate three level and diploma level.
Empower College recognises the need to have skilled and qualified teachers working in centres – and homes – across Australia.
Carers need to be qualified


As parents, we always want the best for our kids, and now the government insists on it. New regulations from Australian Children's Education & Care Quality Authority (ACECQA) require that at least 50 per cent of all childcare educators have a diploma level qualification or higher. Consequently it is paramount that aspiring educators not only love children, know who Anna and Elsa are, and can fashion Gotham City out of Lego, they must also have a high level of competency and the right qualifications.
Empower College have centres calling them every day looking for qualified staff, and are currently in the midst of a major ramp-up of the student intake at their recently renovated, state-of-the-art Parramatta campus. They are encouraging new students to take the plunge and rise to the challenge of becoming Early Childhood Educators.
Mums are perfect for the job
The shortfall of childcare workers – both in established centres and operating their own family daycares – has opened up a whole world of opportunity for anyone considering a career change or re-entry into the workforce. Mums trying to get back in the game and looking for alternative opportunities after having a child are ideal candidates. You've been there, done that. You know the drill. You can align your life with your livelihood in a family friendly profession that's going from strength to strength.
Interested? Intrigued? Inspired? Take the next step!
Empower College are hosting an action-packed Open Day this Saturday 11th July at their Parramatta Campus – Level 3, 25 George Street, Parramatta – from 10am to 2pm.
There will be three $10,000 Early Childcare Diploma Scholarships to give away, plus there are 6 FREE First Aid courses up for grabs and lots more. You'll get face-to-face access to Early Childhood Trainers and Employers, Childcare career readiness workshops, 1-on-1 career readiness sessions and a FREE Open Day pack filled with all sorts of goodies.
For the little tykes, there will also be a FREE child minding service (so you can focus on your new career!) plus face painting and balloon animal creations.
For more information on the event, visit empowercollege.edu.au/openday2015.