I Found My Fitness Mojo At Des Renford Leisure Centre!
Family
Mums & Bubs
Parents Only
Preschoolers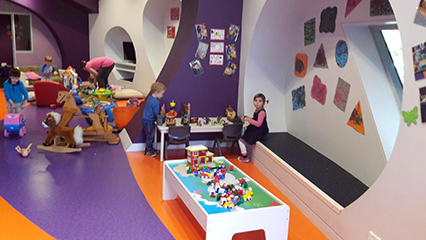 ellaslist COVID-19 update: Please note that all the information on the website is correct at the time of publication. Please check the relevant website before visiting a venue or destination for the latest COVID-19 information. ellaslist is not responsible for any cancellations or closures.
By: Marie Ashworth, ellaslist
I'm a newbie to Sydney but almost as soon as I arrived I heard great things about the swimming pools at Des Renford Leisure Centre (DRLC) in Maroubra. What I'd somehow failed to notice was their fantastic crèche service for under 5s, giving parents the opportunity to take a class, swim or have a workout in their fantastic gym.
My Fitness Excuses
Over the last couple of months my activity levels have plummeted from regular running, yoga sessions and lots of walking to no running, little yoga and less walking (thanks to several winter viruses circulating our family, a car purchase and general laziness!) With the season for baring more flesh fast approaching, I knew it was time to tone up but needed a shot of motivation. Enter Lisa Johnson from DRLC who offered myself and friend, Sally, the chance to try out the crèche, fitness and pool facilities.
The Morning's Agenda
Our plan was to settle my two year old son, Ellis and his Friday bestie, Edie, into DRLC's onsite crèche. Once happy, Sally would check out a Group Boxing class and I would head to the gym for a fitness assessment and personalized gym program from one of the DRLC team.
This Could Go Either Way!
Now, here's the thing. My son goes to daycare a couple of days a week (where it took him a month to settle in) but has never been left in a drop-in crèche facility before. I wasn't sure how he'd respond but I really needn't have worried. Ellis and Edie bounded towards to the crèche as soon as they saw the bright, colourful room through its glass door.
A Fabulous Crèche Facility
As soon as we entered, our littlies were off exploring all corners of the room crammed with toys. The crèche is spacious, has loads of natural light, is kitted out with a fantastic selection of games and toys for all ages and has a small outdoor area looking out onto landscaped gardens. It feels modern, comfortable, clean and well-equipped.
A Warm Welcome From The Team
The day we were there, there were around six crèche staff, all super friendly, professional and welcoming. As well as being qualified carers, many of them are also trained swimming instructors so children who attend DLRC's swim school often recognize them.
Pre-booking Essential
The crèche is staffed according to the number of children booked in that's why it's essential you pre-book your crèche places prior to 2pm the day before. Once we'd handed over Ellis and Edie's snack bags and drink bottles, we said bye and headed for the door. No tears, no dramas, in fact they barely looked up!
No Room For Pretense Here
While Sally ventured off to her boxing class, I headed upstairs to the huge, modern gym. In the past, I've found some gyms a bit intimidating. You know the ones – full of testosterone-charged men groaning loudly as they sweat over 150kg weights. The first thing that struck me as I walked in to this space was the diverse mix of gym-goers; predominately women (we did visit on a Friday morning) and a varied age group.
Time For My Personalised Program
The enthusiastic Kay was looking after my fitness program. She began by taking me through a brief fitness assessment – health questions, blood pressure, weight, BMI – and asking me about my fitness goals – legs, bum and tum please! Then it was time to do some work. While I prepared my muscles by warming up on the cross trainer for 10 minutes, Kay was busy putting together a personalized fitness program combining 20 minutes of resistance and 20 minutes of cardio training.
Super Sets Equals Out of Breath
Kay showed me a series of six resistance machines. I'd used a couple of them previously but as I discovered, I'd been using them incorrectly! Once I'd nailed the right posture and technique, Kay got me to super set two at a time. That meant 12 reps on the first machine, then onto the second machine for 12 reps without taking time out to rest. This makes the resistance program a cardio workout too. And boy, did it feel like a workout!
Aching Muscles Drive Me On
Kay warned me that my recent lack of activity meant my muscles were very likely to ache the following day and even more the day after. She didn't mention anything about the same night! The dull aches started early evening and I had a strange walking stance throughout the weekend. This has only made me even more determined to man up and get fit.
Returning To Two Happy Faces
Sally and I met back in the crèche an hour later and found two smiling faces who'd had a ball. Neither had forgotten our promise of a swim afterwards so after our thanks and goodbyes to the crèche team, we made our way to the changing rooms.
Countless Jumps Before Lunch
It was a beautiful sunny day so we decided to swim in the outdoor heated and covered wading pool. Ideal for toddlers and pre-schoolers, this pool was shallow enough for both Edie and Ellis to touch the bottom. After countless jumps into the pool, some crocodile and shark chasing games and much laughter, we had to coax them both out of the pool for lunch.
Healthy Lunch Options If You Want Them
The café has a good range of lunch options. As well as the ever popular hot chips, sandwiches and toasties, they have daily specials and a fantastic fresh salad bar. Our two weren't feeling that adventurous so shared ham & cheese toasties with chips while we went for a healthy kale & quinou and mixed bean salad combo.
And There's More Outside
The sun was shining so we decided to take a wander around outside. What an awesome area! Loads of grassed areas surrounding the main outdoor pool, a smaller, shaded toddler pool and a shaded lunch area overlooking the covered outdoor pool. The covered wading pool is already open with the other outdoor pool areas opening on 19 September.
The Verdict
Impressed! DLRC really is a fantastic facility. Their superb crèche service gives Mums (or Dads!) that priceless opportunity of some 'me-time' to focus on their wellbeing knowing their kids are having a great time. We'll certainly be returning for more!
The Essentials
Crèche
Open: Mon-Fri 8.45am-12.45pm & Sat 9am-12.15pm – available for maximum of 2hrs
Ages: from 8 weeks to 5 years
Cost: $3.60 per child, 10 visit pass $32.50, 20 visit pass $65
Bookings: pre-booking is essential! Bookings can be made up to one week in advance and must be made by 2pm the day before ahead by calling 9340 1106
Don't forget: to pack some drinks and snacks for your child (no nut policy)
Group Fitness / Gym
Cost: $22 casual single entry, membership $22.50/week
Swimming
Cost: $6.20 single adult entry, $4.40 single child entry, $18 single family entry
Find out more about Des Renford Leisure Centre's fitness programs and crèche services, vacation care and kids' birthday parties